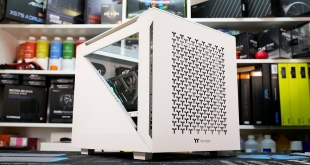 Today's review has been a long time in the making. We originally looked at a sample of the Thermaltake Divider 200 TG Air Snow microATX chassis in November 2021 with the intention of bringing you the review soon after. However, during the filming of the video for the review we found a problem with the case which prevented us from installing the motherboard that we had selected for the build. We reached out to Thermaltake with the issue, they agreed that there was a problem with the motherboard tray design and sent the chassis back to the engineers for a re-design. But has Thermaltake fixed the issue? Let's find out.
Timestamps:
00:00 Start
00:53 The 200 TG Air Snow Overview
02:15 The side panels
03:37 Build quality and colour consistency
04:40 Removing the side panels
05:17 James thoughts so far
05:47 Front panel – filter/fan/panel
07:40 Supplied air filters
08:24 Bottom panel / PSU/ Drive bays
09:24 Top Panel
09:59 Front I/O
10:15 Chassis support
11:07 Cooling support
11:50 Chassis build quality and standoffs
12:30 Rear Panel
13:37 Hardware support
14:44 Accessories included
15:20 Problems Kitguru caught and Thermaltake fixed
16:08 Hardware for the build
17:52 Timelapse build
31:19 Thermal Performance
33:14 Fan settings / noise output
34:05 James Closing Thoughts
The answer to that question is yes, the revised Thermaltake Divider 200 TG Air is equipped with a new motherboard tray with screw-in standoffs rather than the punched out standoffs found in the original chassis. The Divider 200 TG Air is based on a previous Thermaltake chassis, older tooling was used in production which meant that the original motherboard tray retained the punched out standoff style. This is ok with lower-spec motherboards but when trying to install a higher spec board with an armour backplate or such like, it can cause interference issues.
The Gigabyte B550M Aorus Pro motherboard, that we planned to use in the original review, fouled the Divider 200 TG punched out standoffs which stopped the motherboard mounting holes from lining up with the chassis, which is a problem. Punched out standoffs also have a larger top surface area and could potentially cause a short if care isn't taken when installing the motherboard, so we think it's a good move on Thermaltake's part to have redesigned the motherboard tray.
So on with the review. The Divider 200 TG Air Snow is a change from the norm with its cube shape design, the microATX form factor limits the number of compatible motherboards but it is still a good platform for a gaming system and it keeps the chassis quite compact. The Divider 200 TG has a large vented front panel for optimised airflow, as well as multiple radiator mounting points and supports high-end long graphics cards, so it's looking promising from the start.
Thermaltake Divider 200 TG Air Snow features:
The left-hand side of the case features two symmetrical panels of steel and tempered glass to give the chassis the unique Divider series looks, as well as a vented front panel, pre-installed 200mm front intake fan and rear 120mm exhaust fan for optimised airflow.
Dual chamber design with horizontal motherboard tray supports up to microATX motherboards, big high-end graphics cards up to 340mm long and tall CPU coolers up to 185mm in height.
Installation of up to 2 x 280mm radiators is possible, as well as a maximum of five 140mm fans (2 x front, 2 x side, 1 x rear) + two 120mm floor fans. Full dust filtration is provided by magnetic dust filters on the chassis front, side and floor vents.
Top-mounted front I/O connectivity consists of two USB 3.0 Type-A ports, a single USB 3.2 Gen 2 Type-C port, 3.5mm audio jacks for headphones and microphone as well as system power and reset buttons.
Specifications:
Dimensions (H X W X D) – 7 x 333.2 x 425.7 mm
Net Weight – 97 kg / 19.78 lbs.
Side Panel – 3mm Tempered Glass x 2
Cooling System – (Front) 200 x 200 x 30 mm standard fan, (Rear) 120 x 120 x 25 mm fan
Drive Bays – 3 x 3.5''/3 x 2.5''or 6 x 2.5"
Expansion Slots – 5
Motherboard Support – 7" x 6.7" (Mini ITX) , 9.6" x 9.6" (Micro ATX)
Front I/O – USB 3.2 (Gen 2) Type-C x 1, USB 3.0 x 2, HD Audio x 1
PSU Support – Standard PS2 PSU
Fan Support – Front: 2 x 120mm/140mm, 1 x 200mm, Right: 2 x 120mm/140mm, Rear: 1 x 120mm/140mm, Bottom:2 x 120mm/140mm
Radiator Support – Front: 1 x 240mm/120mm/280mm/140mm, Right: 1 x 240mm/120mm/280mm/140mm Rear: 1 x 120mm
CPU cooler height limitation – 185mm
VGA length limitation – 310mm (With 27mm radiator), 340mm (Without radiator)
PSU length limitation – 180mm (With Bottom Fan), 200mm (Without Bottom Fan)
Thermal/Noise Performance Testing
To simulate thermal demand we run the Cinebench R23 multi-thread benchmark and 3DMark Time Spy Extreme stress test simultaneously in a loop for 60 minutes to fully load the system. This should give the CPU and GPU enough time to reach constant steady-state temperature. With this data, we can compare how the system handles the thermal demand and measure peak noise levels.
Thermal performance is measured with the case in various configurations, such as the default, with the tempered glass left-hand side panel removed and with the front panel removed to see how these configurations affect the CPU and GPU temperature. During testing, only stock case fans are used unless otherwise specified. All water pumps are set to maximum RPM and fans are set to a fixed RPM by the Motherboard software/BIOS.
All temperature measurements are presented as Deltas – meaning the ambient temperature has been deducted from the CPU temperature giving us a Delta. Data shown in the charts represent the average component temperature over the length of the test as measured by HWiNFO and then calculated to get the average. Ambient temperature during thermal tests is between 19-21⁰C.
Noise levels are measured by placing a noise meter 300mm from the front of the chassis while the stress test is running and the peak noise level during the test is recorded. The noise floor (ambient noise level) in the room is 36dBA.
Test System:
Case – Thermaltake Divider 200 TG Air Snow
CPU – AMD Ryzen 9 5900X
Motherboard – Gigabyte B550M Aorus Pro
Graphics Card – Palit RTX 3080 Gaming Pro
1st M.2 SSD Drive – 1TB PNY XLR8 Gaming CS3040 PCIe Gen4 NVME M.2 SSD
CPU Cooler – Thermaltake ToughLiquid Ultra 240 (240mm AIO)
Power Supply – Seasonic Focus PX-850 850W 80+ Platinum
Case Fans – Stock 200mm (front intake + 120mm rear exhaust)
Operating System – Windows 11
Thermal Performance/Noise Overview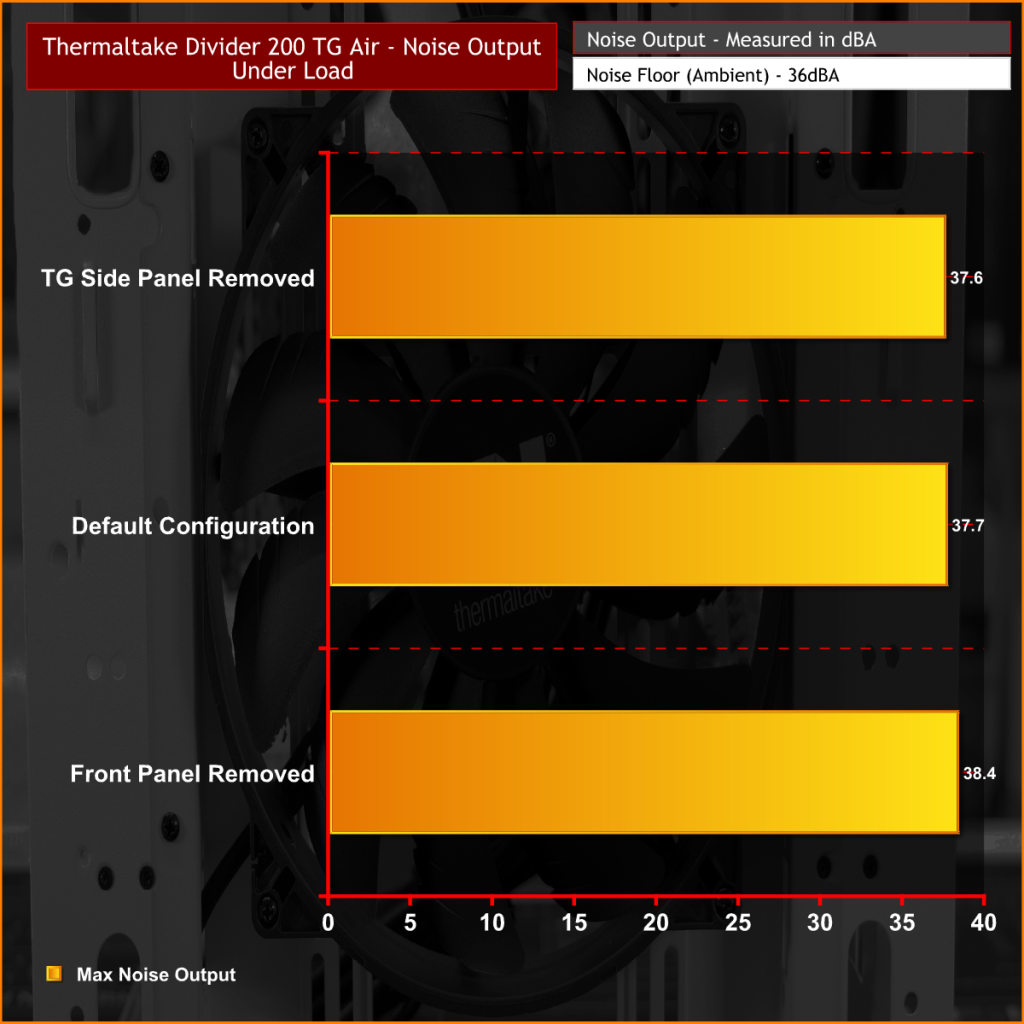 The attention to airflow in the case seems to work very well. Both the CPU and GPU temperature under load is well within acceptable limits during our stress tests which meant that the noise levels with the case in the various configurations were also very low. Removing panels didn't have much effect on component temperature or noise which shows us that in its default configuration the Divider 200 TG Air does a great job with cooling.
Closing Thoughts
With the revised motherboard tray design, installing a system inside the Thermaltake Divider 200 TG Air is a simple process. The fact that the case will accept a broad range of components means that you can build a high-end gaming system in this case with no problem, However, you are limited to microATX or mini ITX motherboards. We don't see this as a huge problem as microATX can be a good space-saving option for gamers who don't want to compromise on hardware support too much.
Obviously, MicroATX will slightly limit M.2 storage options but the chassis provides optional 2.5-inch and 3.5-inch storage bays in abundance. The Divider 200 TG Air also allows for multiple radiators to be installed so keeping the system cool is easy, even with high-end hardware. Long graphics cards, tall CPU coolers and up to 200mm long power supplies can also fit inside the chassis which is great as it feels like a compact unit.
When building the test system inside the chassis the only minor issue was the lack of cable routing/management features. There is a large compartment under the motherboard tray to hide excess cables which neatens up the look of the system but there are no cutouts to route cables through to the motherboard, which means that front panel cables etc have to trail a long distance while being in view which could look untidy to some users.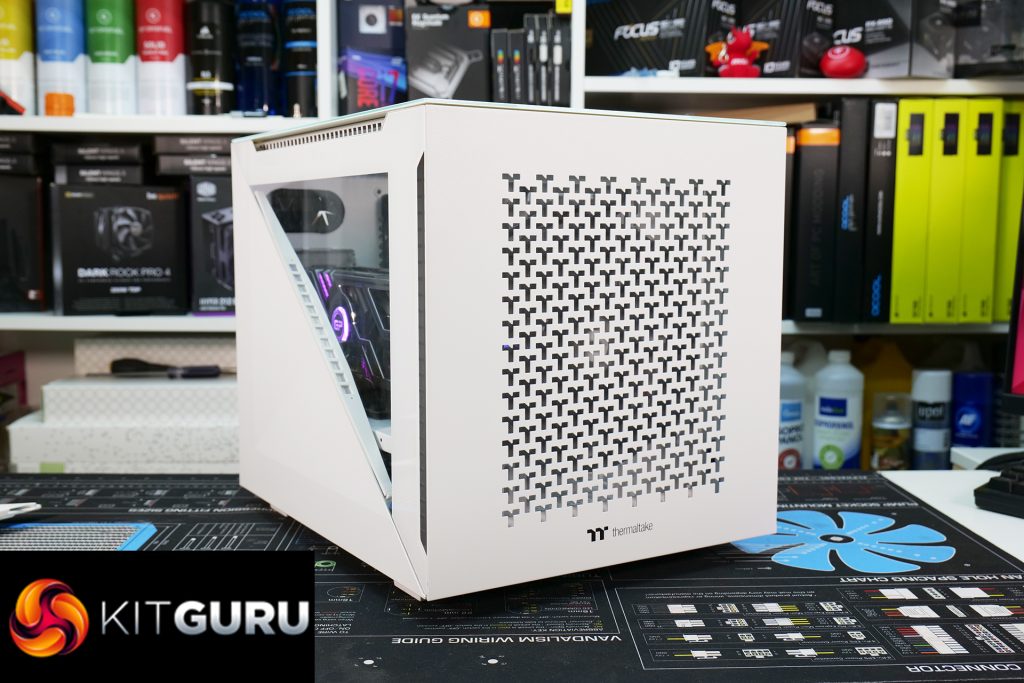 Again this isn't a huge problem as cables can be bundled together and zip-tied together to improve the aesthetics, there are some punched out holes on the side of the motherboard tray that a small zip tie can fit through to allow cables to be held in position neatly, but the build could have looked better with pass-through holes and rubber grommets for cable management.
Overall the case is a solid choice, especially if you want a white, cube shape chassis with good airflow, there isn't much else on the market like this to choose from. We like the odd form factor of the Divider 200 TG Air, it's a refreshing change from the usual rectangular boxes of most ATX tower chassis we tend to see.
Not only does it look good, but it also supports a good range of hardware and offers great thermal performance too. It is currently priced around £130 in the UK which is in the upper mid/high-end range so the Divider 200 TG Air is up against some strong competition. The fact that it doesn't come with any additional accessories, such as fan controllers or RGB lighting, might put some consumers off at this price.
You can pick up the Thermaltake Divider 200 TG Air Snow from Amazon now priced at £128.50 HERE.
Pros:
Cube shape offers a change in looks compared to common ATX towers.
Decent hardware support.
The revised motherboard tray is an improvement.
Solid cooling performance.
Cons:
Slight colour mis-match between panels of different materials.
Tempered glass panel gaps.
No real cable management features.
Not cheap.
KitGuru says: The Thermaltake Divider 200 TG Air offers extensive hardware support and great thermal performance, even with a high-end powerful system. What do you guys think of it?
Be sure to check out our sponsors store EKWB here