Think your case is customisable? Think again. The new range of Genesis and Millenium chassis and builds from Origin PC are a whole new ball game. Ever wanted to mount your monitor at 90 degrees from the normal? Flip it round? Rotate it? You can if you give these guys a call.
[yframe url='http://www.youtube.com/watch?v=DrmT9UPBvV4′]
The motherboard customisation lets you mount your motherboard in the traditional ATX standard, 90 degrees rotated (IE: the IO ports are on the roof of the case), inverted (IE: the motherboard tray faces out of the right hand side panel) and 90 degrees inverted. This lets you have your PC with its pretty window and blinking LEDs sitting on the left side of your desk, which is practically unheard of in the enthusiast scene.
Likewise if you want to have your ports on thee roof of your case for easy access when the case is on the floor, that's totally doable with this build.
The second level of customisation though, comes in the fact that there's an upgrade kit for the case. If you find yourself with a little more extra cash after buying one of these systems, you can purchase the expansion pack and add a whole new level to your case, taking it from a midi-tower to a full-tower. Your original case sits right on top of it and you can either store watercooling reservoirs, intake fans or hard drives/SSDs, whatever you fancy.
Cable management looks to be top notch with this build too.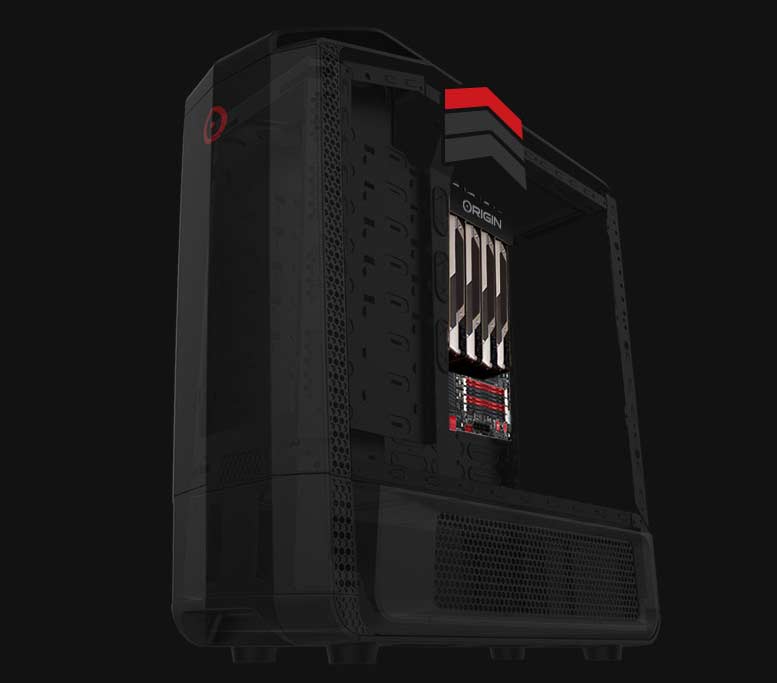 This would at least make plugging in GPU power cables that bit easier
Unfortunately this whole thing is pretty expensive, with an entry level model with an overclocked AMD FX 8320, 500w Corsair PSU, Asus Evo 2.0 motherboard, a single GTX 650 Ti and 8GB of Kingston HyperX setting you back over $1600 (£970).
KitGuru Says: That does come with a custom paint job and the Millennium Chassis, but still… that's very, very expensive. Perhaps one for those where money like this isn't something you worry about.