Here in the UK University sports aren't something many people care about. Indeed the institution of the Oxford vs Cambridge rowing race is barely interesting enough for most people to raise an eyebrow, let alone tune in for. But over with our colony-cousins in the US, they love the stuff. College football is huge, with TV getting involved and everything, so it's no surprise that it's the same when it comes to Esports. Riot games, the developer and publisher of League of Legends, has announced that in order to support the growing college competitions with the game, it will offer a $100,000 prize to the best college team in the country and give them the chance to play on the same stage as the professionals.
It makes sense too, as by supporting college play – that people evidently want to watch – it's fostering the next generation of players, some of whom will no doubt go on to become professionals, as if you're parents are paying for expensive tutoring, of course you should spend your time playing a MOBA.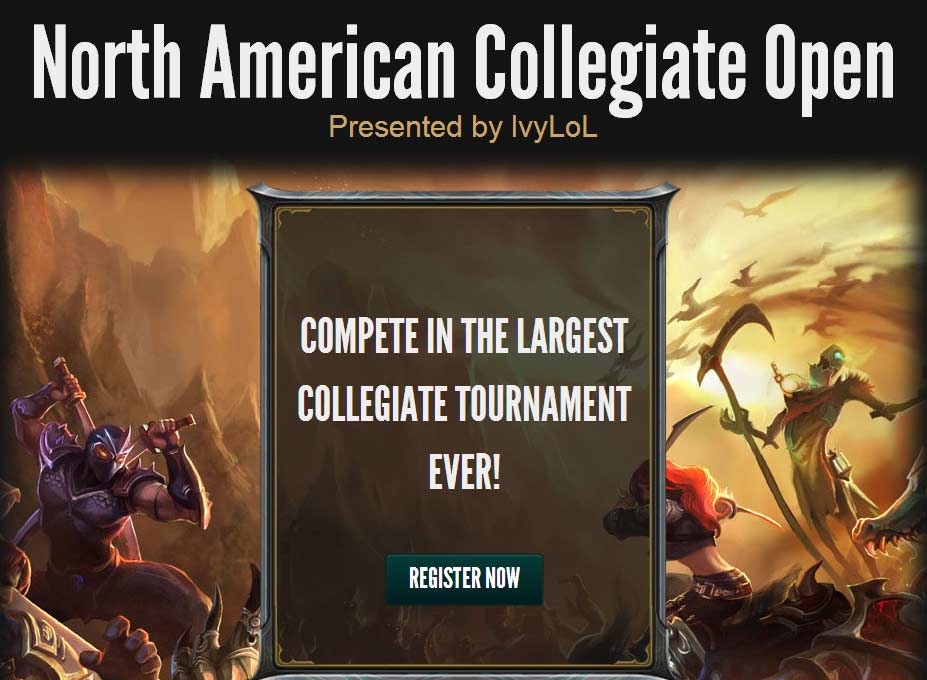 "In 2014, we want to take collegiate competition to the next level," said Riot in its announcement. "After a huge, region-wide playoff, we'll invite the top four collegiate teams in North America to compete for a prize pool of $100,000 in scholarships. They'll battle live on the LCS stage, immediately following the day's LCS matches. The winners will earn the title of North American Collegiate Champions."
In order to compete, you need to be enrolled in a US of Canadian college, but other than that, you just need to be good. Here's the registration details:
Registration lasts from January 6 to January 22
Multiple teams can register from the same university
Players must be full-time students and all enrolled at the same university
Your university must be officially accredited – See rules here
Each team needs a roster of between five and seven players
You need proof of your enrolment for the university you register with
The open league, run by IvyLoL, will begin on the 25th January and end on the 2nd February. Seeds will be randomly assigned and the tournament will be single-elimination, best of three. Starting 8th Feburary, the top teams will head to the North american Collegiate Qualifier, NACL. There:

16 teams square off in four groups and battle in a round robin stage
The top two teams from each group then advance to the quarterfinals
The qualifier ends with a best-of-three quarterfinal pitting the top seed of each group against the second seed of another group
The final four teams will face off against one another during the 22nd-23rd February LCD broadcast with a live crowd and commentators, with of course, a chance to win $100,000 in sponsorship.
KitGuru Says: Any of our US readers thinking of entering? Do you have what it takes?