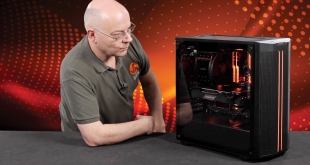 We saw the be quiet! Pure Base 500DX at CES 2020 where we pointed out this is a tweaked version of the Pure Base 500 that delivers Addressable RGB lighting on a be quiet! case for the very first time, which surely deserves another !… In addition you get a mesh front panel and USB Type-C.


Note: if the above images are not displaying properly, you may need to disable Ad Block as it is known to interfere with our display code
Main features
High-airflow intake front panel and top cover for maximum performance
Three pre-installed Pure Wings 2 140mm fans guarantee high performance and silent operation
ARGB LED at the front and inside the case
USB 3.1 Gen. 2 Type C for latest peripheral support
Water cooling ready for radiators up to 360mm
Various options to install up to five SSDs in total
Prominently placed installation bracket with integrated cable management for two SSDs
Generous space for high-end graphics cards and large coolers
PSU shroud and smart cable routing options provide a neat interior
Side panel made of tempered glass
Specification:
Motherboard support: ATX, Micro-ATX, Mini-ITX.
Expansion slots: 7.
Included fans: 3x 140mm Pure Wings 2 in front, rear and roof.
Fan mounts: 3x 120mm/2x 140mm front, 2x 120/140mm roof, 1x 120/140mm rear.
Radiator mounts: 280mm/360mm front, 240mm roof, 120mm/140mm rear.
5.25-inch optical drive bays: None.
Internal drive bays: 2x 3.5-inch/2.5-inch, 3x 2.5-inch.
Dimensions: 463mm H x 450mm D x 231mm W.
Building our test PC was slightly fiddly as there is not much space at the top of the case above the rear I/O panel. The fact that be quiet! has added a third fan in this area makes things even tighter so, as we explain in our video, we removed the fans before we installed the motherboard and connected the cables and then slipped the fans back into place. It would be a real help to have more working room in this area.
Another point of annoyance is that we had no need to use the hard drive caddy or the SSD mounting plate however when we removed them we left large holes in the mid-plate and PSU shroud which looked peculiar. In other respects the chassis works well, the construction is solid and we cannot report any significant problems.
Testing
To put this case through its cooling paces we will be using a test system consisting of an AMD Ryzen 9 3900X, Gigabyte RTX 2080 Super WindForce and an SSD. This system allows us to produce a substantial amount of heat and effectively test the be quiet! Pure Base 500DX's cooling capabilities.
For stress testing we use AIDA64 to create the maximum amount of load our CPU and GPU are ever likely to see.
Test System:
Processor: AMD Ryzen 9 3900X (12 cores/24 threads)
CPU Cooler: be quiet! Dark Rock 4
Motherboard: Gigabyte X470 Aorus Gaming 7 WiFi
Memory: 16GB G.Skill TridentZ RGB DDR4-3200MHz
Graphics card: Gigabyte RTX 2080 Super WindForce 8GB
Power supply: be quiet! Dark Power Pro 11 750W Platinum
SSD: 240GB Toshiba RC100 M.2 NVMe
OS: Windows 10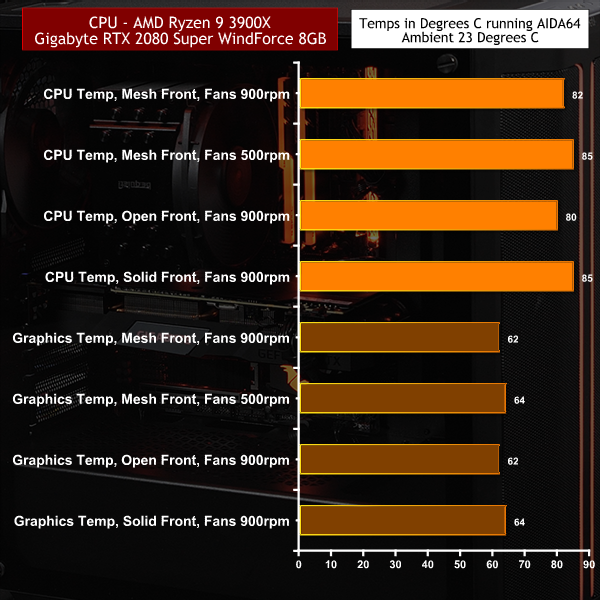 Cooling Performance Overview
be quiet! Pure base 500 has good cooling and our Ryzen 9 3900X sat at a steady 82 degrees C under full load with the fans running at maximum speed. That may sound extreme, however the case fans are rated at 900rpm and are very quiet. Slowing the fans to 500rpm made them inaudible and raised the CPU temperature to 85 degrees. We also removed the front panel – but left the filter in place – and only saw a temperature drop of two degrees.
Heading in the other direct we replaced the Mesh front panel with the panel from the original Pure Base 500 and only saw an increase of three degrees. Our conclusion is that the Pure Base 500DX works well and cools successfully with pleasingly low levels of noise.
Closing Thoughts
be quiet! has broken very little new ground with the Pure Base 500DX as they have introduced ARGB lighting in a mesh front panel and have tacked a USB Type-C on the front I/O. These are perfectly reasonable moves, however we have seen these features in a great many cases from other manufacturers so this is more about be quiet! playing catch-up, rather than anything that is new or radical. The most interesting thing about the DX Mesh front panel is that it delivers very similar cooling to the 'solid' front panel that came with the original Pure Base 500. In fact that panel isn't solid, although it appears at first glance to have little in the way of air intakes.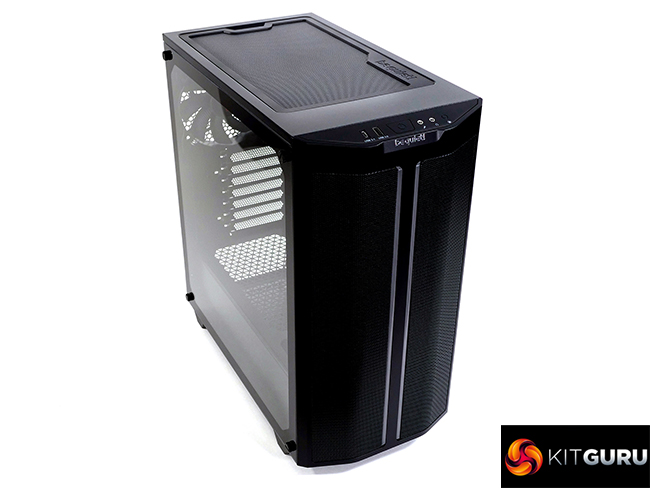 be quiet! has added mesh while maintaining low noise levels and the outcome is that it is offering its customers a choice of two aesthetic approaches where the Pure Base 500 looks like a classic be quiet! while the DX could easily be mistaken for a case from Fractal Design. Both approaches work well, however the price increase of the DX is so small that the inclusion of USB Type-C and an extra fan make it the compelling choice.

You can buy the be quiet! Pure Base 500DX for £89.99 from Overclockers UK HERE.
Discuss on our Facebook page HERE.
Pros:
Decent airflow and cooling.
Low noise levels.
USB Type-C on the front I/O.
Full Tempered Glass window.
Cons:
The top of the case has limited space above the motherboard.
We would prefer PWM fans, ideally with a small fan hub.
Removing the SSD bracket and drive cages leave holes in the mid-plate.
KitGuru says: Pure Base 500DX is a gentle evolution of the Pure Base 500 and while it is decent, it avoids any radical moves.
Be sure to check out our sponsors store EKWB here