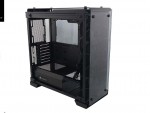 The Corsair Crystal 570X is an impressive new case from Corsair that uses tempered glass on all four main panels and then tops off the looks with three Corsair SP120 RGB fans at the front. These LED fans are available as an add-in kit for an existing case in a pack that includes three fans and a controller unit at a cost somewhere north of £50.
Initial impressions of Crystal 570X are mighty impressive and also raise an obvious question as to whether or not Corsair has managed to include dust filters in a case that appears to be made entirely of glass. The answer, happily, is yes.
When you strip the Corsair Crystal 570X of its glass and take a look at the bare chassis you can see that they have used a conventional steel structure that accommodates an ATX motherboard, although we squeezed in an E-ATX Asus Rampage V Edition 10 without difficulty.
The top and front of the case have full length filters and there is a small filter over the intake for the power supply. The case is then topped off with (slightly tinted) tempered glass panels on the top, front and both sides.
These panels sit on short posts with rubber seats and are secured with thumb screws. It is quick and easy to remove the glass to gain access to the filters and equally easy to reinstall the glass. A word of advice – wear gloves to avoid greasy finger prints.
Specification:
Motherboard support: ATX, Micro-ATX, Mini-ITX.
Expansion slots: 7.
Included fans: 3x 120mm front intake.
Fan mounts: 3x 120mm or 2x 140mm front, 2x 120/140mm roof, 1x 120mm rear.
120mm radiator mounts: 120mm/240mm/360mm front, 120mm/240mm roof, 120mm rear.
140mm radiator mounts: 140mm/280mm front.
5.25″ drive bays: None.
Internal drive bays: 2x 3.5, 2×2.5″.
Dimensions: 480mm H x 512mm D x 234mm W.
With the rear glass panel removed you can see the way Corsair has attached the SP120 light control unit on the back panel with a piece of adhesive tape and then connected it to the control buttons on top of the case next to the I/O panel.
There are three buttons for colour, mode and speed. Colours are white, red, orange, yellow, green, blue and violet with an eighth option that cycles through the seven colours.
Modes are Breathing and flicker, static, breathing and flicker. We liked static, could tolerate breathing and hated flicker as it was reminiscent of a cheesy night club.
It is a similar story with the speed selection – slow is OK but medium and high are rather urgent. Using 'flicker' and 'high' feels like a good way to induce apoplexy.
Building a system inside Crystal 570X would appear to be the easiest job in the world. There is plenty of space for the CPU cooler and graphics cards, the power supply cover conceals most of the mess and the cable management plate on the rear should keep everything neat and tidy.
You can install a 280mm or 360mm radiator at the front or a 240mm radiator in the roof, however we get the distinct impression Corsair would much rather you stick with an All In One from their Hydro range. Nonetheless we persisted and built a system using the following parts:
Quad core Xeon E5 Broadwell E
Asus Rampage V Edition 10
Corsair Vengeance DDR4 LED RAM
Dual EVGA GTX 980 with EK blocks
Alphacool XPX CPU block
Alphacool 360mm radiator
EK D5 pump and EK reservoir
Alphacool fittings
Mayhems Pastel Red coolant
Lighting is Alphacool Aurora rings and DarkSide LED sticks
Corsair AX1500i power supply
The final result looks pretty darn spiffing however it was tricky to install the Corsair AX1500i in the first place and impossible to conceal the cables. You get the bare minimum of cable management holes above and below the motherboard and this makes life difficult. Controlling and concealing the USB 3.0 cable is next to impossible.
No doubt part of the problem is the length of the AX1500i and while we have to assume Corsair wants customers to use their premium hardware we found it was a bit too much like hard work.
Testing
To put this case through its cooling paces we will be using a test system consisting of an Intel Xeon E5 v4, dual GTX 980 graphics cards and an SSD. This system allows us to produce a substantial amount of heat and effectively test the Corsair Crystal 570X's cooling capabilities.
For stress testing we use AIDA64 and Furmark to create the maximum heat output to stress our CPU and GPU.
Test System:
Processor: 3.5GHz/3.8GHz Intel Xeon E5v4
Motherboard: Asus Rampage V Edition 10
CPU cooler: Custom loop – Alphacool and EKWB
Memory: 32GB Corsair Vengeance LED DDR4-3200MHz
Graphics card: Dual EVGA GTX 980 SC 4GB
Power supply: Corsair AX1500i 1500W Titanium
Storage drives: Corsair Force LS SSD
OS: Windows 10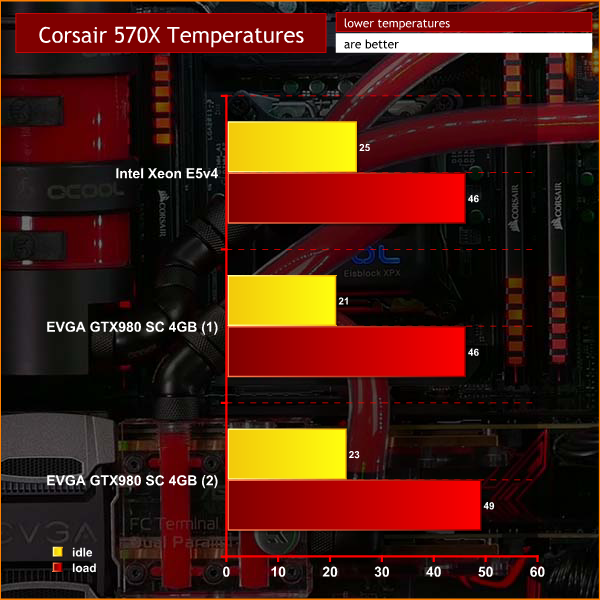 Cooling Performance.
The Corsair Crystal X had no trouble cooling our Xeon and dual GTX 980s, and that is despite the fact there are three fans at the front and none at the top or rear. You have to think that adding an exhaust fan would lower temperatures even further, which is an impressive thought.
Acoustics performance.
We could hear the three SP120 fans throughout our time with the Crystal 570X. They were running in silent mode but were still audible. And that, my people, is what happens with a glass case. You have to run the fans low and slow but will struggle to make them utterly silent.
Closing Thoughts.
Corsair claims that the Corsair Crystal 570X is their finest looking case and we agree. The glass work is top notch and the hardware used to mount the glass and to retain the filters is very clever. We like the three SP120 RGB fans but are disappointed to see the controller is not compatible with Corsair HD120 RGB fans so the upgrade path to future bling is slightly restricted.
The light control in the fans offers a number of options but at least half of them are of little interest to me specifically.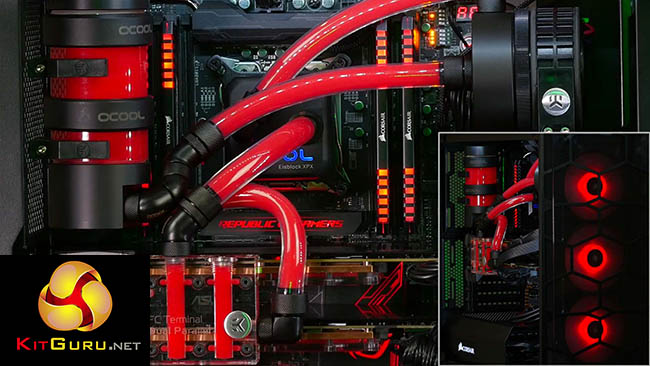 The Corsair Crystal 570X is all about the visual impression that it makes and in that respect it is a stone cold winner. The price is steep but we can understand why and when you consider the quality of the glass we would be prepared to excuse at least £50 of the price.
Other features such as the stealth drive bays on the rear panel are a neat touch that clean up the finished build.
We did not enjoy the cable management. It would have helped if we could reinstall the cable cover on the rear panel however that was not possible. We have little doubt Corsair could modify this chassis with a few holes and perhaps extend the power supply cover a little to make life considerably easier. In that respect Crystal 570X comes close but does not fully succeed.
Overall we liked the finished result with the Corsair Crystal 570X but did not much enjoy the experience of the build. We know KitGuru readers are quirky like that and enjoy a challenge so we doubt that any of our words of caution will hold you back.
If so, have fun and for goodness sake make it pretty!

Buy from Overclockers UK for £184.99 inc vat HERE.
Pros:
Stunning glass panels on four sides.
Fully filtered in the top, front and power supply intake.
Includes three Corsair SP120 RGB fans.
Stealth drive bays on the rear panel for SSD and HDD.
Space in the front for 280mm or 360mm radiator.
Cons:
Cable management holes above the motherboard are feeble.
Installing a long power supply is tricky as the cables have very little room.
HD120 RGB fans are not supported by the controller.
KitGuru says: The Corsair Crystal 570X looks gorgeous yet manages to include proper filters.