We liked both the Corsair 5000D Airflow and Corsair 4000D Airflow, and were hoping the next case from Corsair would be compact, efficient and cheap. Instead we are reviewing the iCUE 7000X RGB, which is an E-ATX full tower that supports 420mm/480mm radiators and lands with a hefty price tag of £299.99 inc VAT. Ouch.
Main features (copied from Corsair's review guide):
Build in Full View: The 7000X RGB showcases your system behind three gorgeous tempered glass panels while making it easy to build and cool thanks to clever cable management and a spacious interior.
Corsair RapidRoute Cable Management System: Makes it simple and fast to route your major cables through a single hidden channel, with an easy-access hinged door and a roomy 30mm of space behind the motherboard for all of your cables.
Four Included 140mm RGB Fans: Corsair SP RGB Elite PWM fans feature eight individually addressable RGB LEDs per fan and utilize AirGuide technology to concentrate airflow and enhance cooling.
Smart RGB and Fan Speed Control: An included Corsair iCUE Commander Core XT Controller, Corsair iCUE software and PWM fan repeater enable RGB and fan speed control out of the box.
Colossal Cooling Potential: A massive interior accommodates up to 12x 120mm or 7x 140mm cooling fans, and makes it possible to install multiple radiators including 3x simultaneous 360mm or 2x simultaneous 420mm for extreme cooling.
Customizable Side Fan Mounts: Side-mount up to 4x 120mm fans or up to a 420mm radiator, opening up a new world of cooling options.
Three-Slot Vertical GPU Mount: Put the spotlight on your graphics card with a vertical mount on the PSU shroud, big enough for today's most powerful graphics cards.
Fully Equipped Front Panel I/O: Includes a USB 3.1 Type-C Port, 4x USB 3.0 ports, and a combination audio/microphone jack.
All the Storage You Need: Fits a multitude of drives thanks to 6x combo 2.5in / 3.5in drive trays and 4x 2.5in SSD mounts.
Customizable Windowed PSU Shroud: Add your own personalized inserts, perfect for creating a jaw-dropping mod.
All-Around Easy Access: Two tool-free hinged side panels with simple and secure snap-on attachment, along with removable front and roof panels, enable easy access to your components.
Specification:
Motherboard support: E-ATX, ATX, Micro-ATX, Mini-ITX.
Expansion slots: 8+3.
Included fans: 3x 140mm front intake, 1x 140mm rear exhaust SP RGB Elite.
Fan mounts: 4x 120mm/3x 140mm front, 3x 120mm/140mm roof, 4x 120mm side, 1x 120mm/140mm rear.
Radiator mounts: 480mm/420mm front, 360mm/420mm roof, 480mm side, 120mm/140mm rear.
5.25-inch optical drive bays: None.
Internal drive bays: 6x 3.5-inch/2.5-inch, 3x 2.5-inch.
Dimensions: 550mm(L) x 248mm(W) x 600mm(H)
Cooling performance
Test system:
Processor: Intel Core i7-11700K (8 cores/16 threads, 4.6GHz all cores)
CPU Cooler: Corsair iCUE H170i Elite Capellix
Motherboard: MSI MEG Z590 Ace BIOS v1.1
Memory: 32GB Corsair Dominator Platinum RGB DDR4-3200MHz
Graphics card: Sapphire Radeon RTX 6800 XT 16GB
Power supply: Corsair RM1000i Gold 1000W
SSD: 500GB Sabrent Rocket NVMe 4.0 M.2 NVMe
OS: Windows 10
Cooling performance overview
We were confident this sizeable case would provide decent cooling and the figures bear that out. We started with four 140mm case fans and then added three more 140mm fans with our chosen Corsair iCUE H170i Elite Capellix CPU cooler, and can easily imagine more extreme cooling systems that add even more fans. Unless you do something utterly bizarre with the Corsair iCUE 7000X we can safely say the cooling will not be an issue.
Closing Thoughts
Corsair has followed a fairly obvious formula to create the iCUE 7000X RGB, however we find the finished product is rather unsatisfactory.
Our problem is that the Corsair 5000D AirFlow does a perfectly decent job and can accommodate pretty much any set-up that springs to mind. The new Corsair iCUE 7000X RGB is bigger than the 5000 and can handle larger radiators but that doesn't add any useful function or make it perform in a significantly better way.
Balanced against that, if you only install a single 420mm cooler the Corsair iCUE 7000X RGB looks half-empty. None of us use multiple graphics cards these days and very few of us use extra PCIe expansion cards or a large number of SSDs and HDDs. To us, the space inside the Corsair iCUE 7000X RGB only makes sense in the context of cooling for your CPU and GPU and we consider our finished PC looks rather odd and incomplete.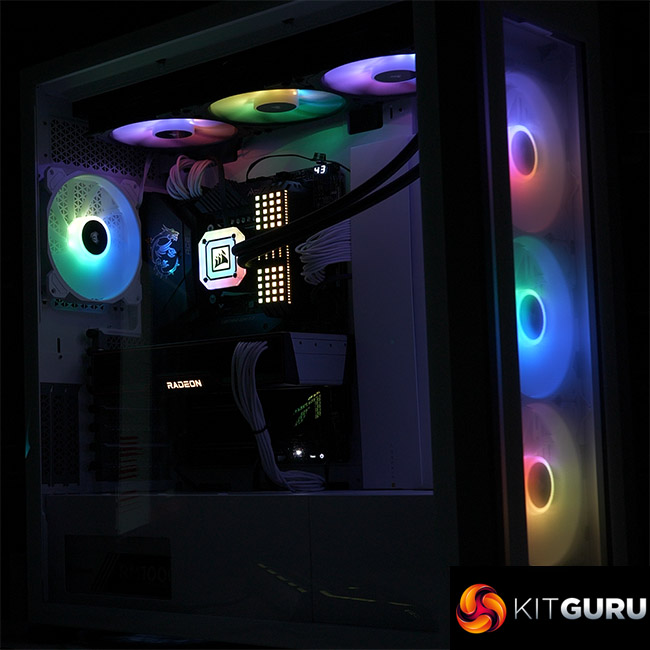 Throughout the owner's manual and reviewer's guide, Corsair makes no mention of custom loop liquid cooling but instead features plenty of fans and AIO cooling on the CPU. The PC you see in our video and photos is typical of the system that Corsair envisages in the Corsair iCUE 7000X RGB and we simply don't get it.
The finished PC is big and heavy and leaves us feeling unsatisfied. The fact we are expected to pay a premium for the Corsair iCUE 7000X RGB simply adds insult to injury as it feels like the original design brief was misguided from the very first moment.
Having said all that… the Corsair iCUE 7000X RGB does indeed work in its own terms so if you happen to be shopping for a large case that will show off loads of RGB while providing adequate cooling then yes, you might indeed want to consider the Corsair iCUE 7000X RGB.

You can pre-order the Corsair iCUE 7000X RGB from Overclockers UK for £299.99 HERE. The Airflow version is listed at £239.99 HERE.
Discuss on our Facebook page HERE.
Pros
Large enough to accommodate any hardware you choose.
Cooling works well.
Shows off your RGB to the max.
Cons
Wow… that's expensive.
No integrated lighting.
No clever features such as support for dual systems.
Commander XT does not have the new connector used by iCUE Elite coolers.
The included 140mm fans require cable extensions to work in the huge 7000X case.
User manual is small and basic.
KitGuru Says: Corsair iCUE 7000X RGB is big, bold, expensive and not really to our taste.

Be sure to check out our sponsors store EKWB here