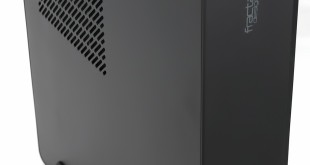 Fractal Design offers its new Mini-ITX Node 202 either as a bare case or paired with its Integra SFX 450W PSU. When you consider how few SFX PSUs there are on the market it probably makes sense to go for the combo package, if only to save yourself hassle.
This is a small form factor case that measures 377mm wide x 330mm deep x 82mm high when it is laid down flat. Stand it on end using the foot and the official dimension increase to 385mm x 332mm x 125mm, however compared to a tower case the Node 202 is amazingly compact and has a volume of 10.2 litres.
On the other hand if you compare the Node 202 to a truly tiny system such as Intel NUC, MSI Cubi or Gigabyte BRIX then Node 202 actually looks quite large so it is very much a matter of your personal perspective.
This raises the question of how you will use your shiny new PC. The Node 202 does not have an optical drive bay (so you can forget about playing Blu-ray) which means the Node 202 isn't quite an obvious candidate for a media centre PC that you might first think. The unexpected thing is that Fractal Design is aiming the Node 202 at the general PC market and states it 'can house a capable gaming build.'
Specifications
Motherboard support: Mini-ITX
Expansion slots: 2
Included fans: None
Fan mounts: 2x 120mm in graphics chamber
5.25″ drive bays: None
Internal drive bays: 2x 2.5″
Dimensions: 385mm x 332mm x 125mm
It is certainly true the Node 202 can accommodate a proper gaming graphics card (up to 310mm in length) and the Integra SFX PSU has the necessary pair of 6+2 power connectors.
The biggest drawback is that Node 202 only has 56mm of clearance for the CPU cooler so you are pretty much obliged to use a stock Intel air cooler (or similar after market cooler) and there is no scope to install an all-in-one liquid cooler.
Testing
To put this case through its cooling paces we will be using a test system consisting of an Intel Pentium Anniversary G3258, Sapphire ITX Compact R9 285 graphics and an SSD storage drive. This system allows us to produce a substantial amount of heat and effectively test the Fractal Design Node 202's cooling capabilities.
For stress testing we use a mixture of Prime95 and FurMark to create the maximum heat output. Prime95′s 'Small FFTs' setting allows us to stress our CPU. FurMark's 'GPU Burn-in' mode creates the maximum amount of load our GPU is ever likely to see.
Test System:
Processor: Intel Pentium Anniversary G3258
Motherboard: Asus Z87I-Pro
CPU cooler: Intel air cooler
Memory: Corsair Vengeance LP DDR3-1600MHz
Graphics card: Sapphire ITX Compact R9 285
Power supply: Fractal Design Integra SFX 450W PSU
Storage drives: Samsung 840 SSD
OS: Windows 8.1 64-bit
Thermal Performance Test Procedures:
The case's default fan configuration is used to give an accurate interpretation of the out-of-the-box performance.
The Fractal Design Node 202 is supplied without any fans.
Cooling Performance
The Node 202 suffers on the cooling front, however the same is true of most small form factor PCs. In this case the dual core Pentium G3258 starts at a relatively warm 44 degrees but the temperature only rises to 61 degrees under extreme load. No doubt a Core i5 or i7 would have got significantly hotter but that wouldn't have proved very much.
On the graphics side of things the Sapphire ITX R9 285 idled at 41 degrees and rose to 78 degrees under extreme duress. There is absolutely no cause for concern with those figures.

Acoustic Performance
Fractal design supplies the Node 202 without any case fans (there is an 80mm fan in the PSU) and while you can add two 120mm fans in the graphics side of the case we choose not to do so. This means we were using just the fans on the stock Intel CPU cooler and Sapphire graphics card.
At idle the system was effectively silent but under load we could clearly hear the fans spinning up as the hardware got hotter. Using benchmark software to stress components is a worst case scenario and while the fan noise was clearly audible it didn't cause any problems.
Closing Thoughts
Building a PC in the Fractal Node 202 is slightly fiddly as you first remove the chassis from the top and bottom covers. Next you install your Mini-ITX motherboard and after that you install and secure a PCI Express riser card to the divider that separates the two halves of the case.
Once the graphics card is installed you connect the various cables and here we wish that Fractal Design would include two short SATA cables to help keep everything tidy.
Once the build is complete you reinstall the chassis in the bottom cover (which requires a bit of practice) and then close up the top of the case.



Buy Direct from Overclockers UK HERE.
Discuss the review on our Facebook page, over HERE. Prices are £69.95 inc vat for the barebones unit and £119.99 inc vat for the unit with Integra 450W SFX PSU.
Pros:
Smart appearance.
Supports a proper 310mm gaming graphics card.
The ventilated panels in the case have full dust filtering.
The top and bottom panels use steel stiffening and the construction is nice and rigid.
Graphics card support block works well.
Fractal Design gives the option of a matching 450W SFX power supply.
Two 2.5-inch drive bays.
Cons:
There is only 56mm clearance for the CPU cooler.
Cleaning the dust filter above the CPU require the removal of the top cover.
Installation is the usual small form factor fiddle.
It would help if Fractal Design included two short SATA cables.
Replacing the bottom cover requires care to get the ports to correctly align with the front panel.
KitGuru says: A decent small form factor chassis that would benefit from better CPU cooling.