Fractal Design struck out in a new direction with their substantial Torrent case and its support for up to four 180mm fans, and today we see the launch of two smaller Torrents. We have covered the mid-sized Compact and here we are reviewing the Nano which supports a Mini-ITX motherboard with an ATX power supply, so Nano is small but not as tiny as its name might suggest.
Watch video via Vimeo (below) or over on YouTube at 2160p HERE
Timestamps
00:00 Start
00:15 Introduction
01:32 Removing the panels
02:12 Fan / filter / bottom of case
02:47 Accessory pack
03:25 Details and pricing
05:30 Test System hardware
06:53 A look at the completed system build
08:08 Noise and performance results
10:25 Leo's Closing Thoughts
Main features
Open front grille with 180 mm fan support and full-length base intake
Fractal Design 180 x 38 mm Dynamic X2 PWM and Prisma AL PWM ARGB fans leverage power, size, and thickness for greatly enhanced air-moving capacity
Streamlined open interior with extra headroom for components and cooling
Top mounted PSU compartment with aerodynamic shape and integrated ARGB effects (TG versions only)
Supports standard radiator sizes up to 240 mm in the front using included fan adapter brackets
External cable tie-downs help manage the power cord and other cables on the rear exterior
GPU support bracket included
Seamless tempered glass panels with bolt-free top-latching mechanism
Integrated LED lighting (on TG versions) and Prisma ARGB fans use standard 5V RGB connectors for full software control on motherboards with addressable RGB support
Removable top bezel and cable guides with cable ties behind the motherboard plate
Vibration-damped HDD tray and one dedicated dual-mount SSD bracket included
An additional 2.5" drive can be mounted to the underside of the HDD/SSD tray
Integrated support for a water-cooling reservoir on the motherboard tray
Front and bottom dust filters easily accessible by removing the front panel
Three bridgeless expansion slots ensure obstruction-free hookup
Specification:
Motherboard support: Mini-ITX, Mini-DTX
Power supply support: ATX
Expansion slots: 3
Included fans: 1x 180mm x 38mm Dynamic X2 GP-18 PWM front
Fan mounts: 2x 120mm/140mm, 1x 180mm front, 1x 120mm rear, 2x 120mm/140mm floor
Radiator mounts: 240mm/140mm front, 240mm/280mm floor, 120mm rear
5.25-inch optical drive bays: None
Internal drive bays: 1x 3.5-inch/2.5-inch, 2x 2.5-inch
Front I/O ports: 2x USB 3.0 type-A, 1x USB 3.1 Gen 2 type-C, audio
Dimensions: 374mm H x 417mm D x 222mm W
Testing
To put this case through its cooling paces we will be using a test system consisting of an Intel Core i5-11600K, Sapphire RX 6800 XT 16GB and an SSD. This system allows us to produce a substantial amount of heat and effectively test the Fractal Design Torrent Nano's cooling capabilities.
Test System:
Processor: Intel Core i5-11600K (6 cores/12 threads)
CPU Cooler: Noctua NH-U12A chromax.black with NF-A12x25 fans
Motherboard: Gigabyte Z590I Aorus Ultra
Memory: 64GB Kingston Fury Renegade RGB DDR4-3000MHz
Graphics card: Sapphire RX 6800 XT 16GB
Power supply: Fractal Design Ion+ 2 Platinum 860W
SSD: 500GB Sabrent Rocket 4.0 M.2 NVMe
OS: Windows 11
Cooling Performance
Cooling Performance Overview
Our test PC was pulling 540W at the wall socket while it was running a combination of Time Spy Stress Test and Cinebench R23 so the load was fairly severe, however the fact remains that both CPU and GPU temperatures were higher than we expected.
Closing Thoughts
Fractal Design's new Torrent Nano is an interesting case that does a decent job of cutting the original Torrent down to size. The end result is a small case that is supplied with a single 180mm fan and which supports Mini-ITX/Mini-DTX with full sized hardware in the other departments.
It helps the customer to reduce costs as you don't have to hunt around for a specific low profile CPU cooler or a short SFX power supply and pretty much the only concession you have to make is the form factor of the motherboard.
If we were being really picky we might point out that AMD Threadripper customers need to look elsewhere, however that is a trivial point. In the great scheme of things, Torrent Nano supports gaming hardware from AMD, Intel and Nvidia without taking up much desk space.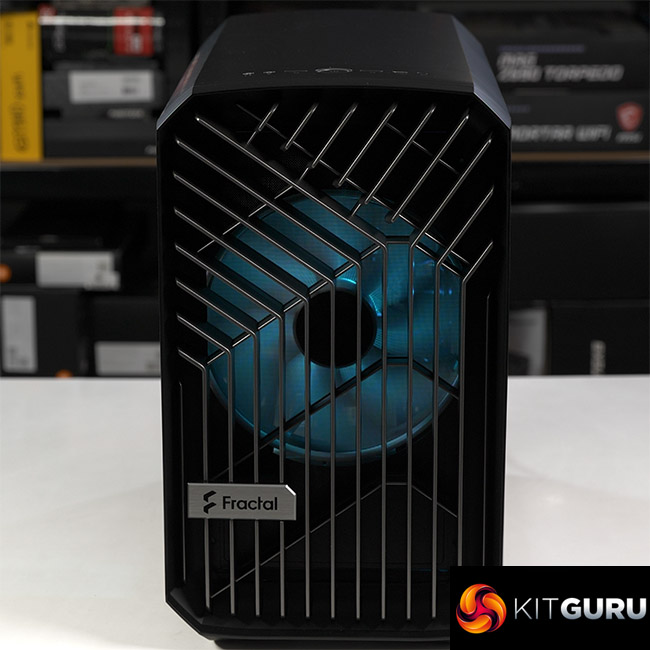 We semi-expected that building inside Torrent Nano would be tricky as that is often the way with ITX systems however the process was pretty much a breeze. That was a pleasant surprise and we were also happy with the look of the finished PC, the relative ease of cable management and we even found the noise levels were OK once the fan curves had been set.
What we did not expect was that temperatures inside the Torrent Nano would be quite so high as they were. Simply looking at the Torrent Nano gives the impression that air flow should be very good indeed. As you can see from our testing chart we had plenty of headroom and were a significant distance away from any problems so really this is a reminder that small form factors builds always force you to make compromises.
You will be able to buy the Fractal Design Torrent Nano for £113.99.
Discuss on our Facebook page HERE.
Pros:
Small form factor that will sit nicely on your desk.
Mini-ITX combined with ATX power and a full sized GPU.
Plenty of options for cooling and storage.
Cons:
Mini-ITX motherboard will impose limitations.
Cooling in the Nano is fairly average.
The options for swapping out the 180mm fan seem misguided.
KitGuru says: Fractal Design Torrent Nano is a large Mini-ITX design that has plenty to keep us interested..
Be sure to check out our sponsors store EKWB here