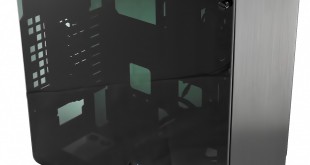 And the award for 'Novel ATX PC case 2015 goes to … In-Win for the 904Plus.' That might seem premature as we have only reached April but the odds of another radical design that will top the 904 Plus are slender to non-existent. In-Win has updated the 904 very slightly to create the Plus which replaces the original version and sells at the same price. You still get an aluminium chassis with flawless front and top panels that are capped off with tempered glass side panels.
This 904 Plus version comes either in silver or black rather than silver or gold so black is the new option for 904 Plus and we wave bye-bye to gold. At the rear of the case they have added a cable management hole and inside the case there is more room for the power supply. At the front you may notice there is a new logo plate.
In-Win has worked hard to create a stylish case that looks amazing but there are direct consequences from this course of action. For example the four USB 3.0 ports, headset jacks, power button and, yes, the DVD drive are all at the bottom of the case. The only logical way to use the 904 Plus is by standing it on your desk, rather than down on the floor.
Specification:
Motherboard support: ATX, Micro-ATX.
Expansion slots: 8.
Included fans: None
Fan mounts: 1x 120/140mm floor, 1x 90mm rear.
120mm radiator mounts: 120mm rear.
140mm radiator mounts: 140mm rear.
5.25″ drive bays: 1
Internal drive bays: 3x 2.5"/3.5", 2x 2.5″.
Dimensions: 490mm H x 490mm D x 192mm W.
Building a PC inside the 904 Plus is a lesson in frustration, partly because it is very slender but also because those glass side panels make it tricky to conceal the cables. Installing the stealth DVD drive is an uphill struggle. On the other hand the three hot swap SATA drive bays are a delight and In-Win has included some power supply extensions that make life easier if your PSU is lacking in that department.
There is a fair amount of cabling included with the 904 Plus and it is all black and braided to a high standard that is very much in keeping with the styling of the case.
When you watch our video you will see there are a number of quirks in the design, and in particular two are worth mentioning. The first is that the false cover at the rear of the case conceals the I/O panel and makes it quite a trial to connect a mouse, keyboard, network cable, printer and anything else that requires access. The second thing is cooling. The 904 Plus ships without any fans although it is fairly easy to install a 120mm/140mm fan above the cut-out, in front of the stealth DVD drive. You could, with some work, install a liquid cooler in that location instead.
This is likely to be necessary as the design of the 904 Plus means you are restricted to using a CPU cooler less than 145mm in height. At the rear of the case there is a 90mm fan housing, presumably because the case is slender and there is no space for anything larger and then you have the option of adding a 120mm/140mm liquid cooler piggyback style at the rear of the case.
If we take a charitable view and you look at the 904 Plus from the front then whatever you do at the rear is out of sight. Realistically you are bound to catch sight of the cooler as, you will recall, the case will be on your desk in full view of the world. The best you can hope for is that the cooler will look inoffensive but there is a good chance it will jar your nerves and cause you some annoyance.
Perhaps the best way to consider the 904 Plus is by looking at the two Solid State mounts inside the front panel of the case. These caddies are retained with a single thumbscrew which means you have to install the SSD in a particular way to ensure you can connect the cables. This gives you a 50:50 chance the label on the SSD will be upside down, which is a minor quibble but a real surprise when you consider that 904 Plus is so clearly built to give a particular style and look. In that context the idea of an SSD that is mounted upside down is simply unacceptable.
Testing
To put this case through its cooling paces we will be using a test system consisting of an Intel Core i7-4770K and Radeon R9 290. This system allows us to produce a substantial amount of heat and effectively test the In-Win 904 Plus' cooling capabilities.
For stress testing we use a mixture of Prime95 and FurMark to create the maximum heat output. Prime95′s 'Small FFTs' setting allows us to stress our CPU. FurMark's 'GPU Burn-in' mode creates the maximum amount of load our GPU is ever likely to see.
Test System:
Processor: 3.9GHz Intel Core i7-4770K
Motherboard: ASRock Z97 Killer
CPU cooler: Alpenfohn Wasser
Memory: AMD Radeon R9 DDR3-2400MHz RAM
Graphics card: Sapphire Tri-X Radeon R9 290 4GB
Power supply: Seasonic Platinum Fanless 520W
Storage drives: AMD Radeon R7 SSD
OS: Windows 7 Professional 64-bit.
Cooling Performance


Using an Alpenfohn Wasser liquid cooler kept the Core i7 under control and the Sapphire R9 290 had no problem exhausting hot air to the rear, despite the extra obstacle of the cosmetic rear panel. The hardware ran a few degrees hotter than we would have liked but the components were under very heavy load in a test that seems out of place in a PC that is built more for looks than performance.
Acoustics Performance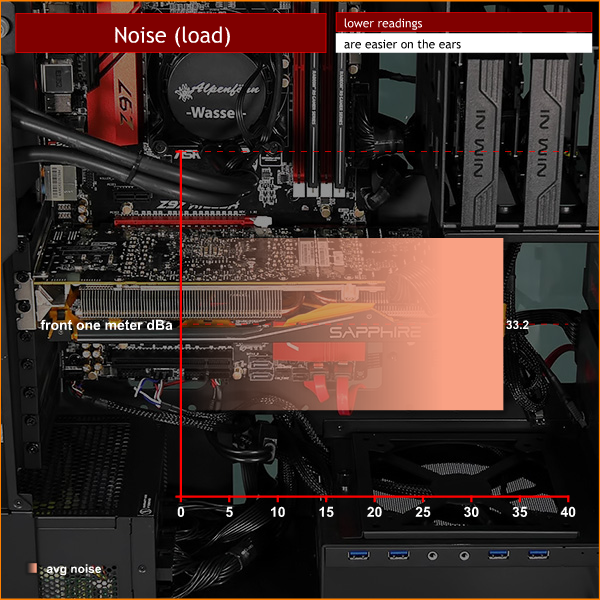 With our chosen set-up using a single 120mm fan on the liquid cooler and a passively cooled power supply the 904 Plus was very quiet indeed. Obviously if you add more fans you can expect the noise levels to increase.
Closing Thoughts
We like the In-Win 904 Plus a great deal however it is clearly designed for style above all else. Building this PC was hard work but the finished result looks like a million dollars, which means the price of £159.99 actually looks like good value for money.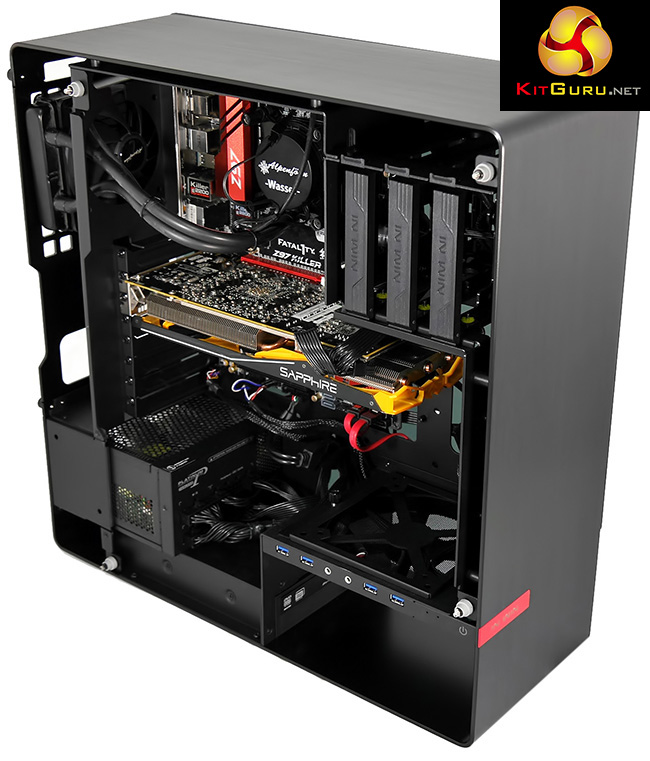 The In-Win 904 Plus will be available in the channel from the start of May.
Discuss on our Facebook page, over HERE.
Pros:
Stunning looks.
Excellent aluminium and glass construction.
Three hot swap SATA drive bays.
PSU extension cables are included.
Good accessory pack of fasteners.
Illustrated set-up sheet.
Four USB 3.0 ports.
Very quiet operation.
Cons:
Restricted clearance for the CPU cooler.
Access to the I/O panel is very awkward.
Installing a liquid cooler is tricky.
The PC build can be frustrating, in particular the DVD drive.
The SSD mounts may be upside down depending on your hardware.
KitGuru says: You may well be won over by the 904 Plus at first sight however this is a case with some fundamental issues to overcome.