Today sees the launch of the Lian Li O11 Air Mini, which majors on air flow. The closest point of reference I have is the Lian Li O11 Dynamic I worked with two years ago in this EK custom loop build. You will understand that feels like a very long time indeed, however the Lian Li O11 Air Mini immediately feels familiar thanks to its design input from Der8auer.
Main features:
Fully Mesh Design The front/ top/ back/ right side panels are all mesh design. O11 Air Mini guarantees abundant airflow in the case that allows the system to run at peak performance.
Includes PWM Fans O11 Air Mini comes with two front 140mm PWM intake fans and one rear 120mm PWM exhaust fan in order to create ample airflow inside the chassis.
Modular Back Panel O11 Air Mini provides options for the user to go with 7 slots mode or 5 slots mode thanks to the modular back panel. Adjust the main back panel bracket and use the I/O extension shield or the top motherboard shield to match the configuration choice.
Clearance for High-Performance CPU Cooler and ATX PSU Although O11 Air Mini is a compact case, it provides up to 167mm height CPU clearance, allowing users to mount their performance CPU cooler in the system.
Dual Chamber Design for Cable Management The dual-chamber design behind the motherboard tray made cable management a simple job.
Optimized Dust Management The mesh panels of O11 Air Mini are designed as dust filters and intake sufficient air into the chassis.
Massive Storage Capability There are 6 drive spaces at the second chamber, including a hard drive cage for 2 SSDs or 2 HDDs on top of the PSU space.
Specification:
Motherboard support: E-ATX (Max 280mm wide), ATX, Micro-ATX, Mini-ITX.
Expansion slots: 7 or 5 depending on configuration.
Included fans: 2x 140mm PWM 600-1,200rpm front intake, 1x 120mm PWM 600-1,500rpm rear exhaust.
Fan mounts: 2x 120mm/140mm front, 3x 120/2x 140mm roof, 1x 120mm rear, 2x 120mm side, 2x 120mm/140mm floor.
Radiator mounts: 240mm/280mm front, 240mm/280mm roof, 240mm side, 240mm/280mm floor.
5.25-inch optical drive bays: None.
Internal drive bays: 6x 2.5-inch or 2x 2.5-inch + 4x 3.5-inch.
Dimensions: 384mm H x 400mm D x 288mm W.
Testing and Performance
To put this case through its cooling paces we will be using a test system consisting of an Intel Core i9-11900K, Palit RTX 3080 10GB and an SSD. This system allows us to produce a substantial amount of heat and effectively test the Lian Li O11 Air Mini's cooling capabilities.
Test System:
Processor: Intel Core i9-11900K (10 cores/20 threads, 4.7GHz all cores)
Motherboard: MSI MAG B560M Mortar WiFi
Memory: 16GB G.Skill TridentZ RGB DDR4-3200
Graphics card: Palit RTX 3080 Gaming Pro 10GB
Power supply: Seasonic Focus PX-850 Platinum 850W
SSD: 500GB Sabrent Rocket 4.0 M.2 NVMe
OS: Windows 10
Custom Loop Cooling
Pump/Reservoir: EK XRES 100 DDC MX 3.1 PWM
CPU Block: EK Quantum Magnitude
GPU Block: EK Quantum Vector Full Nickel
Radiator: Alphacool NexXxos ST30 280mm
Fittings: Alphacool
Soft Tube: EK Tube ZMT
Coolant: EK Cryofuel Solid Cloudy White
Cooling Performance
Cooling Performance Overview
Our test system gave the Lian Li O11 Air Mini a hard time as it pulled 580W at the wall socket while the cooling system only had a single 280mm radiator to shed the heat. Despite that the Lian Li O11 Air Mini did a fine job and kept the RTX 3080 graphics nice and cool. We saw higher temperatures for the Core i9-11900K, however they were in the range of 85-90 degrees C which is perfectly acceptable.
Closing Thoughts
Lian Li O11 Air Mini supports a motherboard up to E-ATX, however it is much more interesting when you work with a smaller Micro-ATX as that allows you to open up the top of the case for cooling hardware.
You will have noted the floor of the case is completely empty and could easily accommodate a second radiator so our key message is that Lian Li and Der8auer have come up with a clever design that gives you plenty of options.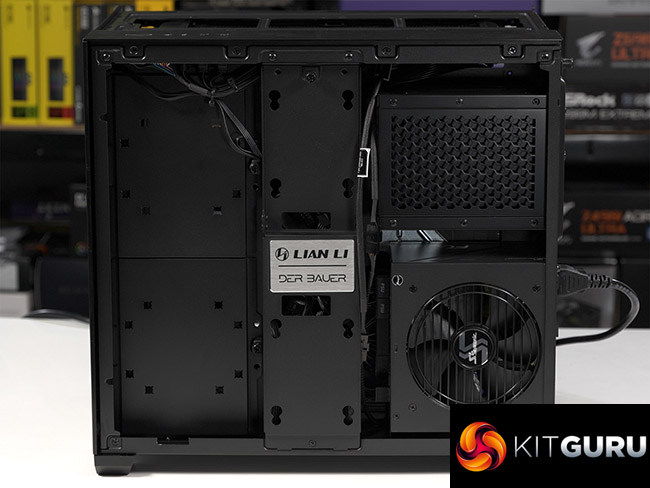 In these reviews we often comment that space is tight for cable management or that it would be a chore to add storage however the dual chamber design used by the Lian Li O11 Air Mini avoids those problems completely.
Pretty much the only remaining issue is that the O11 Air Mini is a peculiar shape that might cause you problems when you look for space on your desk. In the great scheme of things that is a minor issue and it demonstrates just how well this case works both in concept and also in practice.
We don't have a buy link yet but you will be able to buy the Lian Li O11 Air Mini Black for £99.99 (US$109.99) and White for £109.99 (US$119.99).
Discuss on our Facebook page HERE.
Pros:
Excellent design that favours Micro-ATX.
Very good air flow.
Plenty of space for cables and storage drives.
Very reasonable price.
Cons:
User manual requires work.
Wide form factor is slightly awkward to accommodate.
KitGuru says: Lian Li O11 Air Mini is a breath of fresh air.
Be sure to check out our sponsors store EKWB here