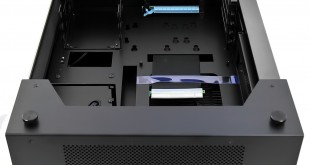 The new O series of Lian Li cases (that's O for Omega, not zero) continues a proud tradition of aluminum construction and a smart, stylish appearance that stands out from the crowd. This Mini-ITX PC-O5S is priced at £214, while the Micro-ATX PC-O6S costs £254 and the ATX PC-O7 is a touch more expensive at £278. It is tempting to talk about small form factor PCs and towers however the O series isn't really playing that game.
Watch the video via our VIMEO channel (below) or over on

YOUTUBE



Lian Li describes the O series as a wall-mounted design (there are mounting holes in the chassis for that purpose although it seems like a curious idea), and there is an aluminium support in the package so you can stand the case on end. In fact the obvious orientation is to lay the PC-O5S flat like a piece of Hi-Fi hardware as this is how the USB 3.0 ports and slimline optical drive slot are arranged.
Specification:
Motherboard support: Mini-ITX.
Expansion slots: 4.
Included fans: 2x 120mm.
Fan mounts: 1x 120mm on the rear of the motherboard.
5.25″ drive bays: 1x slimline optical bay
Internal drive bays: 3x 3.5, 2×2.5″.
Dimensions: 145mm H x 385mm D x 465mm W.
Despite the relatively limited amount of space inside the PC-O5S, Lian Li has arranged things such that you can install a full length 12.5-inch graphics card, provided you remove the drive tower that accommodates three 3.5-inch hard drives. You don't really need those drives as there are two 2.5-inch SSD mounts on the rear of the motherboard tray.
Lian Li claims that you can mount a 240mm radiator in place of the two 120mm case fans which may well be true however I failed utterly to install the water block/pump unit on the CPU. The problem is the extremely limited amount of space above the CPU and below the glass cover. There is nothing to prevent you removing the glass to leave the case open but this seems like a curious move.
At the very least you would kiss goodbye to even token levels of dust filtration. Instead we opted to install a Noctua NH-L12 low profile cooler, however we had to remove the upper 120mm fan as there simply wasn't enough vertical clearance inside the case. This forced me to rely on the lower 92mm fan which is fine for a dual core CPU but removes the possibility of using a quad core processor.
You need an SFX power supply for the Lian Li and this can cause problems as you need to pick your PSU carefully to ensure it can power the graphics card and CPU. I fell foul of that issue when I asked be quiet! To send me an SFX Power 2 as the 300W model only has a four-pin ATX 12V connector and I needed an eight-pin EPS, which meant I required a 400W model. Testing was done with a regular ATX PSU outside the case with the cables running inside.
As you'll see in the video it is quite a fiddly process to build the PC. I shan't spoil the fun by spelling out the details here.
Testing
To put this case through its cooling paces we will be using a test system consisting of an Intel G3258 Pentium Anniversary and a Radeon R9 285. This system allows us to produce a substantial amount of heat and effectively test the Lian Li PC-O5S 's cooling capabilities.
For stress testing we use a mixture of Prime95 and FurMark to create the maximum heat output. Prime95′s 'Small FFTs' setting allows us to stress our CPU. FurMark's 'GPU Burn-in' mode creates the maximum amount of load our GPU is ever likely to see.
Test System:
Processor: 3.2GHz Intel G3258 Pentium Anniversary
Motherboard: Asus Z87I-pro
CPU cooler: Noctua NH-L12
Memory: Coresair DDR3-1600MHz LP
Graphics card: Sapphire Radeon R9 285 ITX 2GB
Power supply: be quiet! SFX Power 2 300W
Storage drives: Intel 520 180GB SSD
OS: Windows 7 Professional 64-bit.
Assess cooling.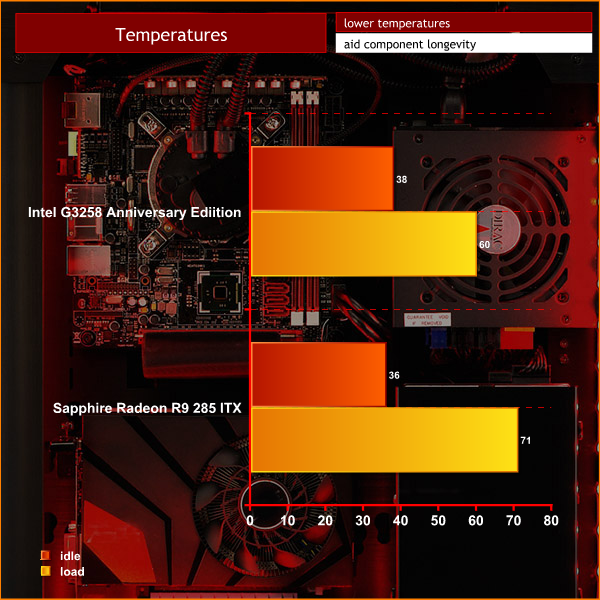 Cooling a dual core Pentium Anniversary and Mini-ITX Radeon R9 285 is a simple task and the PC-O5S managed it without any problem.
Assess noise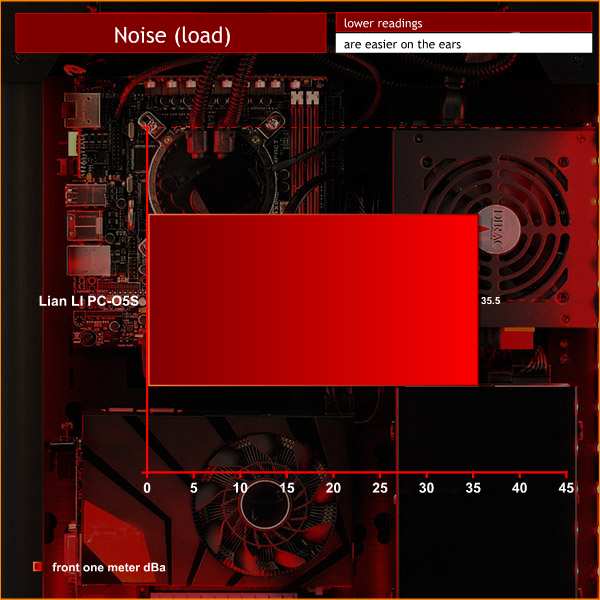 Noise levels are low but that is mainly because the heat produced by our chosen components was fairly minimal. Installing hardcore gaming components in this chassis would cause all sorts of problems and would doubtless result in a noisy PC.
Closing Thoughts
The best way to think of the Lian Li PC-O5S is a collection of nice aluminium panels that have been screwed together. Unfortunately there is a lack of clarity in the design and this means you have to install the graphics card first, then the motherboard and then the cooler.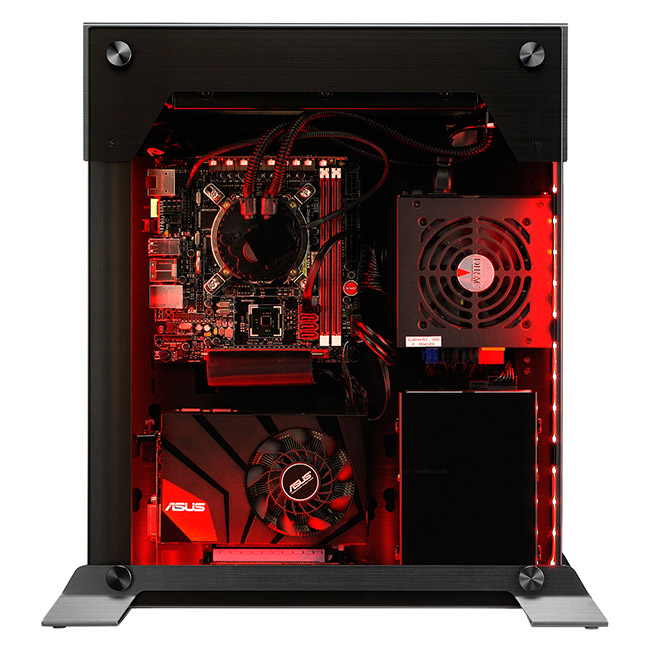 Other annoyances include a back panel that could easily be reversed, which would put the ventilation in the wrong place. Also, the aluminium stand looks symmetrical but has two screw holes on one side and three on the other, which means you have to put it on the right way round. The two fan cover has two screws on one side and two different – but similar – screws on the other side.
This gets very frustrating and isn't the sort of thing you should reasonably expect when you are paying over £200 for a PC case.
Discuss on our Facebook page, over HERE.
Pros:
Stylish looks.
The aluminium metalwork is beyond reproach.
Power and HDD activity LEDs are inside the case so you view them through the glass cover.
Options for laying the case down, standing it up or even wall-mounting.
The mesh sides collect dust as it enters the chassis
Cons:
Only 80mm clearance above the CPU.
Restricted to an SFX power supply.
Fiddly to assemble as you need to install the components in a particular order.
Installing a liquid cooler appears possible but difficult as the hoses have minimal space for routing.
High price.
The two page set-up sheet doesn't give enough detail about this complicated case.
KitGuru says: There is no denying the PC-O5S is a visual treat but it suffers in a number of areas, particularly when it comes to CPU cooling.