The new Phanteks Eclipse G360A replaces the Eclipse P360A, which is a tough proposition as we like and admire the P360A. The biggest change is that the case has been opened out so it can accommodate a 360mm radiator in the front or the roof, along with seven 120mm fans. To add to the fun it's also pretty darned cheap.
Timestamps
00:00 Start
00:50 P to G
01:18 Having a look inside
02:48 Some details on the new G
04:14 Front panel / differences
05:32 Pricing and fans
06:10 The Build
09:00 Testing the case
11:49 Leo's Closing thoughts
Main features
Equipped with the Ultra-fine Mesh front panel, the G360 was designed to meet next gen cooling demands. It brings high-end cooling capabilities with 360 radiator support in the front and top of the chassis, 7 fan locations and plenty of clearance for large GPUs.
The Eclipse Series from Phanteks is known for offering a great value across its line-up. The G360A brings unique capabilities and features to house the most high-end gaming systems in a compact ATX mid-tower chassis.
Equipped with its own Digital-RGB controller, the Eclipse G360A makes lighting easy. It's software-free with manual control and programmed with tasteful lighting effects out of the box. Three Digital-RGB 120mm fans are pre-installed and a LED strip is integrated along the tempered glass panel. Like all of Phanteks' lighting products, the Digital-RGB controller can be expanded with more lighting products and/or synced with motherboards to allow for software control.
Specification:
Motherboard support: E-ATX up to 280mm wide, ATX, Micro-ATX, Mini-ITX.
Power supply support: ATX.
Expansion slots: 7.
Included fans: 3x 120mm D-RGB PWM front intake.
Fan mounts: 3x 120mm/2x 140mm front, 3x 120mm/2x 140mm roof, 1x 120mm rear.
Radiator mounts: 360mm/280mm front, 360mm roof, 120mm rear.
5.25-inch optical drive bays: None.
Internal drive bays: 2x 3.5-inch/2.5-inch, 3x 2.5-inch.
Front I/O ports: 2x USB 3.0 type-A, audio.
Dimensions: 465mm H x 455mm D x 200mm W.
Testing
To put this case through its cooling paces we will be using a test system consisting of an Intel Core i9-12900K, RTX 3080 and an SSD. This system allows us to produce a substantial amount of heat and effectively test the Phanteks Eclipse G360A's cooling capabilities.
Test System:
Processor: Intel Core i9-12900K (16 cores/24 threads)
CPU Cooler: Phanteks Glacier One 360 MPH
Motherboard: NZXT N7 Z690
Memory: 32GB Corsair Vengeance LPX DDR4-3600
Graphics card: Palit RTX 3080 Gaming Pro 10GB
Power supply: Phanteks Amp 1000 White Edition 1000W Gold
SSD: 500GB Sabrent Rocket 4.0 M.2 NVMe
OS: Windows 11
Cooling Performance
Cooling Performance Overview
We pummelled our test system with a combination of Time Spy Stress Test and Cinebench R23 which drew 690W from the wall socket. The Phanteks Eclipse G360A provided sufficient airflow to keep everything under control but we found it necessary to run the fans at a fairly high speed.
Closing Thoughts
The new Phanteks Eclipse G360A presents a number of features that we have previously seen from Phanteks so while the name confuses us slightly, the case itself is a good piece of work.
In essence you have a cheap case with a decent array of features that has been garnished with some Phanteks A-RGB fans that present an impressive light show through the mesh front panel and tempered glass window.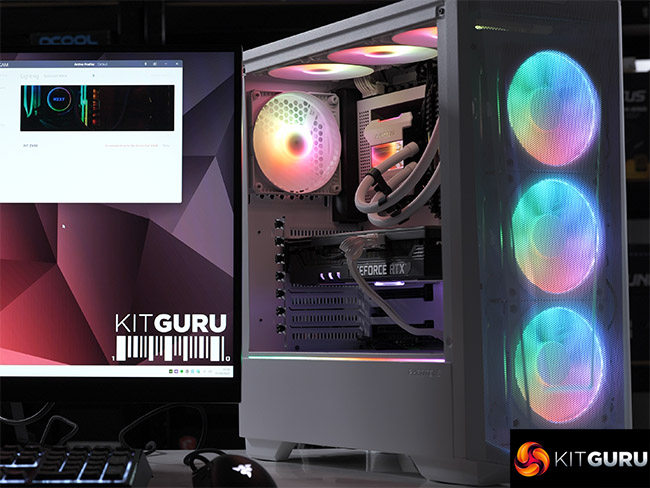 We have seen a similar approach from a number of other companies, however Phanteks integrates the fans into their own lighting system that can either be controlled through the hardware buttons on the case or through your motherboard software.
The details matter here as we often complain when manufacturers cheap out and use voltage controlled fans, however Phanteks has done the job properly and supplies PWM fans. If they had gone for a USB Type-C connector on the front panel we would have been fully satisfied.

You can buy the Phanteks Eclipse G360A from Overclockers UK for £84.95 HERE. Customers who purchase from the limited-run first batch will also get a fourth SK120 DRGB PWM fan for free.
Discuss on our Facebook page HERE.
Pros:
Phanteks D-RGB lighting is superb.
Very good value for money.
Supplied with three D-RGB PWM fans.
Plenty of options for cooling and storage.
Cable management has been thought about.
Cons:
Airflow is fine but not top-class.
No USB Type-C on the front I/O.
It gets noisy when you ramp up the fans.
KitGuru says: This tweaked version of Eclipse P360 is a fine addition to the Phanteks' range and we look forward to the next G model, doubtless coming soon.
Be sure to check out our sponsors store EKWB here