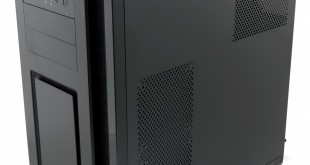 Phanteks has taken a bold step with its new Enthoo Mini XL case as we are seeing the introduction of a new form factor called Super Micro ATX. The idea is that you can install two motherboards inside the case along with their power supplies, processors and all the other hardware you need to run two PCs simultaneously inside a common chassis.

One motherboard is Micro-ATX while the other is Mini-ITX, however the default configuration of the Mini XL is as a large Micro-ATX case. You need to buy the optional ITX kit to convert the Mini XL to dual motherboard mode.
While those technical features are key to the appeal of the Mini XL it is good to see that Phanteks has spent a decent amount of effort on the cosmetic side of things. The styling of the case is top notch and the integrated lighting kit looks absolutely superb.
Watch via our VIMEO channel (below) or over on YOUTUBE.
Specification:
Motherboard support: Micro-ATX and Mini-ITX simultaneously.
Expansion slots: 1+4.
Included fans: 2x 140mm front intake, 1x 140mm rear exhaust.
Fan mounts: 2x 120/140mm front, 3x 120 or 2x 140mm top, 2x 120/140mm rear, 3x 120 or 2x 140mm bottom, 2x 120mm on HDD cage, 2x 120mm side.
120mm radiator mounts: 120mm/240mm front, 120mm/240mm/360mm top, 120mm/240mm rear, 120mm/240mm/360mm bottom, 120mm/240mm side.
140mm radiator mounts: 140mm front, 140mm/280mm top, 140mm/280mm rear, 140mm/280mm bottom.
5.25″ drive bays: 3
Internal drive bays: 6x 3.5, 4×2.5″.
Dimensions: 540mm H x 480mm D x 260mm W.
Testing
To put this case through its cooling paces we used two test systems due to the unique nature of the Phanteks Enthoo Mini XL. One system consists of an Intel Core i7-4770K on an Asus Z87I-Pro with Sapphire Mini-ITX R9 285 while the other uses an AMD A10-6700 on ASRock FM2A85X Extreme4 with Sapphire Radeon R9 290. These systems allow us to effectively test the Phanteks Enthoo Mini XL's cooling capabilities in the manner it is likely to be used in the real world.
For stress testing we use a mixture of Prime95 and FurMark to create the maximum heat output. Prime95′s 'Small FFTs' setting allows us to stress our CPU. FurMark's 'GPU Burn-in' mode creates the maximum amount of load the GPUs are ever likely to see.
Test Systems:
Processor: 3.9GHz Intel Core i7-4770K
Motherboard: Asus Z87I-Pro
CPU cooler: Noctua NH-D9L
Memory: Corsair Vengeance LP 1600MHz RAM
Graphics card: Sapphire Mini-ITX Radeon R9 285 2GB
Power supply: Seasonic Platinum Fanless 520W
Storage drives: Samsung 850 Pro SSD
OS: Windows 7 Professional 64-bit.
Processor: 3.7GHz AMD A10-6700
Motherboard: ASRock FM2A85X Extreme4-M
CPU cooler: Corsair H100i
Memory: AMD Radeon R9 DDR3-2400MHz
Graphics card: Sapphire R9 290 Tri-X 4GB
Power supply: be quiet! SFX Power 2 300W
Storage drives: Samsung 850 EVO SSD
OS: Windows 7 Professional 64-bit.
Cooling Performance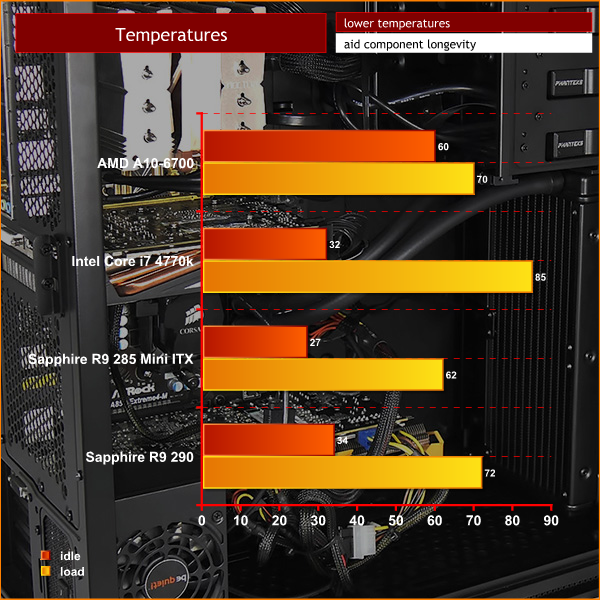 No doubt you will use a liquid cooling system on the Micro-ATX motherboard and very likely a liquid cooler on the Mini-ITX too. The cooling figures in our chart are a little unusual as the AMD A10-6700 runs fairly hot at all times.
By contrast the Core i7-4770K on the Asus Z87I-Pro only ran a few degrees warmer than we typically see on a wide open ATX motherboard – although the little Noctua cooler struggled when the processor was fully loaded for extended periods of time. Air flow on the Mini-ITX Asus is restricted by the nature of the design and form factor of the motherboard.
Acoustics Performance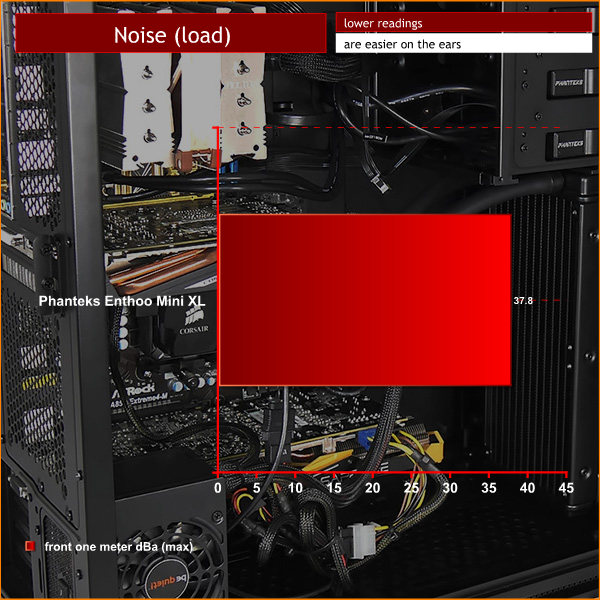 Provided you choose quiet graphics card(s) you are likely to be impressed by the Mini XL as it is very quiet indeed, despite the absence of any sound deadening material or clever baffling.
Closing Thoughts
Phanteks supplies the Mini XL with two 140mm fans at the front and one 140mm fan at the rear however these are pretty much irrelevant as the front fans will be ditched when you install a liquid cooler, and the rear fan will be removed when you convert to Mini-ITX.
In a sense this sums up the confusing nature of the Mini XL. It would make little sense using this case with a single Micro-ATX motherboard (the way the case is supplied) yet you have to buy the ITX conversion kit as an optional extra to unlock its unique feature. In the same vein, you really cannot imagine using the Mini XL with all those drive bays installed as they get in the way of the cooling hardware. Phanteks might as well strip out the 3.5-inch drive bays, cut the price and focus on the essential nature of the Mini XL which is the support for dual motherboards.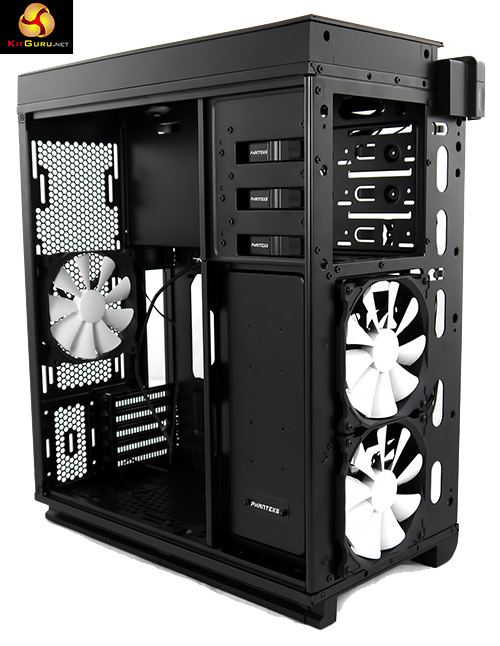 The cosmetic appeal of the sand blasted front and top aluminium panels is undeniable, making this is one of those cases you want to stroke and admire. We have nothing but praise for the new ten-colour light control system.
The use of aluminium over steel has an impact on weight as the bare chassis is 13.2kg and the fully built dual motherboard PC came to a hefty total of 18kg.
While there is plenty to admire about the Mini XL, the underlying message can get lost in the static; this is a dual motherboard chassis and pretty much every other detail is of secondary importance.



Buy from Overclockers HERE, HERE and HERE.
Discuss on our Facebook page, over HERE.
Prices
£149.99 inc. VAT for the case
£22.99 for the ITX conversion kit
£5.99 for the HDD bracket
£13.99 for 1 metre lighting
£16.99 for 2 metre lighting
Pros:
Stunning visual appeal.
Superb build quality.
Integrated lighting kit.
Chassis is screwed together and comes apart easily.
Accessory box includes reservoir, pump and radiator brackets.
One dust filter at the front and two at the bottom.
Two Drop 'n Lock SSD brackets plus two more SSD mounts
Options to install up to 8x 140mm fans or 14x 120mm fans.
Excellent range of accessories and extras.
Cons:
Phanteks should supply the Mini XL with the ITX kit by default.
The Mini-ITX I/O panel only supports a 120mm fan so the supplied 140mm fan is no use.
Those options for installing fans and radiators don't really match the reality.
Cable management is pure hassle with two systems installed.
Quite large and fairly heavy.
KitGuru says: Installing two systems in one case is an unusual step however it is relatively easy with the Enthoo Mini XL.