Phanteks has something of a mixed history when it comes to Mini-ITX cases. On the one hand we love the Eclipse P200A D-RGB, while on the other hand we weren't much impressed by the Evolv Shift 2… so you will understand we approached the Phanteks Evolv Shift XT with some caution. It turns out the Evolv Shift XT is a fine piece of work so you had best settle down for 20 minutes of Leo being happy.
Watch the video via our VIMEO Channel (Below) or over on YouTube at 2160p HERE
Time stamps
00:00 Start
00:42 Introduction
01:31 Pulling some panels off
02:15 Various case 'modes'
02:50 The back of the case
04:04 Case Interior
04:45 Fitting a power supply
05:25 A look at the cabling
06:17 Motherboard assembly
08:50 Tight for space – but well thought out
09:34 Installing 'ultimate' fans in air boost mode
10:50 Liquid cooling for Leo
12:10 Graphics card install / dust filter
14:18 Accessory pack – self adhesive filters
15:17 Thermal Testing – PC is on !
18:10 Leos Closing Thoughts
Main features
Unique small form-factor chassis that extends into 3 sizes
Compact Mode: super compact yet with high-end components
Air Boost Mode: high airflow with 2x 120/140mm fans
Liquid Cooled Mode: ultimate cooling performance with a 240 AIO liquid cooler
No compromise on high performance cooling and hardware
High performance double-layer Gen4 x16 Riser Cable
High-end GPU support for 3-slot 324mm long GPUs
72mm CPU air cooler clearance
240 AIO liquid cooler support
Fully vented exterior design on all sides
Easy to build SFF chassis
Chassis opens up for direct access to all components
Convenient access to cables
Velcro tie cable management
Premium build quality and materials
Premium Exterior made from 2.5mm solid aluminium
Tempered Glass Digital-RGB Infinity Mirror with software free D-RGB controller
High speed front USB ports; USB-A 5Gbit/sec and USB-C 10Gbit/sec
Ultra-Fine Performance Mesh side panels
Phanteks Evolv Shift XT requires either an SFX or SFX-L power supply so this is the logical time for Phanteks to introduce a new series of SFX PSU alongside the Shift XT which is the "Revolt SFX series". They are powered by Seasonic and are based on the Focus SGX and SPX models:
£109.99 650W Gold
£119.99 750W Gold
£129.95 750W Platinum
Specification:
Motherboard support: Mini-ITX
Power supply support: SFX, SFX-L
Expansion slots: 3
Included fans: None
Fan mounts: 2x 120/140mm in Air Boost and Water Cooled Modes
Radiator mounts: 240mm in Liquid Cooled Mode
5.25-inch optical drive bays: None
Internal drive bays: 1x 2.5-inch
Front I/O ports: 1x USB 3.0 type-A, 1x USB 3.1 type-C Gen 2.
Dimensions:
Compact Mode: 211mm H x 371mm D x 173mm W = 13.5 Litres
Air Boost Mode: 244mm H x 371mm D x 173mm W = 15.6 litres
Water Cooled Mode: 272mm H x 371mm D x 173mm W = 17.4 litres
In Compact and Air Boost modes the Phanteks Evolv Shift XT requires a low profile air cooler, however Phanteks does not include a suitable product in their portfolio. We asked Phanteks about this and were told "The Shift X has 72mm of CPU cooler clearance so the popular low profile Noctua NH-L12S cooler will fit in however the Phanteks TC12LS requires 74mm and is not compatible. We might update this cooler in the future."
Testing
To put this case through its cooling paces we will be using a test system consisting of an Intel Core i5-11600K CPU, Palit RTX 3080 graphics card and an SSD. This system allows us to produce a substantial amount of heat and effectively test the Phanteks Shift XT's cooling capabilities.
Test System:
Processor: Intel Core i5-11600K (6 cores/12 threads)
CPU Cooler: Phanteks Glacier One 240MP
Motherboard: Gigabyte Z590I Aorus Ultra
Memory: 16GB G.Skill TridentZ Royal DDR4-3200
Graphics card: Palit Gaming Pro RTX 3080 10GB
Power supply: Phanteks Revolt SFX 750 Platinum
SSD: 500GB Sabrent Rocket 4.0 M.2 NVMe
OS: Windows 11
Cooling Performance
Cooling Performance Overview
Our test PC loaded the Phanteks Evolv Shift XT with 525W at the wall socket of which 129W went to the Core i5 CPU and 265W to our RTX 3080 graphics card. That is a considerable amount of heat however the Phanteks Shift XT did a fine job. Clearly you need to tune your CPU cooler and fans to the workloads you choose to run on your PC so CAD and rendering will involve a fair amount of noise while gamers will get off relatively lightly.
Closing Thoughts
By now you will have figured out that we have been impressed by the Phanteks Evolv Shift XT. The styling works well and the inclusion of an ARGB infinity mirror on the front adds a touch of fun that we enjoy, but the most important features of the case lie beneath the surface.
Having the option to eXTend the case to three sizes for different types of ITX users with their individual needs is a lovely touch and one we greatly admire. In addition the Evolv Shift XT supports a full length graphics card in a triple slot design which means the customer can build a huge variety of PCs inside this case.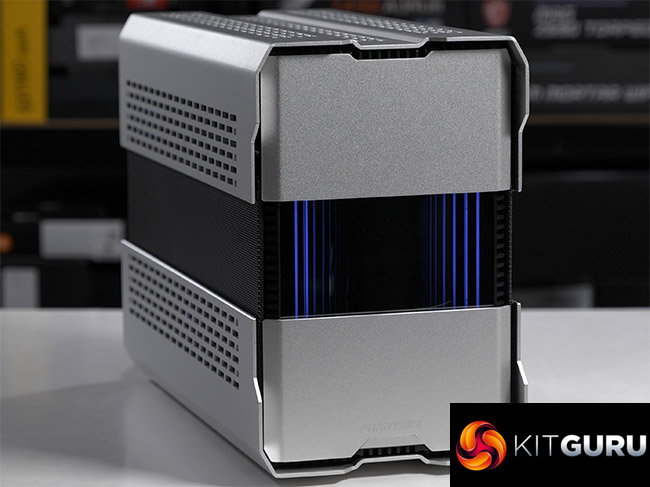 We love the Mini-ITX form factor, however we also acknowledge that building a very small PC adds both cost and complication. In that light we are very pleased that Phanteks tells us they will also offer the Shift XT with pre-installed 750W SFX PSU + 240MP AIO (More info on pricing will follow).
This gives us hope that more enthusiasts will move away from big, bulky PCs and will enjoy their gaming on a small, stylish system that deserves pride of place in their living room.

You can buy the Phanteks Shift XT for £159.90 from Overclockers UK HERE (pre-orders are discounted to £134.99).
Discuss on our Facebook page HERE.
Pros:
Clever design that accommodates a full sized graphics card.
Smart styling with nicely formed aluminium covers.
Excellent Phanteks ARGB lighting.
PCIe Gen 4 riser is included.
Cons:
Painted silver finish is (subjectively speaking) a bit naff.
You have to factor in the cost of an ITX motherboard and SFX power supply.
KitGuru says: Phanteks brings innovation to the Mini-ITX form factor.
Be sure to check out our sponsors store EKWB here