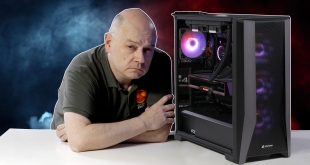 The Sharkoon TG7M RGB is a mid-tower E-ATX case that delivers a twist on a familiar theme. You will not be shocked to learn the TG7M ARGB comes with tempered glass and the option of a vertical GPU, however you might be surprised to hear it has four 120mm ARGB PWM fans installed and a price under £100. That sounds like a huge amount of RGB cooling for very little money.

Watch video via Vimeo (below) or over on YouTube at 2160p HERE
Timestamps
00:00 Start
00:40 Introduction / overview
01:13 A look inside
03:00 4x ARGB fans / cost discussion
03:38 Radiator Support and fan placement
05:50 Storage
07:35 ARGB lighting
08:22 Vertical graphics card mount
09:45 Fitting a GPU
10:53 System install
13:32 Case fan speeds and noise testing
14:22 Thermal results
15:15 Pros and Cons / Closing thoughts
Main features (from Sharkoon's website)
Amazing Cooling Options Four PWM fans with RGB effects and 120 mm in size are already pre-installed. Under the top panel, three more 120 mm fans can be installed or, alternatively, two fans measuring 140 mm.
Look of Elegance With its classically formed contours, the TG7M will always cut a fine figure. The mesh front panel is framed on its left and right by a metal trim, giving the case its elegant finish. Because the screws for the tempered glass side panel are positioned on the rear of the case, the TG7M RGB is able to make a particularly flawless appearance.
Additive Coolness In addition to the fans, a radiator with a length of up to 360 mm can be installed under the top panel or behind the mesh front panel to provide for ample water cooling. Depending on the size of the mainboard and the height of the RAM, the radiator and the fans under the top panel can have a height from 5 cm to 20 cm.
Huge Amount of Room for Hardware The spacious interior of the TG7M RGB offers plenty of space for large components. A power supply unit with a length of up to 22 cm can be easily installed on the bottom panel at the rear of the case. There is also space for a graphics card of up to 38 cm. This can also be mounted vertically with the help of the optional Vertical Graphics Card Kit.
A Lot to See Thanks to a window on the bottom left of the case, the power supply unit will stay in view. Moreover, the whole of the tempered glass side panel itself offers a wide view of the interior of the case. Above all, RGB lit components will come into their own.
Specification:
Motherboard support: E-ATX, ATX.
Power supply support: ATX.
Expansion slots: 7.
Included fans: 3x front intake and 1x 120mm rear exhaust SilentStorm 120 PWM
Fan mounts: 3x 120mm front, 3x 120mm/2x 140mm roof, 1x 120mm rear.
Radiator mounts: 360mm front, 360mm/280mm roof.
5.25-inch optical drive bays: None.
Internal drive bays: 2x 3.5-inch/2.5-inch, 2x 2.5-inch.
Front I/O ports: 2x USB 3.0 type-A, 1x USB 3.2 Gen 2 type-C, audio jacks.
Dimensions: 488mm H x 485mm D x 220mm W.
Testing
To put this case through its cooling paces we will be using a test system consisting of an Intel Core i9-12900K CPU, RX 6800 XT graphics and an SSD. This system allows us to produce a substantial amount of heat and effectively test the Sharkoon TG7M RGB's cooling capabilities.
Test System:
Processor: Intel Core i9-12900K (16 cores/24 threads)
CPU Cooler: Fractal Design Celsius+ S24 Prisma
Motherboard: MSI MAG Z690 Carbon WiFi
Memory: 32GB G.Skill Ripjaws S5 DDR5-5200MT
Graphics card: Sapphire Radeon RX6800 XT 16GB
Power supply: Seasonic Focus GX-1000 Gold
SSD: Sabrent Rocket M.2 NVMe 4.0
OS: Windows 11
Cooling Performance
Cooling Performance Overview
We tortured the Sharkoon TG7M RGB with a workload that pumped 250W into the Core i9-12900K CPU and 255W into the RX6800 XT graphics card and it survived the experience by a narrow margin. We have every confidence the Sharkoon TG7M RGB will perform perfectly well with less extreme gaming hardware.
Closing Thoughts
When you look at the specification of the Sharkoon TG7M RGB on your screen it looks very similar to the Corsair iCUE 4000X (we reviewed the similar 4000D Airflow HERE) and in certain respects the cheaper Sharkoon wins the battle.
You get four RGB fans included rather than three and can install a 360mm cooler in the roof instead of a 'mere' 240mm or 280mm. This approach to selecting a PC case completely ignores the look and feel of the product as we can easily demonstrate by looking at access to the front dust filter. In our video you saw the effort that was required to remove the front panel and that sort of experience is hidden by dry statistics.
Balanced against that Sharkoon takes a free and easy approach to the main event which is ARGB lighting. You simply connect the 8-way hub to your motherboard and fire up the relevant software to achieve RGB Nirvana. This works perfectly well, however many of us already have a 3rd party utility installed from the likes of Razer or Corsair in addition to our motherboard software.
While Sharkoon's approach makes their development both easier and cheaper it does not necessarily do anything helpful for the customer who is building a PC inside the TG7M RGB, and that is our takeaway here. Sharkoon has made a series of perfectly reasonable choices as they developed this product, however they do not do anything special for the end user.
You can buy the Sharkoon TG7M RGB for £99.47 on Amazon UK HERE.
Discuss on our Facebook page HERE.
Pros:
Four ARGB fans are included.
Price is reasonable.
ARGB lighting control works well.
Cons:
Cable management is fairly basic.
Front panel requires a hefty pull to remove.
A 360mm cooler is a very close fit in the roof of the case.
Installing a second storage drive is laborious.
Vertical GPU option doesn't make much sense with a glass side panel.
KitGuru says: The Sharkoon TG7M RGB offers four RGB fans at a low price, however it is a generic case that fails to stand out against the competition.
Be sure to check out our sponsors store EKWB here