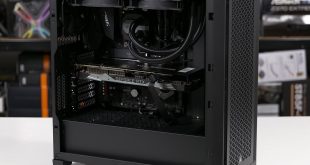 When Corsair told us their new 4000D case came in three versions (4000D, 4000D AIRFLOW and iCUE 4000X RGB) we thought 'Wow, that's sounds like a lot of development work'. After a few minutes of digging and probing we realised all three models use the same core chassis with tweaks to the fan configuration and front panel. This is excellent news as we are able to effectively deliver to you three reviews wrapped up in a single package.
Watch the video via our VIMEO Channel (Below) or over on YouTube at 2160p HERE
Note: if the above images are not displaying properly, you may need to disable Ad Block as it is known to interfere with our display code
Main features:
A Fitting Choice: Combining innovative cable management, concentrated airflow, and proven Corsair build quality, choose the 4000D for an immaculate high-performance PC.
Solid Steel Front Panel: Offers superb durability and sharp looks, with wide ventilation channels for ample airflow.
Corsair RapidRoute Cable Management System: Makes it simple and fast to route your major cables through a single channel, with a roomy 25mm of space behind the motherboard for all of your cables.
Two Included 120mm Fans: Corsair AirGuide fans utilize anti-vortex vanes to concentrate airflow and enhance cooling.
Extreme Cooling Potential: A spacious interior fits up to 6x 120mm or 4x 140mm cooling fans, along with multiple radiators including a 360mm in front and 280mm in the roof (dependent on RAM height).
Modern Front Panel I/O: Puts your connections within easy reach, including a USB 3.1 Type-C Port, USB 3.0 port, and a combination audio/microphone jack.
All the Storage You Need: Fits up to 2x SSDs and 2x HDDs.
Tool-Free Tempered Glass Side Panel: Show off your high-profile components and RGB lighting.
Specification:
Motherboard support: ATX, Micro-ATX, Mini-ITX.
Expansion slots: 7 horizontal, 2 vertical.
Included fans: 1x 120mm front intake, 1x 120mm rear exhaust.
Fan mounts: 3x 120mm/2x 140mm front, 2x 120/140mm roof, 1x 120mm rear.
Radiator mounts: 360mm/280mm front, 240mm/280mm roof, 120mm rear.
5.25-inch optical drive bays: None.
Internal drive bays: 2x 3.5-inch/2.5-inch, 2x 2.5-inch.
Dimensions: 453mm H x 466mm D x 230mm W.
You will have noticed in our video that we gloss over the building of the test PC, for which we can offer two explanations. The first is that our review sample of the 4000D Airflow came in black and it is the inkiest and darkest of blacks which makes it horribly difficult to point out details of cables routing and clearances between one part and another.
The more important reason is that building in the 4000D was completely free of problems and we reviewers run out of words when we have no complaints to make. The motherboard went in easily with sufficient space and we could connect the cables from the Seasonic Focus power supply without difficulty. We had no scope to make a stock complaint such as 'you have to route cables before you install the motherboard' as it simply is not true with the Corsair 4000D. Installing the 280mm Corsair Hydro H115i was tight but it went into place, thanks to our use of Corsair Vengeance LPX DDR4 memory which has low profile heat spreaders, exactly as Corsair told us.
In a similar vein the PNY RTX 2080Ti XLR8 Gaming graphics card had so much space that it felt like we could have practically thrown it across the room and it would have still found the correct location. If we were really keen to find problems we might mention the 4000D has two vertical slots for your graphics card but does not come supplied with a PCI Express riser. On the other hand it is a bad idea to install a graphics card up against a glass panel where it is airflow choked, so that is perfectly OK.
While we cannot understand why anyone would want a tinted glass panel that is so dark it essentially works like a mirror and hides the interior of the PC, the end result of our build in the 4000D AirFlow is a perfectly decent PC that works well and doesn't let us down in any department.
Testing
To put this case through its cooling paces we will be using a test system consisting of an AMD Ryzen 9 3900X, PNY RTX 2080Ti graphics card and an SSD. This system allows us to produce a substantial amount of heat and effectively test the Corsair 4000D AirFlow's cooling capabilities.
For stress testing we use AIDA64 to create the maximum amount of load our CPU and GPU are ever likely to see.
Test System:
Processor: AMD Ryzen 9 3900X (12 cores/24 threads, 4.0GHz all cores)
CPU Cooler: Corsair Hydro H115i
Motherboard: Gigabyte X570 Aorus Elite
Memory: 32GB Corsair Vengeance LPX DDR4-3600MHz
Graphics card: PNY RTX 2080Ti XLR8 Gaming 11GB
Power supply: Seasonic Focus PX-850 Platinum 850W
SSD: 240GB Toshiba RC100 M.2 NVMe
OS: Windows 10
Cooling Performance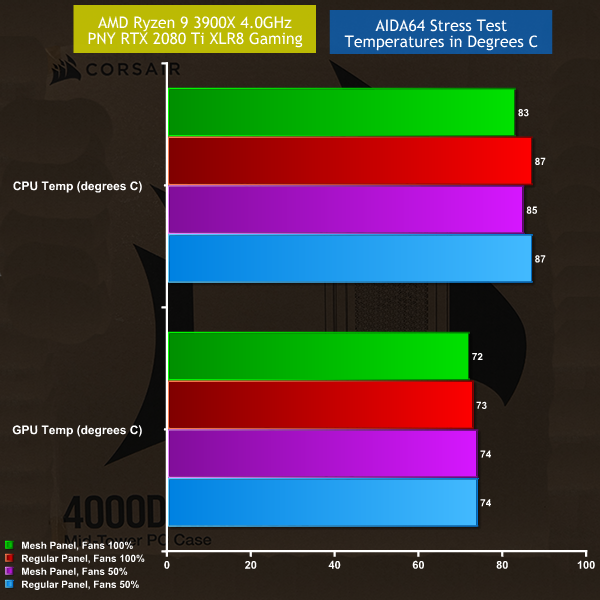 Cooling Performance Overview
We were surprised to see how little difference the Mesh AirFlow front panel makes compared to the regular 4000D as it looked like it should be worth more than 4 degrees C. Clearly the full height front dust filter has an impact on airflow and we stuck with the single front 120mm fans that comes with the case but it seems to us the 4000D does a perfectly reasonable job and the 4000D AirFlow is slightly better.
Indeed, as the iCUE 4000X RGB uses the same layout, only with a glass front panel and three fans, we are confident that model would do a far better job of cooling than Corsair's photos might suggest.
Closing Thoughts
When Corsair first told us the 4000D and 4000D AirFlow would each sell for £79.99 with identical features, apart from the panel that clips in the front of the case, we figured the AirFlow model would be the most interesting for our enthusiast audience at KitGuru. Our private reaction to iCUE 4000X RGB which sells for £109.99 was that Corsair had majored on RGB, cosmetics and a higher selling price while forgetting about small matters such as airflow. After an intense few days working with these cases our opinion has swung round 180 degrees and we are unable to find a single mistake with the 4000D Trinity.
Construction is solid, the front panel clicks into place easily and the latching mechanism on the two side panels works well. Removing the dust filters at the front, top and bottom is as easy as you might hope.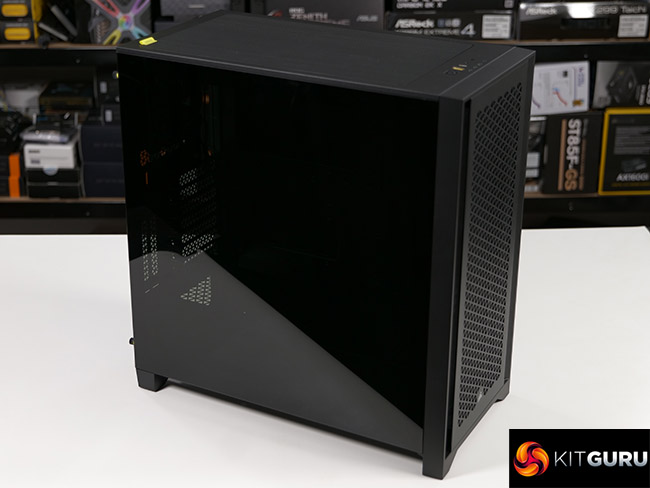 We might make a few suggestions to Corsair about the addition of noise deadening material in the side and top panel, and naturally we would prefer it if the included fans were PWM models, however these are not mistakes but instead are decisions that have been carefully taken to hit a particular price point. If you want one solid pointer about Corsair's approach, look above the motherboard where you find just enough space to install an All In One cooler and to connect the EPS cable from your power supply. It would be good to have another 5mm or 10mm – more space is always better – however it is not necessary. Corsair has got this point absolutely correct.
So, would we buy the Corsair 4000D AirFlow? Well no, not really. We have nothing against the 4000D but it is clear to us that Corsair has rowed back from some of its recent mistakes and has delivered a decent case that can compete with the likes of Fractal Design and Phanteks who reached this stage years ago. On the other hand, if we ordered a new PC for a member of the family and it was offered in the Corsair 4000D we would be perfectly happy in much the same way we like to see tiramisu on the dessert menu at a restaurant. It is reliable, dependable and lacks excitement but does a perfectly decent job and causes absolutely no offense.
You can buy the Corsair 4000D AirFlow for £79.99 – links to be updated.
Pros:
Air flow works well.
Dust filters all round that are easy to clean.
USB-C on front I/O.
Decent build quality.
Reasonable price.
Cons:
Black versions of the 4000 have very heavily tinted glass.
Fans are 3-pin rather than PWM.
Case gets noisy when the cooling works hard.
KitGuru says: 4000D AirFlow looks like a return to former glory for Corsair's range of cases.
Be sure to check out our sponsors store EKWB here