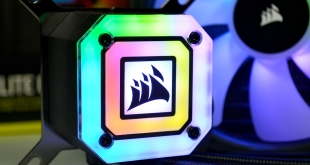 Not a great deal has changed with the core design of AIO CPU coolers over the past few years, usually, a pump is mounted on top of the CPU block, tubes carry coolant to and from a radiator with two or more fans helping to dissipate the heat. Recently MSI tried to shake things up a little by revisiting the radiator mounted pump setup which wasn't a great success, other than that, there is very little in the way of innovation when new AIO coolers are launched. At best, all we usually get are some new fans and RGB lighting features.
Watch via our Vimeo channel (below) or over on YouTube at 2160p HERE

You could even say that designers of AIO coolers have become lazy, by just pumping out the same old stuff year on year with minor tweaks here and there to justify a new product launch. Asetek often makes minor adjustments to its pump design, the company is on to its 7th generation AIO pump solution now, but we don't see a huge thermal performance increase from one generation to the next, improvements are more focused on acoustics, reliability and efficiency.
When Corsair invited the KitGuru staff to attend an online showcase of its new products for the second half of 2020, I was hoping that a new innovative AIO cooler would be on display, even though the company launched the RGB Pro XT series only a few months previous. Corsair did, in fact, announce a new AIO in the form of the iCUE Elite Capellix series, but to my initial disappointment, the Elite Capellix is based on the same core pump/radiator design as the outgoing RGB Platinum series, so any improvement in thermal performance will no doubt be minimal.
However, Corsair has added some improvements to the Elite Capellix series AIOs in the form of a minor redesign of the pump housing shape, but more noticeably is the brand new RGB lighting solution using the company's Capellix RGB LEDs (the names gives it away) but what exactly are Capellix LEDs I hear you ask?
According to Corsair, Capellix LEDs promise to be 60% brighter while using 40% less power compared with traditional SMD LEDs. Capellix LEDs are also much smaller than traditional SMD LEDs, with a volume of just 0.2mm³ versus the 2.8mm³ volume of SMD LEDs, which means that Capellix can fit in almost any piece of PC hardware. The power efficiency and tiny package of Capellix LEDs allow them to be used to great effect in devices such as wireless keyboards, memory modules and AIO coolers, therefore increasing the output and effects of the RGB embellishment.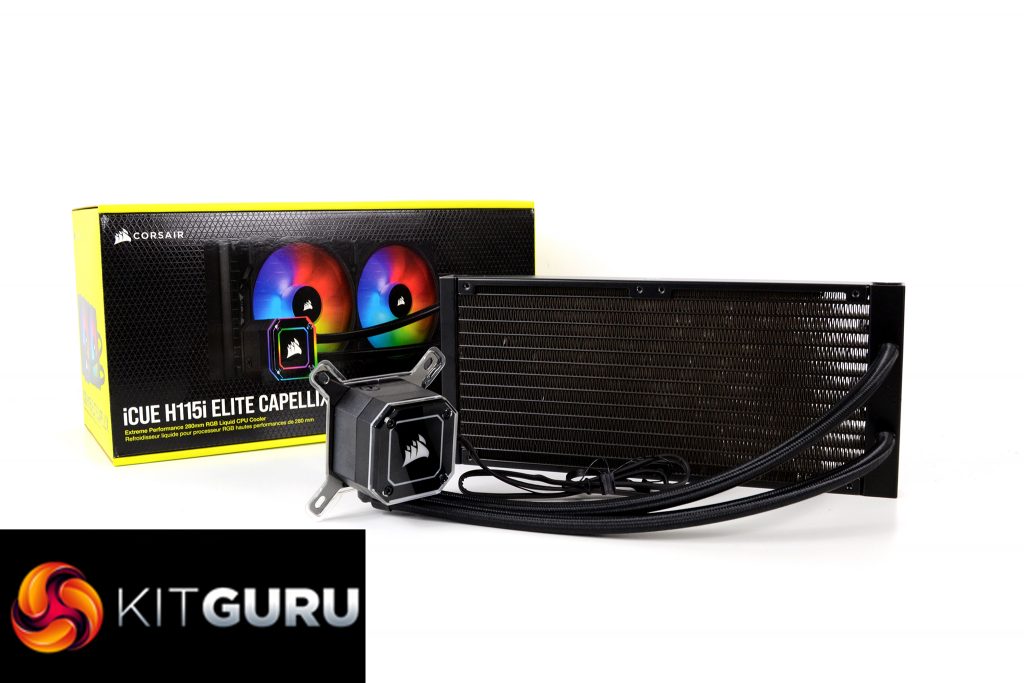 As well as being illuminated by 33 ultra-bright Capellix LEDs, the Elite Capellix cooler series is sporting a new Corsair packaging design. The traditional Corsair yellow has a new shade, almost a fluorescent yellow like a hi-vis jacket and the corsair logo has changed to a simpler bold design. Corsair is also throwing in a Commander Core Smart RGB controller with the Elite Capellix coolers, allowing consumers to take full advantage of the new LEDs out of the box.
The Elite Capellix series is available in the usual three size variants, the H100i 240mm, H115i 280mm and the range-topping H150i with a 360mm radiator. Elite Capellix will become Corsair's flagship AIO cooler by replacing the RGB Platinum series, however, the RGB Pro XT that was released earlier this year will still be available which offers users an alternative option with subtle RGB lighting found only on the CPU block.
As usual with the Corsair Hydro series coolers, the Elite Capellix comes equipped with Corsair ML series fans with a speed range of 400-2400RPM (120mm) or 400-2000RPM (140mm). 33 ultra-bright Capellix LEDs illuminate the pump head while the ML fans are equipped with 8 RGB LEDs per fan.
In terms of performance, we are not expecting any major leaps forward with the Elite Capellix series as it is based on the same CoolIT pump/radiator combination as seen in previous Corsair coolers (RGB platinum and RGB Pro XT) so this new generation is focusing on the new RGB technology as its selling point. But is this enough to pursued consumers to splash out their hard-earned cash in these uncertain times we are currently facing?
Key Features
Capellix RGB LED illumination
High-speed fans
Commander Core RGB controller included
Three sizes available
Zero RPM mode
Easy to install
Specification
Pump Noise
<20.0 dBa @ 1m
Pump Harness
2x PWM Fan (4-Wire)
Pump RGB Features
Multi-Zone CAPELLIX LED Pump Head (33 LEDs; 21 Zones)
Coldplate Material
Micro-Skived Copper
Coldplate Dimensions
65mm
Radiator Dimensions
322mm x 137mm x 27mm
Software Compatibility
CORSAIR iCUE Software
Fan Series
ML140 RGB Series
Fan Bearing
Magnetic Levitation Bearing
Fan RGB Features
8x Individually Addressable RGB LEDs per Fan
Fan Speed
400 – 2,000 RPM
Fan Static Pressure
3.0 mm- H20
Fan Noise Maximum
10 – 36 dBa
Fan Control Method
PWM Controlled via Pump Harness
Socket Compatibility
AMD AM4, sTR4, sTRX4
Intel 1200, 115x (1150, 1151, 1155, 1156)
Intel 20xx (2066, 2011-3, 2011)
Warranty
Five Years
Be sure to check out our sponsors store EKWB here