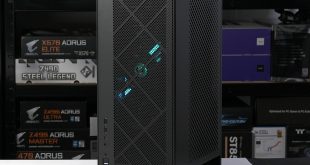 KitGuru covered the news when SilverStone launched the Alta G1M and now we have a sample of  this intriguing Micro-ATX case to review. As you will see this case is rather unusual and has a tower form factor with a huge 180mm fan in the base that can spin up to 1,200rpm. Whether you love it or hate it, you won't be bored.
Watch the video via our VIMEO Channel (Below) or over on YouTube at 2160p HERE
Main features
Supports 360mm radiator.
Super small footprint design with no visible cabling on four sides.
Stack effect layout with 90-degree motherboard layout.
Mandatory cable routing design.
Supports graphics cards of any length.
Includes 1x 180mm Air Penetrator fan to aid stack effect cooling.
Specification:
Motherboard support: Micro-ATX, Mini-DTX, Mini-ITX.
Power supply support: SFX-L, SFX.
Expansion slots: 4.
Included fans: 1x 180mm bottom intake AP184i Pro 1,2 00rpm PWM.
Fan mounts: 3x 120mm side, 2x 120mm rear, 1x 180mm floor.
Radiator mounts: 360mm side.
5.25-inch optical drive bays: None.
Internal drive bays: 4x 3.5-inch/2.5-inch (2x with water cooling).
Front I/O ports: 2x USB 3.0 type-A, 1x USB 3.1 type-C, Combo audio.
Dimensions: 507mm H x 307mm D x 200mm W.
Testing
To put this case through its cooling paces we will be using a test system consisting of an Intel Core i9-11900K , Palit RTX 3080 GamingPro 10GB and an SSD. This system allows us to produce a substantial amount of heat and effectively test the Silverstone Alta G1M's cooling capabilities.
Test System:
Processor: Intel Core i9-11900K (8 cores/16 threads)
CPU Cooler: Fractal Design Celsius S36
Thermal compound: Arctic MX-5
Motherboard: MSI MAG B560M Mortar WiFi BIOS v1.4
Memory: 32GB Corsair Vengeance LPX RGB DDR4-3600
Graphics card: Palit RTX 3080 GamingPro 10GB
Power supply: SilverStone SX750 Platinum 750W
SSD: 500GB Sabrent Rocket 4.0 M.2 NVMe
OS: Windows 11
Cooling Performance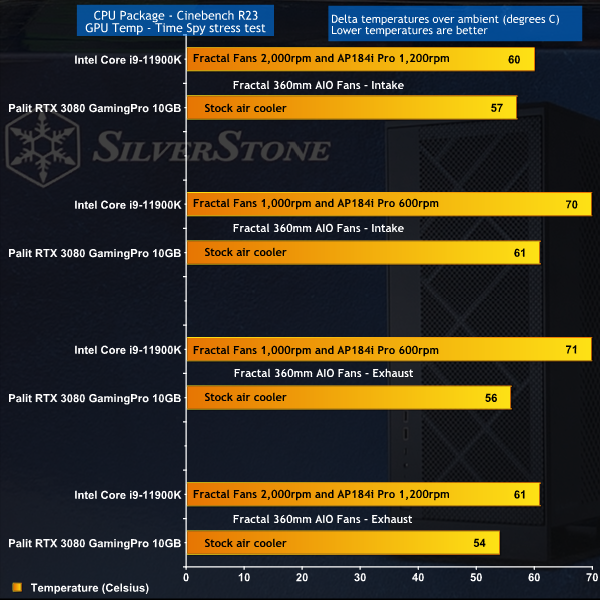 Cooling Performance Overview
Our test PC was drawing 620W at the wall socket and required high fan speeds to keep the CPU cool. As you can see in our video, reducing the fan speed had a significant impact on the internal temperature which tells us the SilverStone Alta G1M has marginal air flow.
Having said that we were using a high end gaming PC which was being stressed harshly and are confident that a mid-range system would be perfectly OK housed in this case. The most surprising thing we learned about the Alta G1M is that you can install an AIO cooler in the side position in either intake or exhaust without any major impact on cooling.
Closing Thoughts
The bare essentials of the SilverStone Alta G1M specification immediately piqued our interest. It has support for a Micro-ATX motherboard with an SFX-L power supply along with a full length graphics card and a liquid cooler up to 360mm. Alternatively you can use a number of 120mm fans and/or up to four storage drives./ The 'and/or' part is significant as you do indeed need to make decisions about the PC you are building.
SilverStone delivers as promised and doesn't drop the ball in any major respect although there are a couple of signs of slightly confused thinking on their part. For one thing they include their latest AP184i Pro fan that sells for 40 USD/Euros/GBP but fail to broadcast that fact. The other point is that the user guide does not make it clear which orientation you should use when you install the cooling hardware. We understand front, back, top and bottom but which way is Intake and which way is Exhaust?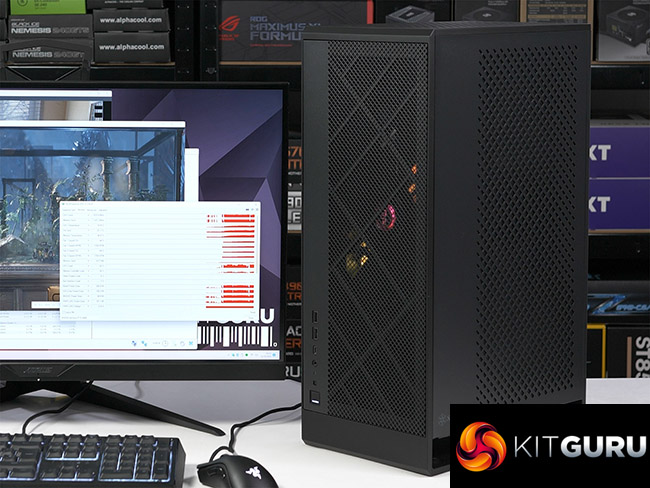 After we worked through the installation and finished building the PC we were happy with the results but had to acknowledge the quirky form factor throws up a few practical issues. The PC will likely stand on your desk and the ports and connectors on the rear I/O panel (remember, they are on the top) will likely be inaccessible. This means you are using the front I/O panel to connect peripherals and storage which is absolutely fine, provided you use a decent motherboard.
The issue here is that many Micro-ATX boards are budget items that do not support front panel USB-C and this point reveals some creative tension. SilverStone is pushing Micro-ATX and SFX-L forward while the rest of the tech industry is lagging slightly behind, so if you are interested in the Alta G1M we advise you to choose your components with care.
You will be able to buy the Silverstone Alta G1M for £135 in Black or £142 in White (USD$169.99 Black, USD$179.99 White).
Pros:
Compact footprint on your desk
Interesting use of the Micro-ATX form factor
Many options for cooling and storage
Fully filtered
Neat design and decent construction
Cons:
Air flow is marginal and best suited to lower powered hardware
Liquid cooling is limited to 120mm units, so 280mm is impossible
The price is a bit steep
When fan speeds are high the Alta G1M gets noisy
KitGuru says: SilverStone Alta G1M is interesting and different. Hurrah for mATX.
Be sure to check out our sponsors store EKWB here