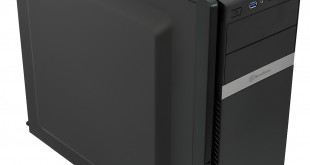 SilverStone supplies its Precision PS11B case in two forms. This Q-suffix version is Quiet while the W has a Window. There are other differences as the Q has a solid front panel with vents at the sides and a fair amount of foam material to deaden sound inside while the W has an open mesh front panel, an LED fan and a housing in the top of the case that can accommodate a fan.
Watch via our VIMEO Channel (below) or over on YOUTUBE
Once we look beyond the cosmetics we see the construction of the chassis is plastic over steel which seems appropriate for such a small case (427mm x 482mm x 215mm) that weighs in at less than 5kg. The PS11B is also very cheap at £40.99 for the Q and £44.99 for the W.
Generally speaking the combination of low price, light weight and small size gets the alarm bells ringing this sounds like the definition of a budget case that holds no appeal for the enthusiast market. Happily the PS11B shows this is not entirely true as it has a fair amount to offer.
Specification:
Motherboard support: ATX, Micro-ATX.
Expansion slots: 7.
Included fans: 1x 120mm front intake.
Fan mounts: 2x 120/140mm front, 1x 120 rear, 1x 120mm bottom.
5.25″ drive bays: 2
Internal drive bays: 3x 3.5, 2x 2.5″.
Dimensions: 427mm H x 482mm D x 215mm W.
Once you have removed the side panels from the PS11B-Q and admired the pieces of foam noise deadening material it quickly becomes apparent that SilverStone has made two novel choices about the layout of this case. The first thing is that you get a 120mm fan at the front of the case but no fan at the rear, which is unusual.
Perhaps this is because the W has an LED fan, which is obviously more visible at the front of the case rather than the rear. The front fan is hidden from view on the Q so this set-up doesn't seem as logical as a single fan at the rear or dual fans at the front and rear.
From a visual point of view the space left for the graphics card is simply enormous. SilverStone has installed a short drive tower with three drive bays and left space above for the graphics card which can be up to 16.2-inches/411mm in length. Cleverly, SilverStone has installed an SSD bay on top of the drive tower and a second SSD bay that hangs upside down from the optical drive bays.
It's an unusual move that works well but it raises the question of who the heck wants to install a monster GPU in a budget case. Perhaps this will appeal to some people but it seems like the answer to a question that no-one asked.
Testing
To put this case through its cooling paces we will be using a test system consisting of an AMD FX-8370, Sapphire Dual-X HD 7790 and multiple storage drives. This system allows us to produce a substantial amount of heat and effectively test the Silverstone Precision PS11B-Q's cooling capabilities.
For stress testing we use a mixture of Prime95 and FurMark to create the maximum heat output. Prime95′s 'Small FFTs' setting allows us to stress our CPU. FurMark's 'GPU Burn-in' mode creates the maximum amount of load our GPU is ever likely to see.
Choosing this hardware was a tricky matter. It makes little sense to install an AMD Kaveri or Intel system with integrated graphics as that sort of hardware generates so little heat that it doesn't test the chassis. On the other hand it seems unlikely that anyone spending proper money on a Core i7 and gaming graphics card would select a budget case that costs as little as £40.
That line of reasoning left us with the budget option of building an AMD system that delivers plenty of bang for relatively little expenditure using an AMD FX processor and a mid-range graphics card.
Test System:
Processor: AMD 4.0GHz FX-8370
Motherboard: MSI 970 Gaming
CPU cooler: Alpenfohn Wasser
Memory: 8GB AMD Radeon R9 2400MHz RAM
Graphics card: Sapphire Dual-X HD 7790 1GB
Power supply: BeQuiet! Straight Power 400W
Storage drives: 240GB AMD R7 SSD
OS: Windows 8.1 Professional 64-bit.
Cooling Performance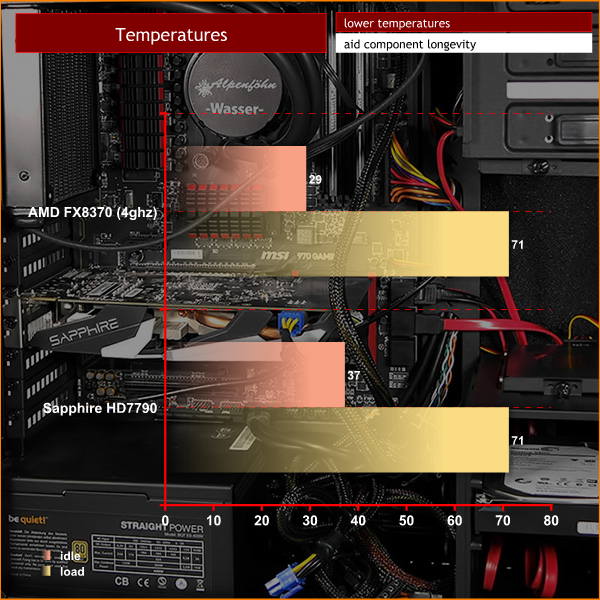 SilverStone makes it clear the PS11B-Q is intended for use with air cooling. There is 161mm clearance for the CPU cooler however that unused rear fan housing was begging for attention so we installed an Alpenfohn Wasser liquid cooler which went in easily and did a decent job. It was only when we came to install the side panel to close the case that we realised two of the fan mounts lined up with the side panel and the rounded screw heads prevented the panel from slotting into place.
This small case with its foam noise deadening material doesn't cool as efficiently as a larger case, however that comes as no surprise. The good news is that the notoriously toasty FX-8370 ran at 71 degrees under extreme load, which is better than we expected.
Acoustics Performance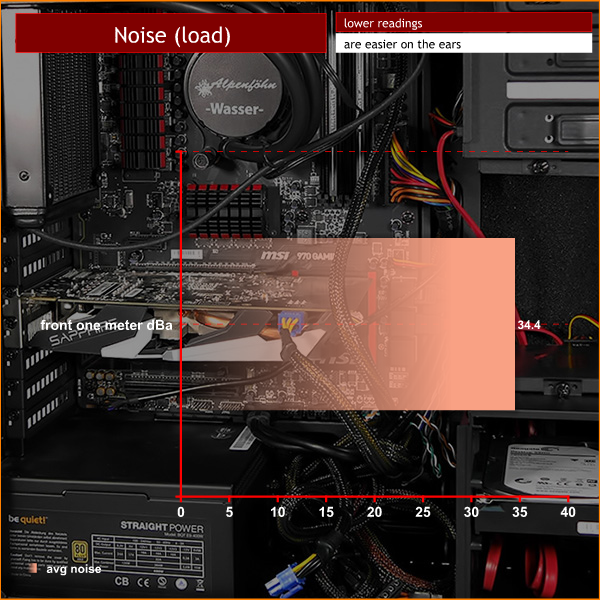 SilverStone has clearly worked hard to keep the Q variant of PS11B nice and quiet. We cannot comment on the W as we haven't seen that version.
If you stress the chassis with a hot CPU that is heavily loaded the cooling will have to respond, and in a sense we cheated by using a liquid cooler. If you use a high end CPU such as FX-8370 we implore you to use a quality air cooler, rather than a model that is cheap and cheerful.
Closing Thoughts
At first glance the SilverStone Precision PS11B-Q looks like a dull case that lives down to its low price, but in fact it is a perfectly decent little chassis that packs in a reasonable list of features.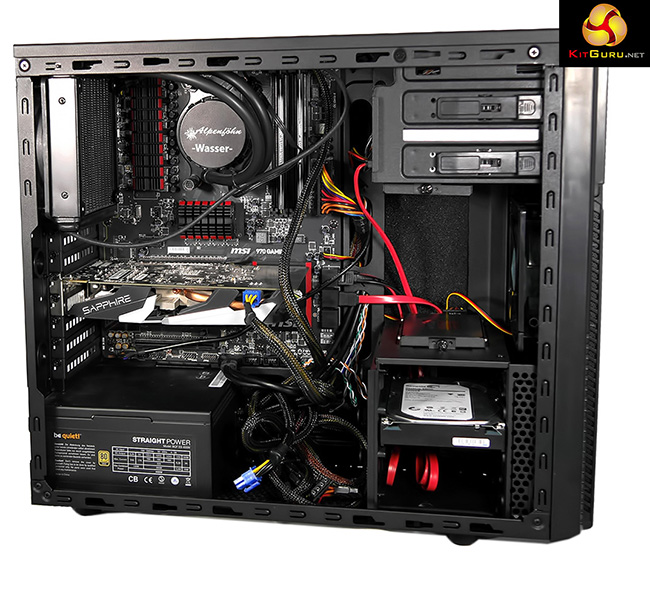 The biggest problem from the enthusiast point of view is the limitation on water cooling. With some modification you could install a 120mm liquid cooler at the rear but if that is your plan you are really buying the wrong case. Far better to stick with an air cooler and, ideally, a low powered integrated PC.
The most curious thing about the PS11B-Q is the ability to install a massive graphics card as we doubt that anyone will make use of this feature.
One thing is certain, which is that this is an impressively cheap case and that makes it worth a close look if you are building a budget PC.



Buy from Overclockers UK for £40.99 inc vat.
Discuss on our Facebook page, over HERE.
Pros:
Low price.
Sound deadening foam keeps the case quiet.
Modern look to the front panel helps the styling.
Loads of room for your graphics card.
Cons:
No options for installing liquid cooling.
Clicky power button.
Plain side and top panels are rather dull.
No rear fan supplied.
KitGuru says: Budget PC builders should take a close look at the PS11B-Q. It's not perfect but it is very good value for money.