The PC modding scene is always very exciting and this year, Thermaltake wants to get more involved with the launch of its brand new Super Tower Chassis series, designed in collaboration with Watermod France with a focus on innovation and craftsmanship.
The Tower 900 is an E-ATX vertical chassis and is the first TT Premium modder edition case. As you may have guessed, it features a vertical mounting design and uses a 5mm thick tempered glass panel to show off the hardware inside. Having collaborated with Watermod France, this case also delivers a vast range of options for custom liquid cooling systems.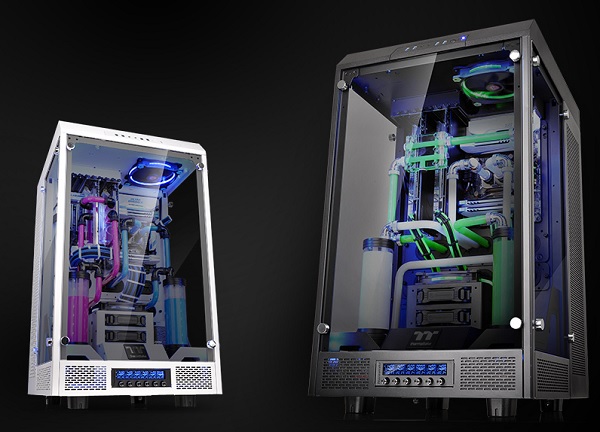 The Tower 900 is designed to showcase your system, which is why tempered glass panels are used. In addition, thanks to the ability to vertically mount graphics cards, GPU sag should be a thing of the past.
If you are looking to maximise your liquid cooling loop, this case comes with a chamber design that allows you to isolate high capacity radiators and creates additional internal space for tubing and other components. Aside from that, the whole case is dismountable with modular parts, so you can build the system from the ground up with different panels, racks and other mounting arrays.
Aside from that, with this being an E-ATX case, it is designed to house a lot of high-end hardware. You will be able to fit tower CPU coolers with a maximum height of 260mm and multi-GPU configurations with up to 400mm in length. For drive bays, you can install six 2.5-inch or 3.5-inch drives with the HDD cage, an additional two 2.5-inch drives with trays and one 5.25-inch drive.
The Thermaltake 'The Tower' 900 chassis is available in two editions, the standard black and a Snow (white) edition. It can be found through TT Premium directly with prices starting at $249.
KitGuru Says: As someone who likes to show off their rig as best as possible, I can appreciate the look of this case, though I'm not in the market to build a new system myself any time soon. Are any of you guys looking to build a new PC at the moment? What do you think of Thermaltake's new ultra-flexible offering?