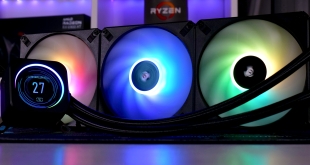 Corsair is one of the few vendors that offers a 420mm version of its all-in-one closed-loop liquid CPU cooling systems. We get a lot of messages in the YouTube comments section saying how good these coolers are and why they are not featured on our testing charts. Well, today we give you guys a look at how the 420mm Corsair iCUE H170i Elite LCD XT cooler performs on our test bench against the competition. Will it live up to the hype? Let's find out.
Watch via our Vimeo channel (below) or over on YouTube at 2160p HERE
Timestamps:
00:00 Start
00:47 Pricing
01:53 Compatibility / Fans
02:46 Radiator & tubing
05:35 IPS LCD Display / CPU Block
07:01 Cables and accessories
09:12 Fans
10:50 Test setup and install
14:24 System is powered on
14:54 iCUE cooler support
18:26 Performance test results
20:13 James Closing thoughts
Normally I would leave the price information until the end of the review but with this AIO I feel the need to put it out there from the off. The 420mm Corsair iCUE H170i Elite LCD XT closed-loop CPU cooler costs a whopping £349.99 at launch, which to me seems like a lot to be forking out just for a CPU cooler. You could build an EKWB CPU-only custom loop with a Velocity² block and Quantum Kinetic D5 pump res combo for a similar price, which are excellent bits of kit.
Now we have that shock out of the way let's look at what you get for your money with this LCD-equipped Corsair AIO. Packaging is typical of mainstream AIO coolers, it comes packed in a cardboard box with everything segregated inside a cardboard carton and wrapped in plastic bags. Not exactly the premium packaging we saw recently with the EK-Nucleus AIO, but it does the job. However, at this price, I think Corsair could do better.
Thankfully The build quality of the cooler looks to be of very high standard, everything has a sturdy feel to it. The radiator is constructed from Aluminium which is typical of AIO coolers. It has a very smooth and uniform black coating with a satin finish so it's neither glossy nor matt, so not too bad at showing up fingerprints etc. there are chrome effect Corsair logos on either of the radiator's long sides which is a nice touch.
Compared with previous versions of the Corsair Elite LCD series the XT has longer tubing at 450mm, made from low evaporation rubber with a nylon braided sleeving. Corsair claims that there has been some minor revisions to the pump/block but other than that it's very similar to previous Elite series coolers.
The pump block casing and detachable top cover that houses the 2.1" LCD IPS screen are manufactured from ABS moulded plastic. While at the base of the block is a skived copper cold plate featuring 128 micro-skived channels per inch. The cooler's base is used to connect the mounting hardware that just slides into position, which is handy for installation as it reduces installation time as there are no fiddly screws to deal with.
As mentioned the top cover containing the LCD panel can be detached from the base. Inside the cover are electrical connections for the pump. The display is an IPS Panel with 480×480 resolution and 30Hz refresh rate. Refresh rate can be adjusted in the iCUE software and so can the rotation of the display, but only when displaying a custom image or gif which is annoying as corsair said it would allow the software to rotate the display using the preset styles previously, but still isn't implemented in the latest version of iCUE.
Another major change from the previous Elite LCD coolers is the fans that come with the Elite LCD XT range. Corsair has chosen the AF Elite fans to go with the Elite LCD XT series which is a change from ML Elite that came previously with the non-XT Elite LCD coolers.
AF Elite fans look similar to the ML Elite fans but with a different blade design. AF Elite fans have anti-vortex vanes on the rear which Corsair calls AirGuide technology just like the ML Elite fans. The anti-vortex vanes are designed to help concentrate airflow. AF Elite is equipped with a fluid dynamic bearing and has a PWM speed range of 500-1700 RPM with a zero RPM mode.
Corsair iCUE H170i Elite LCD XT Specifications:
Pump Noise:  <20.0 dBa @ 1m
Pump Harness : 24-Pin Commander CORE COM Port Cable, USB
Pump RGB Features: Multi-Zone ARGB LED Pump Head (24 LEDs & Zones)
LCD Dimensions: 2.1" Diameter
LCD Panel Type: IPS LCD
LCD Resolution: 480 x 480 px2
LCD Color Depth: 24-Bit True Colour (16.7M+ Colours)
LCD Refresh Rate: 30hz (Adjustable)
LCD Brightness: 600 cd/m2
Coldplate Material: Micro-Skived Copper
Coldplate Dimensions: 65mm
Radiator Dimensions: 457mm x 140mm x 27mm
Software Compatibility: CORSAIR iCUE Software Suite
Fan Series: AF140 RGB ELITE Series
Fan Bearing: Fluid Dynamic bearing
Fan RGB Features: 8x Individually Addressable RGB LEDs per Fan
Fan Speed: 500 – 1,700 RPM + Zero RPM mode
Fan Static Pressure: 2.0 mm- H20
Fan Noise Maximum: 33.8 dBA
Fan Control Method: PWM Controlled via iCUE Commander CORE
Socket Compatibility: AMD AM5, AM4, sTR4, sTRX4, Intel 1700, 1200, 115x, 20xx
Warranty: Five Years


Be sure to check out our sponsors store EKWB here