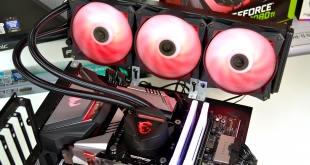 MAG CoreLiquid is a brand new all-in-one closed-loop liquid CPU cooling solution from MSI. Unlike many of the alternative AIO liquid coolers on the market that mount the pump to the CPU block, MSI has chosen an entirely different approach with the MAG CoreLiquid series. MSI claims that its new radiator-mounted pump AIO will "drown the opposition". Let's find out if they are right.
/h4>
To say that this is a 'revolution' in AIO closed-loop liquid cooler design would be inaccurate, but it does make you wonder why more companies do not go down this route and instead stick with the "trusty" Asetek and CoolIT CPU block mounted pump units. As far as I can remember, there is only one other mainstream manufacturer that has tried the rad-mounted pump design.
NZXT used this strategy for its M22 AIO CPU cooler series but have since switched back to Asetek as the company's closed-loop AIO supplier. MSI has moved in the completely opposite direction, by switching from an Asetek-style design with its previous Dragon 120mm AIO series, to the pump-in-radiator design of the new MAG CoreLiquid series.
The obvious and only reason I can think that MSI has taken this approach is to avoid any infringement of the Asetek patent of a CPU block mounted pump. Other companies have found ways around the Asetek patent while technically keeping the pump mounted on the CPU block, by designing a dual-chamber arrangement of the pump housing, which has proven to work well for them.
So, this is by no means a brand new design, neither is it one of MSI's own ideas, in actual fact the CoreLiquid series is designed and manufactured by the same company that supplied NZXT with the M22. The company in question is Apalcool (Apaltek) who holds the patent for this design and manufactures various AIO liquid coolers for desktop systems as well as data centre and servers.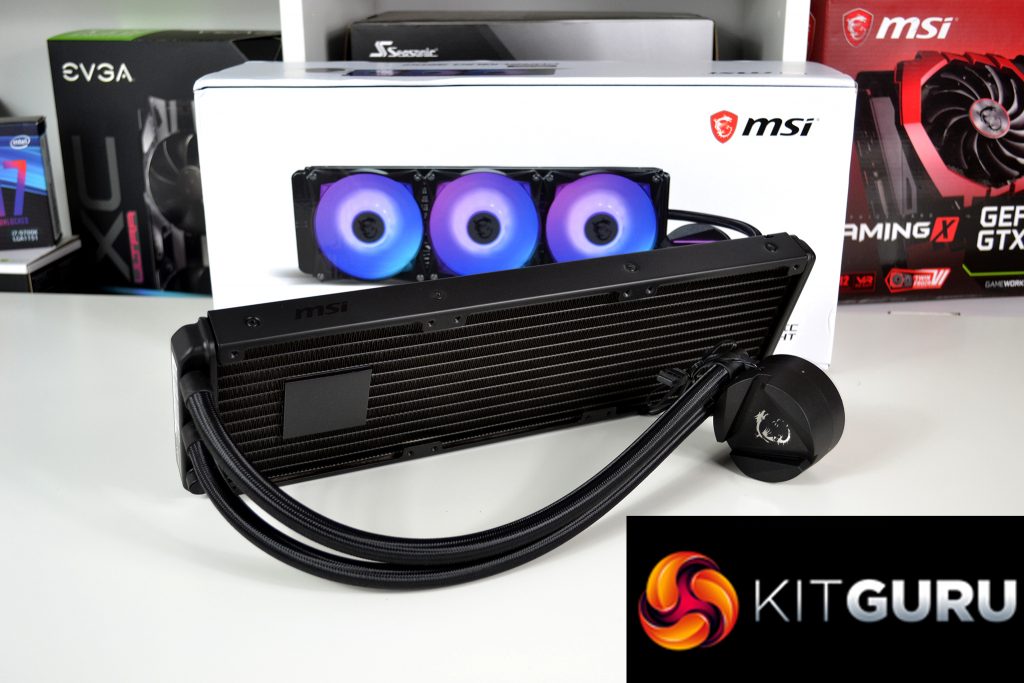 However, the MSI MAG CoreLiquid series does have a number of its own unique features. The CPU block is equipped with an MSI dragon logo which is illuminated by Addressable RGB lighting, as well as a top cover that can be rotated 270-degrees to ensure the MSI dragon is facing in the correct orientation no matter which position the CPU block is installed to the socket.
The RGB lighting of the MSI MAG CoreLiquid 360R extends to the fans, giving users two RGB lighting zones to configure and customise. RGB lighting effects can be synchronised and controlled either by motherboard manufacturer software such as MSI Mystic Light via a 3-pin 5v ARG header or by using an RGB HUB. However, a standalone RGB hub isn't included with the MAG CoreLiquid, so if you plan to use this with an older motherboard without ARGB headers, then the RGB features will not work out of the box.
In terms of technical specifications, the MSI MAG CoreLiquid 360R is outfitted with a durable three-phase motor driving the pump with a maximum speed of 4200 PRM and low noise levels of 18 dBA, along with 120mm dual ball-bearing fans that have a speed range of 500-2000 RPM controlled by a 4-pin PWM connection and a maximum airflow rating of 78.73 CFM.
As is typical with AIO closed loop coolers, the CoreLiquid 360R features a 27mm thick aluminium radiator and low evaporation reinforced rubber tubing covered with a premium-looking braided sleeving. One noticeable and a rather unconventional feature of the MSI MAG CoreLiquid is a removable plug in the radiator that looks like it could be used to refill the system. Whether this is intended for the end-user to top up liquid or for initial factory filling hasn't been disclosed.
CPU socket support of the MSI MAG CoreLiquid 360R is extensive, all current mainstream desktop platforms from both Intel and AMD are covered, including the new Intel socket LGA1200 for 10th generation Core processors as well as AMD high-end desktop TR4/TRX40 Ryzen Threadripper platforms.
Key Features
Radiator mounted pump design
Rotating CPU block top cover
Two-zone ARGB lighting
Extensive CPU socket support
Specifications
| | |
| --- | --- |
| Radiator Dimensions | 394 x 120 x27mm |
| Radiator Material | Aluminium |
| Tube length | 400mm |
| Pump Speed | 4200 RPM |
| Pump Noise | 18 dB(A) |
| Pump Connector |  3-pin |
| Pump Rated Voltage | 12 VDC |
| Pump Load Current | 0.34 A |
| Pump Power Consumption | 4.08 W |
| Fan Dimensions | 120 x 120 x 25 mm |
| Fan Speed Range | 500 ~ 2000 RPM |
| Fan Noise Level | 14.3 ~ 34.3 dBA |
| Fan Air Flow | 21.63 ~ 78.73 CFM |
| Fan Connector | 4-pin PWM |
| Bearing Type | Two Ball Bearing |
| Fan Rated Voltage | 12 VDC |
| Fan Rated Current | 0.15 A |
| Fan Power Consumption | 1.8 W |
| LED Type |  Addressable RGB LED |
Be sure to check out our sponsors store EKWB here