In its quest to develop a water cooling CPU block of the future, German water cooling expert AquaComputer, has created the Cuplex Kryos NEXT with Vision, a block that comes complete with its very own temperature read out. The OLED display can also be used to show other stats like CPU usage, fan speeds, or any other type of input you can grab from one sensor or another.
Aqua Computer produces and sells a variety of water cooling components, from radiators, to blocks, to tubing and clamps. It also sells various displays and read outs as part of its Vision range, with USB connected, standalone touch-panels that can give you the same sorts of read outs as mentioned above. However it's the Kryos Vision CPU block which has most drawn our attention.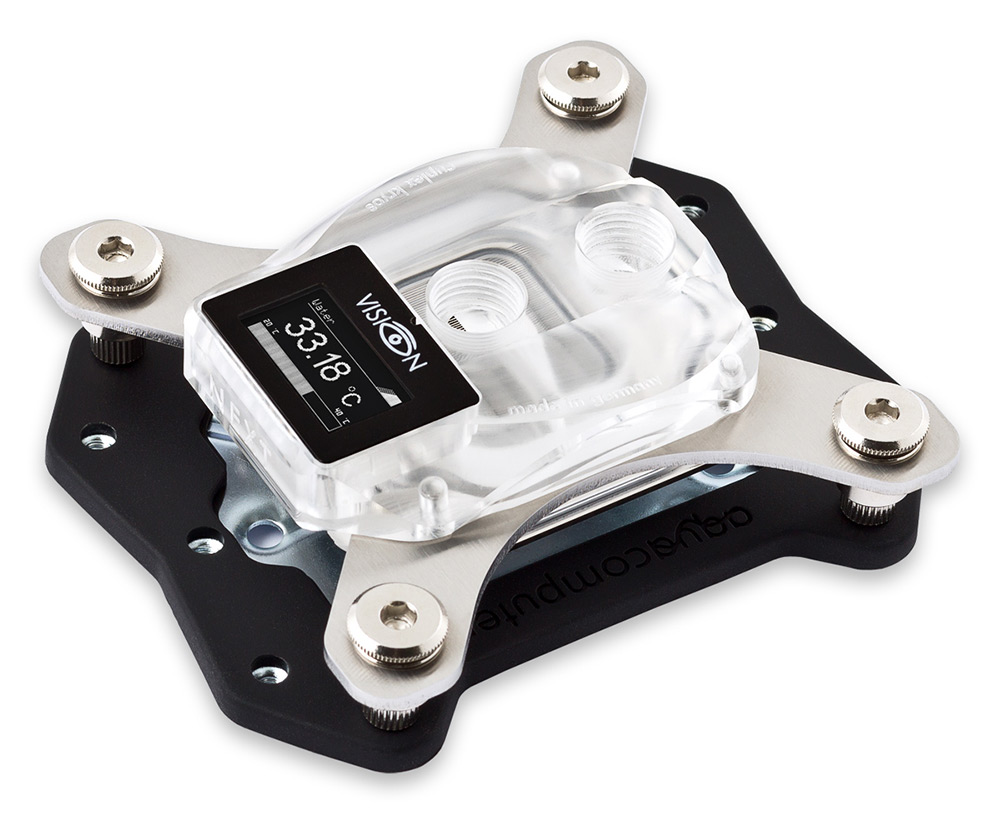 The display itself is built using OLEDs and offers a 128×64 pixel read out. The module can be plugged in or removed, so there is plenty of scope for adjustment later.
The block features a built in temperature sensor, a connector for the addition of a flow sensor or alarm, a USB interface for additional functionality, with space for the cables to be threaded into the water block to keep them neat. You can find the Kryo Vision blocks in various colours, ranging from nickel plated brass, to acrylic glass, copper, or acetal black.
[yframe url='http://www.youtube.com/watch?v=l-z7nIYVKWM']
The whole thing is built with high-quality materials, such as a reinforced steel backplate, silicon isolation between the motherboard and backplate, built in screw-springs to ensure an even weight distribution and features a built in "VARIO" screw system, which lets you adjust the water block while it's in use.
In short, the new Cuplex Kryos Vision display equipped water blocks are some seriously high end gear. That's why you can expect each to cost you as much as 118 euro, or £100. Current stock is out, so there's a two week wait as well.
Discuss on our Facebook page, HERE.
KitGuru Says: Personally I use one of those easy to mount, close loop Corsair coolers for my CPU. It's been a long time since I ventured into the world of custom loops. The last one I did that to was my original Conroe. What kind of crazy WC loops are you guys running?