Nvidia's philanthropic arm, the Nvidia Foundation, has awarded two groups of research teams $200,000 a piece as part of its Compute the Cure effort, to try and combat cancer. Each team uses Nvidia technology in a unique way to help research the disease and how best to fight against it.
The Seungchan Kim lead team from the Translational Genomics Research Institute, based in Arizona, U.S, was awarded its grant for its use of parallel computing to look at why some cancer cells respond to treatments and others don't. Another team from the University of North Texas, headed by Andrés Cisneros, is looking at mutations in proteins that typically repair DNA and using graphical hardware to power that research.
In both cases the research teams utilised Nvidia hardware to create GPU-accelerated algorithms to crunch complex calculations in a much faster time frame. In the case of Kim's team, they used a tool called the evaluation of differential dependency (EDDY) GPU system, which lets them analyse data from thousands of tumour cells to see what treatments may work on them. It works quickly enough to potentially offer different treatment options for patients.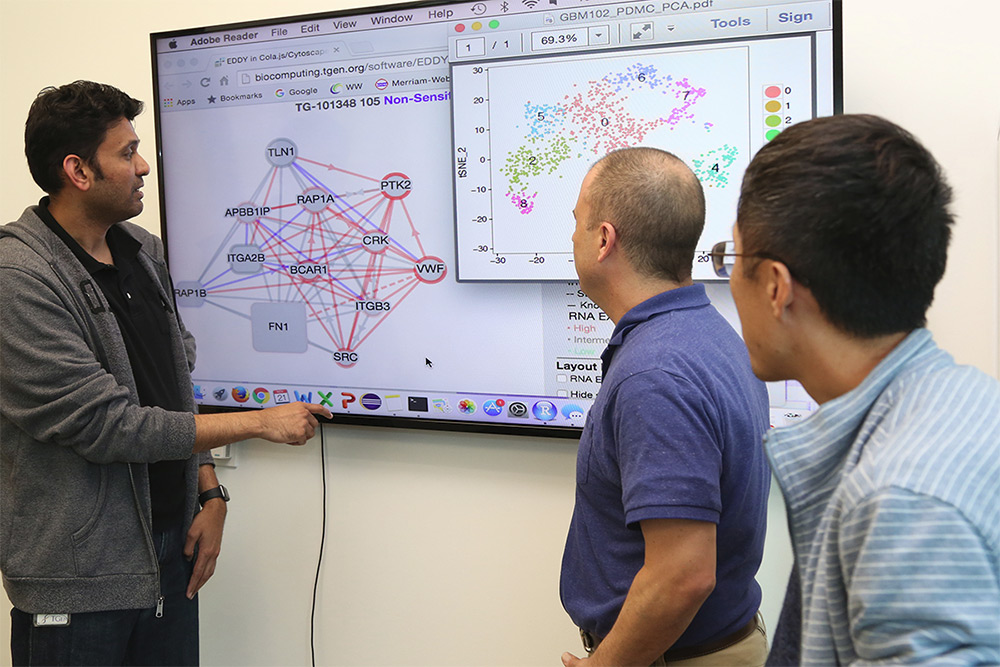 Members of Kim's team discussing the EDDY tool. 
The use of graphics chips to aid in this task was massively important we're told, with the Nvidia blog stating that a CPU driven algorithm worked away for two months on just a few thousand cells and never finished.
Moving forward the team plans to use the Nvidia funds to further develop and speed up the algorithm to make it even more efficient.
The second team awarded $200,000 as part of Nvidia's scheme is taking a more meta, research approach. It's using parallel computing to look at masses of data from the National Institutes of Health to try and discover why it is that proteins designed to repair DNA damaged by UV rays or cigarette smoke, become mutated themselves.
The team hopes that they will discover patterns in the types of proteins which are affected and if that commonly leads to cancerous growths, they can look to develop treatments or preventative care to help keep those proteins doing their jobs. They will also look at specific genetic markers to see if they give any indication as to the potential for certain proteins to mutate.
Discuss on our Facebook page, HERE.
KitGuru Says: Although a few hundred thousand dollars is a drop ion the bucket of what's needed for cancer research, leveraging technology to help in the fight against it seems like a worthy cause.