Today we are reviewing the Pro version of the Alphacool Eisbaer Aurora 360mm that James checked out last year. That model is a desktop CPU cooler that is compatible with Intel Core processors and AMD Ryzen (plus some other models), while the Pro is abso-frickin'-lutely huge and is suitable for AMD Threadripper, Intel Xeon and Intel HEDT. The three 120mm fans have ARGB lighting and the price is very reasonable, which gives us plenty to work with.
Watch the video via our VIMEO Channel (Below) or over on YouTube at 2160p HERE
Features:
Full copper radiator
Virtually silent DC LT pump
Nickel plated copper cooler
Hose length 40cm
Digital RGB illuminated cooler
Digital RGB 120 mm fans
Specification of Radiator:
Dimensions: 390mm (L) x 120mm (W) x 25mm (H)
Material for fins, cooling channels and chambers: Copper
Material for threads: Brass
Outer housing: Stainless steel
Specification of  Cooler and pump:
Dimensions: 64mm (L) x 79mm (W) x 54.3mm (H)
Material cooler bottom: Nickel plated copper
Material cooler top: PMMA
Pump type: DC-LT
Pump speed: 2,600rpm
Voltage: 12V DC
Power: 4W
Max flow rate: 75 litres per hour
Specification of  Fans:
Dimensions: 120mm x 120mm x 25mm
Speed: 0-2,500rpm
Air flow rate: 119.8m3 per hour
Static pressure: 3.17mm H2O
Bearings: sleeve bearings
Connector: 4-pin PWM
RGB: 3-pin 5V
Compatibility
AMD: AM4/TR4/sTRX4/sWRX8/SP3
Intel: LGA 2011/2011-3/2066/3647 Narrow & Square
Testing
To put this cooler through its paces we will be using a test system consisting of an AMD Ryzen Threadripper 2990WX, AMD Radeon RX 6800 XT 16GB and an SSD. This system allows us to produce a substantial amount of heat and effectively test the Alphacool Eisbaer Pro 360's cooling capabilities.
Test System:
Processor: AMD Ryzen Threadripper 2990WX (32 cores/64 threads, 3.1GHz all cores at 250W TDP)
Thermal Compound: Arctic MX-5
Motherboard: Asus ROG Zenith Extreme BIOS 2001
Memory: 32GB G.Skill FlareX DDR4-3200MHz
Graphics card: AMD Radeon RX 6800 XT 16GB
Power supply: Seasonic Prime Platinum 1300W
SSD: 1TB WD Black SN850 M.2 NVMe
OS: Windows 10
Cooling Performance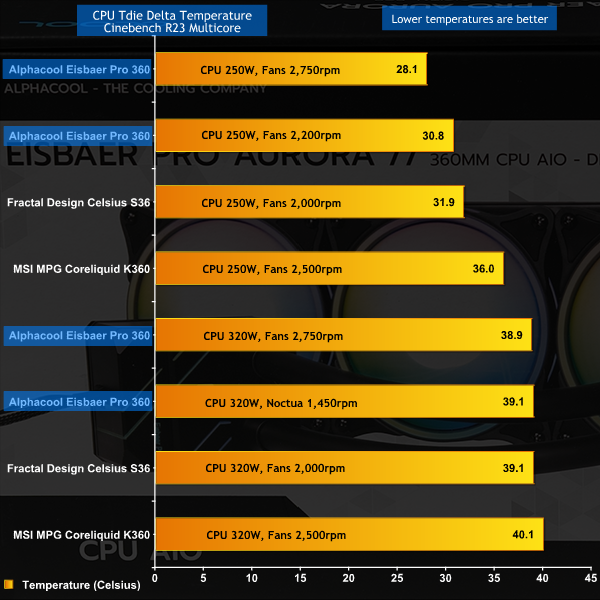 Cooling Performance Overview
Throughout our video we gave you the true temperatures as we measured them, however this chart shows the Delta figure over ambient. You can see that Alphacool takes the win over the two Asetek coolers at both 250W TDP and 320W TDP. This is shown in the CPU Tdie temperature and also in the Cinebench R23 scores so it is a clear win for Alphacool. It is worth reiterating that we used a test platform with a monstrous Threadripper 2990WX and expected both Aseteks would be pushed to their limits. In fact the the margins of victory for Alphacool were smaller than we expected.
Closing Thoughts
In our video we spell out our approach to the Alphacool Eisbaer Pro 360 and focus on the huge CPU block and the compatibility list which includes a bunch of Intel CPUs, AMD AM4 and AMD Threadripper. Before we strapped on our Threadripper 2990WX we got some baseline figures from the Fractal Design Celsius S36 and MSI MPG CoreLiquid K360, and then we moved on to the Alphacool as the main event.
This was the point where our plan went slightly off the rails as the Alphacool exhibited some unexpected behaviour when it came to PWM control of the fans. Once we had that sorted out we found the Alphacool did indeed perform better than the two Aseteks, however the margin was fairly small.
Throughout our testing we were unhappy with the noise levels of the three Alphacool fans so if you combine those two points you quickly arrive at the view that we didn't much like the fans. Unfortunately that meant we pretty much ignored the ARGB feature as most of the lighting is in the fans, along with a certain amount in the pump body.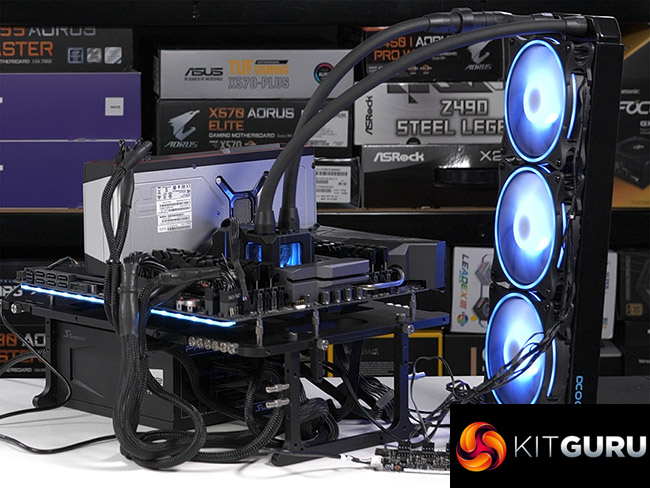 As we headed towards the conclusion of the review we were all set to deliver a verdict that 'Yes, the Alphacool performs well and is fairly cheap, however the fans are less than perfect' and then we gave a set of Noctua fans a whirl, just for fun. Noctua NF-F12 Chromax fans use a hybrid design that works well on air coolers and also on radiators and we had reasonable hopes the performance would be OK despite the lowly 1,500rpm speed rating. In fact the performance was fine, however the noise levels were truly astonishing.
While we were running Cinebench R23 we could barely hear the fans and were clearly able to hear the Alphacool pump working away for the first time. This led to a bit of mental readjustment on our part so yes, the Alphacool Eisbaer Pro is relatively cheap for a serious CPU cooler however, yes, we understand how Alphacool was able to make the design decisions that allowed them to drive the price down.
You can buy the Alphacool Eisbaer Pro Aurora 360 for £167.89 from Aquatuning HERE.
Discuss on our Facebook page HERE.
Pros:
Solid design and engineering.
Decent cooling performance.
ARGB lighting looks appealing.
You get plenty of hardware for your money.
Ability to expand the loop with Eiswolf GPU cooler.
Cons:
We suffered PWM problems with our Asus ROG Zenith Extreme.
The fans are far too noisy.
CPU block is general purpose and non-specific.
The cables are untidy and look messy.
KitGuru says: Alphacool proves that brute force engineering can carry the day, however we would appreciate fans that made less noise.
Be sure to check out our sponsors store EKWB here