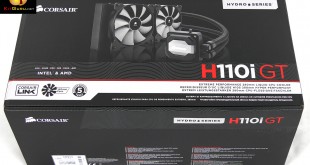 Corsair is bringing out three new All In One liquid cooling systems. H80i GT (120mm radiator and two fans in push/pull) and H100i GTX (240mm radiator with two fans) occupy slots towards the upper reaches of the product range, and right at the pinnacle we have the new H110i GT. Employing a 280mm radiator and dual 140mm fans, the H110i GT marries the size of the H110 with features we have previously seen in H100i Extreme.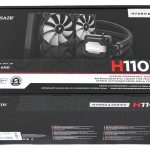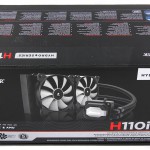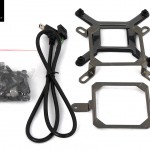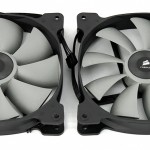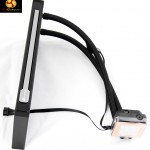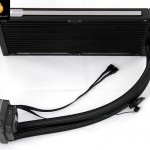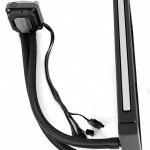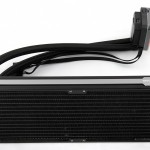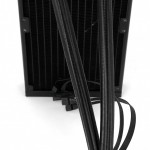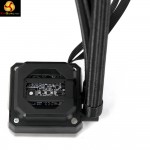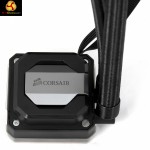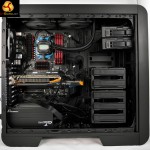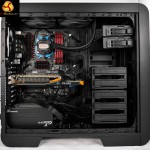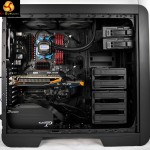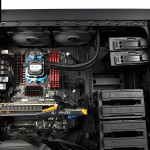 In essence this means a 280mm radiator with dual 140mm fans and a square block/pump unit, all wrapped up with Corsair Link software. The radiator has a Corsair logo on either side and there is an illuminated Corsair logo on the block/pump however the branding is reasonably subtle and none too aggressive.
Provided you can accommodate a 240mm radiator in your case this is the ultimate Corsair cooling system, however the recommended retail price of £105 inc VAT (Overclockers UK tells us it will be £97) is only slightly higher than other AIO coolers in the Corsair range.
Specification:
Socket Support: AMD: AM2, AM3, FM1, FM2, Intel LGA: 1150, 1155, 1156, 1366, 2011, 2011-3
Cold Plate Material: Copper
Fan Specification: 140mm SP140L PWM (x2)
Radiator dimensions: 140mm x 322mm x 27mm
Radiator material: Aluminium
Fan dimensions: 140mm x 25mm
Fan speed: 500rpm-2,250rpm
Fan airflow: 113 CFM
Fan static pressure: 3.99mm-H2O
Noise level: 43dB(A)
Tubing: Low-evaporation, easy-bend tubing is guaranteed leak-free
Warranty: Five years
The radiator is immediately familiar as uses the same 28mm thickness construction as existing models, however the two SP140L 140mm high static pressure fans operate at speeds up to 2,250rpm. Corsair states the fans run at 2,100rpm plus or minus 10 percent so it would appear that your fans might run as low as 1,900rpm, whereas the review unit was slightly above the spec figure. This fan speed is faster than H110i which peaks at 1,500rpm+/- 10 percent.
Choosing hardware to test the cooler wasn't as simple as you might think. Corsair makes the point that Intel LGA115x doesn't dissipate enough heat to test the H110i GT and we see their point. A high end Core i7-4770K is rated at 84W TDP and if you overclock you won't approach 140W, which is a drop in the ocean for this cooler.
Intel LGA2011 Extreme Edition will do the job nicely but realistically are you in the market to spend £500-£800 on a CPU, £400 on a motherboard and north of £200 on DDR4? If you are we doubt you will use an off-the-shelf cooler and would instead opt for a custom loop.
The obvious choice for us was the toasty AMD FX-8370 CPU which is rated at 125W and needs extreme cooling even for day-to-day duties.
Installing the H110i GT was a simple matter of selecting the correct components from the comprehensive set of parts. You can install the block/pump unit without tools until you reach the stage of nipping everything tightly together. Installing the fans on the radiator and then screwing the assembly in to the case is both quick and easy. The final stage of the job is to connect the fan header, SATA power and USB connection for the Link software.
Testing
To put this cooler through its paces we will be using a test system consisting of an AMD FX-8370 and Radeon R9 290. This system allows us to produce a substantial amount of heat and effectively test the Corsair H110i GT's cooling capabilities.
For stress testing we use Prime95′s 'Small FFTs' setting to stress our CPU to create the maximum heat output.
Test System:
Processor: 4.0GHz AMD FX-8370
Motherboard: MSI 970 Gaming
Case: Thermaltake Core V51
Memory: 16GB G.Skill Ripjaws 1600MHz RAM
Graphics card: Sapphire Tri-X Radeon R9 290 4GB
Power supply: Seasonic Platinum II 1200W
Storage drives: Samsung 840 SSD
OS: 64-bit Windows 8.1.
Cooling Performance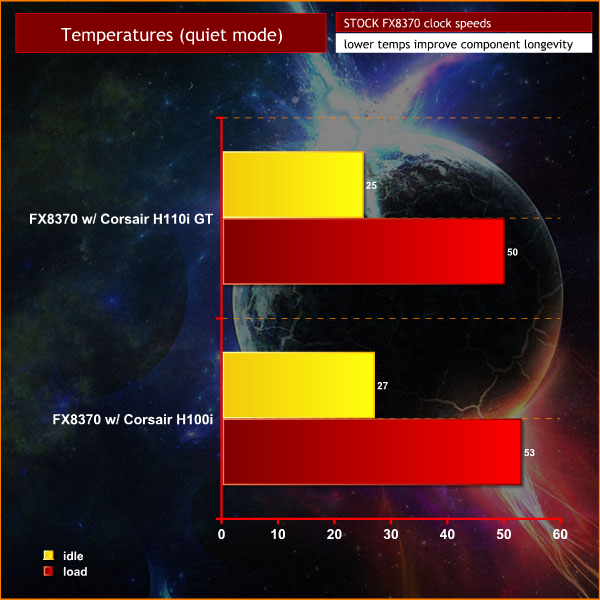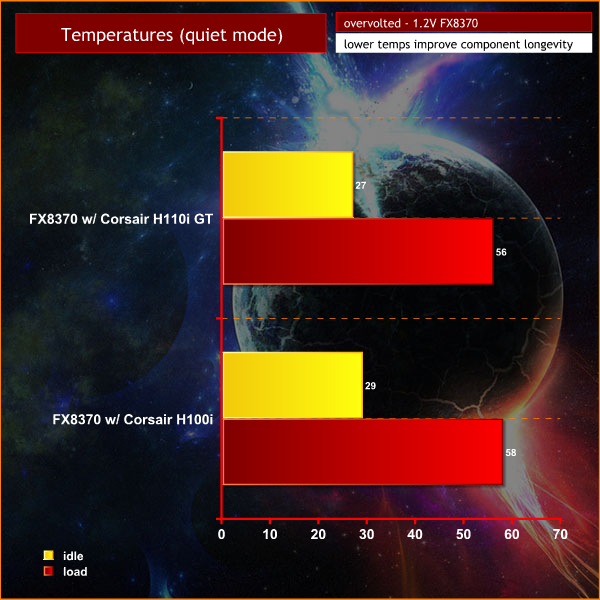 The Corsair H110i GT does a magnificent job of cooling the FX-8370. If you run the CPU at stock clock speed you can leave the cooler in Quiet mode and the delta figure is a mere 25 degrees with a true temperature of 50 degrees under heavy load.
Noise Emissions
The 240mm H100i has always been impressively quiet however H110i GT is effectively silent. When Windows starts there is a brief blast of noise before the fans settle down and that can cause quite a surprise.
By default the fans spin at 500rpm in Silent mode however the cooling isn't superb. Crank it up to Quiet mode where the fans spin at 1,000rpm and the results are impressive.
Balanced mode is 1,800rpm (rather noisy) and Performance is 2,000 (loud) while Maximum is 2,250rpm (Ouch, stop it).
Closing Thoughts
The Corsair H110i GT is an excellent cooler. It performs superbly well and the Link software gives you great control of the hardware along with the ability to monitor temperatures, construct custom fan speed curves and mess around with the LED colours on the water block.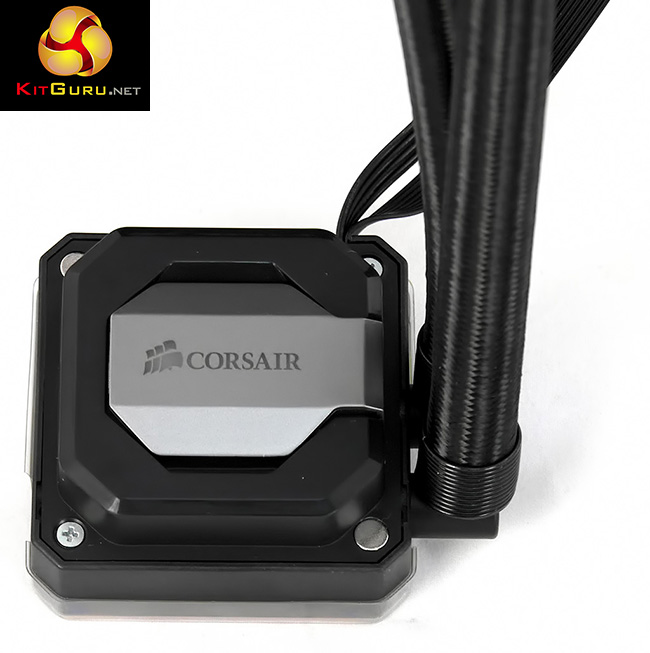 Perhaps the only novel feature in this cooling system is the use of braided hoses, although that is a very fine detail that is pretty much irrelevant. The question left hanging in the air is, who needs a cooler this effective? It is big and cools like a champ and the premium you pay for this performance and sophistication is surprisingly small.
Coming in just under £100 it is hard to call the Corsair H110i GT expensive. It is certainly good value for money but most of us would be adequately served by an AIO that sells for £55, such as the Corsair H60 V2.
Discuss on our Facebook page, over HERE.
Pros:
Excellent cooling performance
Comprehensive CPU support
Very low noise levels unless you ramp up the fan speeds
Link software gives you complete control of the cooling hardware
Illuminated Corsair logo is fun, provided you have a windowed case
Braided coolant hoses look very smart
Top notch build quality
Five year warranty
Cons:
Just a single negative point which is that very few people require this level of cooling in 2015. In particular Intel LGA115x does not require this level of cooling.
KitGuru says: Corsair has reached new heights with the H110i GT and it feels churlish to ask whether you actually require a cooler this good, however it is a fundamental question.