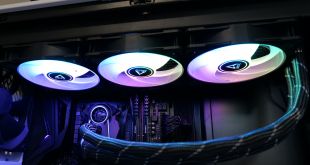 Arctic's Liquid Freezer II line of CPU coolers has been a fan favourite, and for good reason; the balance between noise, performance, and price has been superb. But good looks certainly have not been one of the factors associated with the coolers. That changes with the addition of fancy, controllable lighting.
In this review, we are examining the Arctic Liquid Freezer II 360 A-RGB cooler that currently sells for a very competitive £120 in the UK and comes backed with an impressive 6-year warranty.
One of the key features for Arctic's Liquid Freezer II AIO line-up has been the block mounted VRM fan. This 40mm blower is PWM controlled between a speed range of 1000-3000 RPM. Positioned on the upper side of the pump block unit, Arctic believes that this solution should provide competent levels of airflow to nearby VRM heatsinks.
Aside from the change to A-RGB capable fans, the Liquid Freezer II 360 version that we are testing today is the same as the previous versions. This time, however, the A-RGB fans do not need any form of lighting control box and can be synced through a motherboard software tool.
Looking at the radiator, Arctic is using a thicker-than-standard radiator. The all-black, aluminium unit comes in at 38mm-thick which is a sizable increase versus the conventional 27mm-thick units we see from the Asetek stable.
While this increase in radiator thickness does, in theory, offer greater cooling capacity, it also comes with the drawback of requiring higher pressure fans to effectively flow air through the fins. And then there is also the downside in terms of physical dimensions and interference, but this should not be an issue in most competent ATX cases, especially if you are happy with front installation.
Leaving the radiator are two closely mounted fibre-reinforced, EPDM tubes that measure in at 450mm long. Arctic uses a plastic style for the tubes which is not as clean or premium looking as some of the all-black nylon braided designs from the likes of Fractal and NZXT.
The block unit features Arctic's in-house designed pump. This is a PWM controlled unit rated at 800-2000 RPM. While the top speed of 2000 RPM is relatively modest, the speed control range is good, and this should pay dividends when it comes to noise output.
The overall pump block unit is physically large and cumbersome in X and Y dimensions, as well as ugly looking. Of course, that is my own personal opinion. However, the comparison to pump block units from competitors such as NZXT, Fractal, and ASUS (some of which also have VRM cooling fans) makes it clear just how oversized and plastic Arctic's design is.
On the top side of the angled plastic pump unit is the 40mm VRM fan. The translucent housing of this fan is not RGB LED lit, and this feels like a missed opportunity by Arctic.
Another downside of the pump block unit is the tubing entrance point. Arctic does not provide any flexibility or adjustment to the angle of the tubing. This severely limits the supported orientations of the 360mm radiator as the tubing often will not flex in the direction you want it to.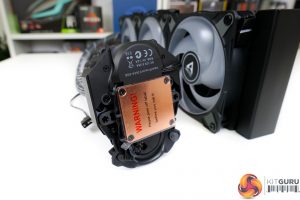 Shifting heat away from the CPU is the copper cold plate with its micro-skived fins. This square profile slab of copper looks to be appropriately sized to offer solid coverage for current Intel and AMD mainstream processors, as well as LGA 2066 that this cooler supports. Threadripper compatibility is not provided.
Unlike many competitors, there is no pre-spread serving of thermal paste. Instead, Arctic includes a 0.8g tube of the company's high-quality MX-5 thermal paste as part of the bundle. This is a very smart move that I thoroughly appreciate!
Three of Arctic's 120mm P12 PWM A-RGB fans are used for cooling duties. These Fluid Dynamic Bearing units are rated for a 200-1800 RPM speed range via the PWM control method. That low-speed capability all the way down to 200 RPM is particularly impressive, especially if your system's idling or low load temperatures allow for such operation.
Interestingly, the three fans are connected to each other via a daisy-chain approach that is pre-routed. This is an excellent solution as the cable management is far cleaner than what a typical end-user could achieve.
It also has the benefit of allowing the entire cooler to be handled by just two cables connected to the motherboard – one ARGB header for LED lighting and the 4-pin PWM header which manages the three radiator fans, pump, and VRM fan. The associated cables for fan and LED control are either pre-routed via the daisy-chain, or they are hidden inside the mesh wrap around the liquid cooling tubes.
This is an excellent system for clean aesthetics and straightforward cable management. Kudos, Arctic!
Installation of the Liquid Freezer II 360 A-RGB is not particularly difficult, though it is a little more time consuming than a typical Asetek AIO. That is primarily due to the installation of the AMD block clips and the fiddly AMD mounting brackets.
The stock AM4 backplate is used and then two metal retention plates are screwed into position with a plastic spacer beneath. This was a little fiddly and often had me wishing for a third hand.
Once that process is done and thermal paste is applied, the block can be screwed into position. Remember that Arctic's installation guide highlights only one orientation for the oversized block and its VRM fan. This severely limits any flexibility that you have with respect to mounting orientation, especially of those relatively rigid, vertical tubes are causing you hassle.
Once all is installed, though, the mount is secure, and the overall setup does look good. I still feel that Arctic missed an opportunity by not making the VRM fan LED lit also, but the clean cable management thanks to just two trailing wires is absolutely superb.
I appreciate the fact that Arctic leaves the ARGB lighting control down to the motherboard manufacturer tool. This allows you to sync your lighting across several different components using the usual tools from ASUS, ASRock, Gigabyte, and MSI.
Be sure to check out our sponsors store EKWB here