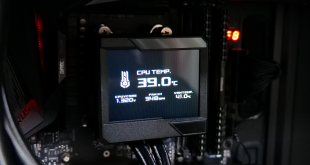 Sporting a huge 3.5" LCD screen atop the AIO pump block, the ASUS ROG Ryujin II 360 continues a trend set by the original ROG Ryujin. This is the year 2021, where superfluous accessories are all the rage. So we are just left asking, 'why wouldn't you want a sizable LCD screen on your AIO cooler?' Will the £279.99 price tag be a turn-off to many? Let's find out.
The key feature of the £279.99 ASUS ROG Ryujin II 360 AIO is clearly that massive screen. Sizing in at 3.5", this is the largest LCD that you will find on any AIO cooler on the market, according to ASUS. Perhaps that is because other manufacturers are apprehensive of the prohibitively expensive technology. Or perhaps ASUS really has carved out a niche here.
Sporting a full colour display, ASUS gives plenty of flexibility with the functionality of its display. If you want default ASUS ROG graphics and logos in colour and motion form, that's doable. If you want your own custom image, that's doable. And if you want useful information such as CPU temperature and fan speeds, that's doable.
This is all handled via the ASUS Armory Crate software tool. Requiring this install annoys me – as is the case with all AIO coolers that demand a software install. But at least ASUS gives some actual functionality in Armory Crate beyond forcing one to download a software tool just to set the pump at full speed… which you also have to do with the ROG Ryujin II 360, I must add. The likelihood is, of course, that you'll be using other ASUS hardware anyway. So this is not really an additional install as such.
Looking at the radiator, this is a conventional design. We get a 27mm-thick aluminium rad with 3x120mm mounting locations. ASUS stamps an ROG logo on the side which is a nice touch.
The 380mm-long sleeved rubber tubes exit the radiator at one end. They have a good degree of flexibility, and the sleeving does look to be of a high quality level, as is also implied with ASUS' impressive 6-year warranty.
In terms of specifications for the pump and cold plate, this Asetek 7th Gen unit features an 800-2800 RPM 12V DC powered pump. That speed range is impressive, and the control offered via ASUS' software is positive. There is no need to worry about powering the pump from a fan header or SATA cable as the juice is handled via ASUS's powered ROG control box.
The copper cold plate is standard Asetek circular design. And we continue to get the usual blob of pre-applied thermal paste, though no additional tube is very disappointing for this calibre of unit.
Aside from the undeniably unique LCD display, the Ryujin II 360's pump block design is otherwise cumbersome and ugly, in my personal opinion. The massive – 78.15 x 87.5 x 81 mm plastic housing is clearly oversized compared to what we're used to from Asetek 7th Gen hardware. And it is needlessly bulky in so many respects, other than handling the screen duties.
Also, you need to watch out for the screen duties. While the magnetic LCD display / pump cover can be easily removed, it is only designed to fit onto the system in one orientation. With the LCD designed for horizontal viewing ideally (vertical is also supported), you have a reasonable degree of freedom when choosing a block mounting orientation.
With that said, pulling off the magnetically attached (which is impressive, I must add) block cover and LCD mount and its two cables reveals what is underneath. Here we see a 60mm embedded fan that can operate at up to 4800 RPM. It is intended to provide airflow around the CPU socket for enhanced VRM cooling. That's a nice touch, especially as the fan is speed controllable.
Three of Noctua's NF-F12 IndustrialPPC 2000 PWM fans are used on the ROG Ryujin II 360. These 120mm fans are 4-pin PWM powered and operate within a speed range of 450-2000 RPM. That low-speed capability is particularly impressive, especially when coupled with ASUS' strong control options.
Interestingly, given that ASUS typically tends to offer plentiful RGB lighting on a variety of hardware, there is no LED lighting whatsoever on the Noctua-built fans. Some users may see this as reasonable respite from the RGB lighting that is so commonplace in today's market. However, it does feel a little odd to me to see such a large and in-your-face screen not accompanied by RGB lights of any sort.
A 3-to-1 fan splitter is included for managing that 120mm blowers from a single motherboard header.
Alternatively, users can deploy the ASUS-provided, SATA-powered fan hub. This box connects to the system via a micro-USB cable deploying from the pump cover (which in itself also connects via USB 2.0 header to the motherboard). SATA power is connected to the control box, and this permits control over four 4-pin fan headers in addition to four ARGB headers from a single input.
When coupled with ASUS' Armory Crate software, this fan control box actually proves functional. You could feasibly manage more fans than just those provided with the CPU cooler. And there is plentiful capability to power ARGB lighting, not that the cooler's fans offer it.
Perhaps those ARGB and added fan control duties are unnecessary on a cooler of this calibre where the user will almost certainly have a competent motherboard. However, I will not complain about the software-based fan and pump speed control abilities. And just the two cables exiting the plastic pump block shroud is better than the common three cable approach.
Installation is easy, as we have come to expect from modern Asetek systems on AMD. Provided you can hold the backplate in position whilst tightening the front-side stand-offs, the install can be completed quickly.
We had to remove the oversized pump block plastic housing when tightening the Asetek CPU block in place. But this is easy thanks to the well-designed magnetic mount.
The finished mount is completely secure and with just two easy-to-hide cables leaving the block, the overall install does look clean. That's especially true if you're a fan of blackout-style hardware with no RGB lighting, other than the illumination of the 3.5" LCD display, of course.
Be sure to check out our sponsors store EKWB here