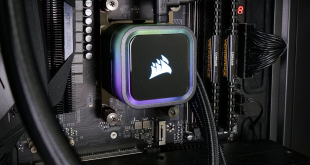 In this one, we are looking at Corsair's new iCUE H150i RGB Elite 360mm AIO. Intended to offer stellar performance at a lower cost versus the LCD and Capellix versions of Corsair's triple-fan units, the newly-designed H150i Elite – as I will shorten its name to – uses Corsair's AF120 Elite series PWM fans and limits RGB lighting to just the pump-block housing. Coming in at £164.99 in the UK, let's take a closer look at the new, more affordable Corsair H150i Elite cooler.

Video Timestamps
00:00 Start
00:52 Radiator and CPU block
02:07 Fans / cables
03:12 iCUE control
04:03 Installation
04:40 Test setup
05:49 Noise performance
07:02 Thermal results
08:58 Closing thoughts
Corsair uses a conventional 27mm-thick, 360mm-class black aluminium radiator for the H150i RGB Elite. The low-permeation rubber, black sleeved tubes have a reasonable degree of flexibility to them. Alongside the flexibility of the tubes, there is also adjustment at the entry points to the pump block unit.
As is usual for Corsair, the bare copper cold plate is supplied with pre-applied thermal paste. Technically, Corsair says that this is a 'Micro-skived copper split-flow' cold plate. Basically, that's a lot of fancy terminology to describe how it is manufactured and how its fins work.
Sizing of the contact area is reasonably large and that is critical because Corsair offers support for all modern Intel and AMD sockets including AM5, LGA 1700, and Threadripper.
One of the areas of refinement for Corsair's design has been on the pump. The new design features 16 individually addressable RGB LEDs which diffuse into an all-around housing.
The pump itself is capable of varying its speed via iCUE and runs at 2900 RPM under its highest – Extreme – speed profile in our testing. I must say that the understated look of the pump top with a simple Corsair logo cover and RGB surround is very appealing to my preference.
The AF120 Elite PWM fans deployed on Corsair's new cooler do not feature RGB lighting – the pump instead covers LED duties. The 120mm Fluid Dynamic Bearing blowers operate at 400-1850 RPM but they also support a 0 RPM mode. Corsair highlights the use of anti-vortex vanes to better concentrate airflow.
I must say that I appreciate the relative lack of cables for Corsair's fans. There are no proprietary or RGB cables – just simple 4-pin PWM connector. The units themselves look pretty good too, particularly if you aren't fussed by RGB lighting.
Corsair's approach for cable connectivity is superb, as we have come to expect from the vendor. A single, discreet USB-C cable connects to the pump block unit. This then provides all the necessary connectivity for the fans, the RGB lighting, and the iCUE link. So, you only have to manage a single cable across the motherboard socket. That is absolutely ideal! Plus, it uses a convenient Type-C connector rather than micro-USB.
iCUE handles control for the entire CPU cooler.
You can mess with the various RGB lighting options for the pump housing – including synchronisation with other Corsair components such as memory. And Hardware Lighting for prior to iCUE initialisation such as during system boot.
You can also set fans and pump speeds with a high degree of adjustment – particularly for the fan curves. I like the fact that Corsair includes temperature data for the AIO cooler's liquid as this is another useful metric when assessing your cooling setup.
Overall, there's nothing bad to say about iCUE, as has been the case for quite a while. Yes, it's certainly not a lightweight solution these days, but it is feature-heavy and works very well.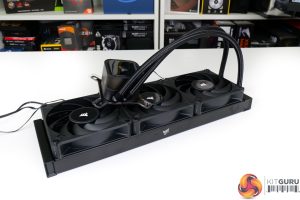 Warranty for the £164.99 Corsair H150i Elite comes in at 5-years, as we would expect for a premium AIO.
Installation of the cooler is very easy.
You install the relevant standoffs on the default AMD backplate. After switching out the Intel cold plate brackets to AMD ones, the block and its pre-applied thermal paste can be mounted.
Then the radiator and fans are mounted. And finally, one can connect the USB-C cable to the pump block housing and connect all the relevant cables including internal USB 2.0.
The mounting process is quick, it is secure, and cable management is very clean.
Be sure to check out our sponsors store EKWB here