A while back, EK Water Blocks (EKWB) launched its first All-In-One preassembled CPU liquid cooling units in the form of the EK-XLC Predator 240 and Predator 360. Unfortunately, a problem with these units has been discovered that could cause leakages and EK is issuing a product recall.
In a post on the EKWB website, the company wrote: "EK Water Blocks is regrettably informing the public and its customers that EK-XLC Predator 240 and 360, our pre-filled and pre-assembled all-in-one (AIO) CPU liquid cooling units have to be completely recalled from the market due to potential risk of leakage of liquid from the unit."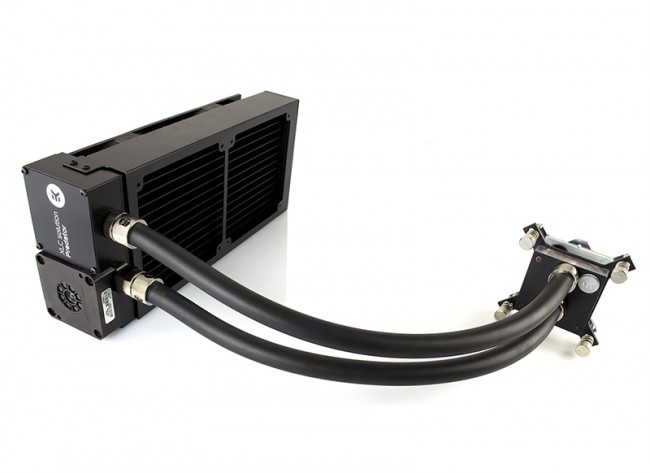 EK also posted a summary of exactly what happened and where the fault was found: "What was initially estimated as limited risk situation with small percentage of units developing a leak over time that can be resolved with direct customer contact, turned out to be a more widespread problem. After receiving first few customer feedbacks in December 2015 about the leakage issue, EKWB identified the issue in the faulty O-ring in the EK-Supremacy MX CPU water block that was used in the unit. Since there had been no complaints from initial pre-order customers before December, EKWB decided that the issue should have originated from the new batch of O-rings used in production at the beginning of November. Therefore, EKWB recalled all affected products at resellers and informed the customers who bought the unit after that period to check the production date accordingly and arrange a replacement unit."
This issue will affect all Revision 1.0 units produced between October 2015 and December 2015. EK is advising that owners stop using it immediately to avoid any potential damage and then get in touch with EK for a replacement unit or refund. EK has already made the necessary design change to fix this and began selling Revision 1.1 of its two AIO units on the 4th of January but even if you bought a unit this month, you should double check your revision number just in case.
You can find the full notice from EKWB, along with information on the recall process, HERE. 
KitGuru Says: If you own one of the affected units then do make sure you follow up on the recall and get an updated version to avoid potentially damaging your PC.