Water-cooling distro plates have been getting popular lately and with Lian-Li's latest O11D distro-plate, water cooling can be made easier than ever. Lian-Li and EKWB have teamed up to design the Distro-Plate G1 for the popular O11D chassis, complete with a powerful integrated water pump.
The O11D Distro-plate G1 is a very convenient starting point for water-loop planning. Short, efficient routes for tubing are supplied to keep your loop looking clean, there are also 11 G 1/4″ ports, supporting a CPU block, two GPU blocks and 360mm radiators all inside of the O11D case.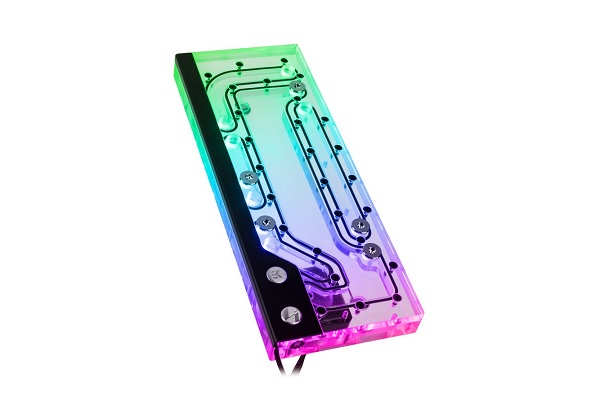 Since this has an integrated pump, it also acts as a handy reservoir/pump combo. The pump being used here is a DDC 3.1 PWM pump, which can push up to 500L of coolant per hour, with a maximum RPM of 3600. Beyond that, the distro-plate is kept looking stylish thanks to 18 addressable RGB LEDs, which you can customise to your liking.
The O11D Distro-plate G1 is compatible with the Lian-Li O11 Air, Dynamic, Razer Edition and the ROG certified O11 Dynamic XL. It is already available here in the UK, with pricing set at £159.95.
KitGuru Says: I'm currently thinking about re-doing my own water-cooling loop, so this is looking awfully tempting. Are any of you planning to custom watercool your rig this year? Would you opt for a distro-plate like this?