In the world of air cooling, few companies have the same reputation for quality as Noctua. This week, Noctua is expanding on its range of fans, with the launch of its next-generation A-series fans and adaptors to make them friendly with liquid coolers.
The new NF-A12x25 is the first Noctua fan made with Sterrox LCP materials. The company says it is its "most advanced fan" to date. As Noctua CTO, Lars Strömbäck explains, the team has "spent more than 4.5 years developing it" adding that it was the "most intricate project" so far. The goal was to surpass the performance of the renowned NF-F12 and NF-S12A fans, but in order to do so, it needed to make some design changes that could pose difficulties in manufacturing. Now, after a lengthy development cycle, those kinks have been ironed out, meaning the NF-A12x25 fan is ready to hit the market.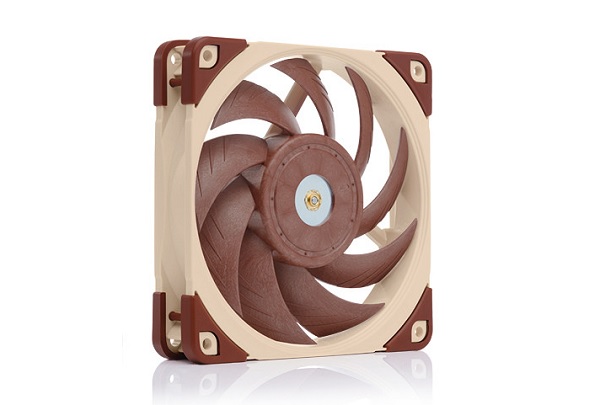 While the NF-F12 and NF-S12A fans would target either maximum airflow or maximum static pressure, the new A12 fan is described as "a true all-rounder that yields superb results in all types of usage". Essentially, this fan is billed as being perfect for case airflow, or for attaching to heatsinks for direct CPU cooling.
According to Noctua's tests, the NF-A12x25 outperforms the NF-F12 on 120mm based watercooling radiators and can offer better efficiency than many 140mm fans. One of the keys to getting this level of performance was reducing the distance between the fan blade tips and the inside of the frame- Noctua was able to shrink this to just 0.5mm of clearance. This allows the fan to operate more efficiently against back pressure and reduce air flow leakage.
The NF-A12x25 will be available this month in a 4-pin PWM version for automatic speed control, which varies between 1700RPM and 1300RPM. 3-pin FLC versions will be available too for those seeking ultra low noise levels, this version spins between 900RPM and 1300RPM.
KitGuru Says: Noctua's new fan sounds like a major step up, but the beige and brown colour scheme may still turn a few away. Do many of you currently use Noctua for cooling in your PC?