Last year Intel announced plans to accelerate its Atom roadmap and produce its low-power/low-cost products at the same nodes as its leading-edge chips for desktops and notebooks. Apparently, the widely-discussed issues with the 14nm general-purpose process technology seem to also affect Intel's 14nm process for low-power system-on-chips. According to a media report, Intel will delay the introduction of the next-gen Atom "Braswell" SoC by one quarter.
During various events in late-2013 and early-2014 the world's largest chipmaker announced two next-gen Atom-branded solutions: the code-named "Cherry Trail SoC" for tablets and smartphones as well as the "Braswell" SoC for low-power/low-cost notebooks and affordable desktops. The Cherry Trail was expected to debut in the second half of 2014 and replace the currently available Bay Trail-series solutions in the appropriate market segments. Intel has never revealed any launch timeframes for the Braswell processor, but unofficial sources implied that the solution would arrive in Q1 2015.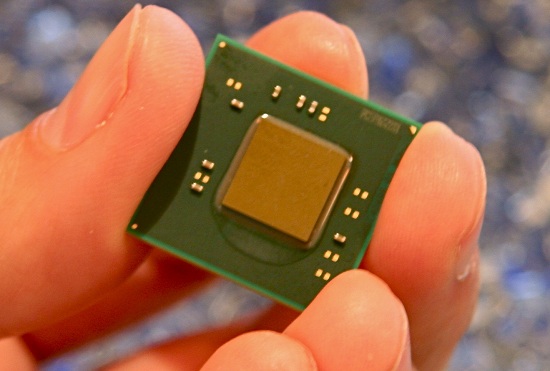 The Atom "Cherry Trail", which is supposed to be released in late-2014, was not demonstrated anyhow at Computex 2014 last month, which may indicate that it will not become available this year and will be postponed to 2015. Shipments of the Atom "Braswell" processors will be delayed from early Q1 2015 to mid-March – mid-May 2015, according to documents seen by CPU World.
It is likely that Intel Atom "Cherry Trail" and "Braswell" microprocessors are architecturally similar, but the former supports features needed by mobile devices, whereas the latter has higher clock-rates, larger caches and some additional functionality required by personal computers. Earlier Intel said that the "Cherry Trail" would be based on the Airmont micro-architecture and would feature the company's eighth-generation graphics engine (the one found in the Haswell/Broadwell microprocessors).
The reasons why Intel decided to delay its next-generation Atom offerings are completely unknown. If Intel's 14nm SoC process technology heavily relies on the 14nm general-purpose manufacturing process, then until the latter is fully ready, the former will not be ready for mass production as well. As a result, the company will have to change release dates of its upcoming chips.
Intel did not comment on the news-story.
Discuss on our Facebook page, HERE.
KitGuru Says: Intel will not run into significant problems if it delays its "Braswell" product by a couple of months. What is important is not to miss window of opportunities with the "Cherry Trail" system-on-chip for mobile devices. It takes smartphone and tablet makers a long time to integrate application processors into their designs, so Intel has to deliver the chips on time. But while the "Cherry Trail" is important, its successor code-named "Broxton" (based on the Goldmond micro-architecture) is crucially important since it will be dramatically different compared to everything that Intel has released for mobile devices so far. Hopefully, that chip will be released in 2015, as Intel promised last year.