Anonymous insiders from Advanced Micro Devices on Tuesday revealed more details about the company's upcoming microprocessors based on "Zen" micro-architecture. Just as expected, the new "Zen" central processing units will be dramatically different compared to "Bulldozer" CPUs. Moreover, as it appears, AMD intends to reconsider some of the things that it has not changed for decades.
Based on the slide published on Tuesday, AMD will no longer use dual-core modules with shared floating point unit and some other resources. By contrast, "Zen" cores will be organized in quad-core units that share only L3 cache as well as special high-speed links that are designed to interconnect multiple units together. It is not completely clear why AMD decided to create quad-core units, but, perhaps, the company wants to easily scale amount of cores for different types of microprocessors. For example, server chips would benefit from 8-16 cores, whereas client APUs hardly need more than four x86 cores.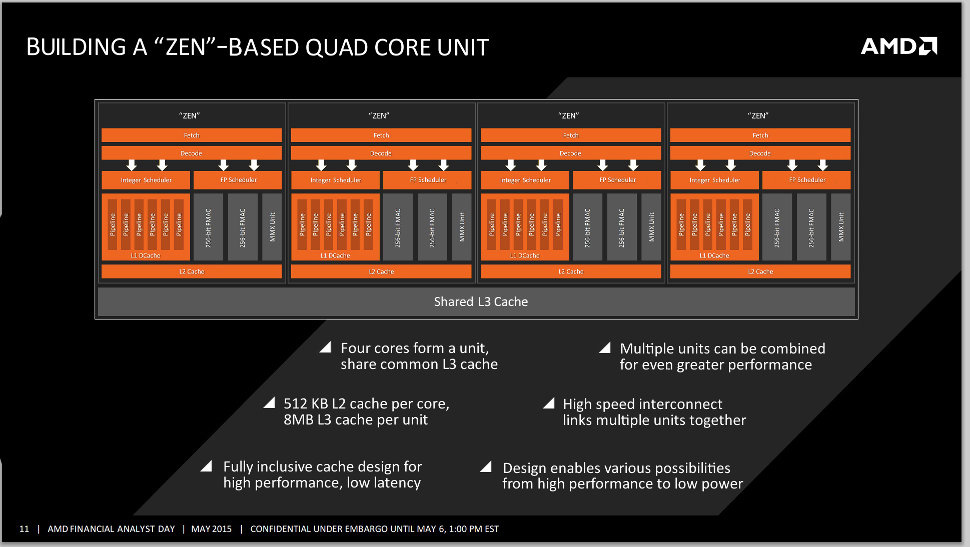 Each "Zen" core in the upcoming AMD chips will be equipped with 512KB L2 cache and each quad-core unit will sport 8MB of shared L3 cache. The new microprocessors from AMD will feature fully inclusive cache design, just like Intel CPUs do. Inclusive cache design means that larger caches also include data located in smaller caches (e.g., L2 contains data contained in L1). AMD's chips have used exclusive cache design since the K6 processors in mid-nineties in a bid to maximize efficiency of its caches. The decision to reconsider cache design is another indicator that "Zen" is a brand-new architecture from AMD.
It is noteworthy that quad-core units do not integrate memory controllers.Potentially, this means that AMD will have flexibility to scale its memory interfaces depending on actual need, not because it adds cores into designs.
Based on unofficial information, AMD's code-named "Summit Ridge" processors will sport eight "Zen" cores (i.e., two quad-core units), a dual-channel DDR3/DDR4 memory controller and a PCI Express 3.0 x16 controller.
AMD did not comment on the news-story.
Discuss on our Facebook page, HERE.
KitGuru Says: In the past couple of days we learned a couple of new things regarding topology and architecture of AMD's upcoming "Zen" processors. Unfortunately, we still have no idea about their performance…