Advanced Micro Devices' next-generation "Zen" micro-architecture promises to significantly increase performance of the company's central processing units next year. Even though AMD will introduce high-end microprocessors based on "Zen" in 2016, it will take a long time before a significant share of AMD's chips will adopt its new architecture.
AM4 platform: One size fits all
As reported, starting next year all new AMD microprocessors will use the AM4 form-factor, which was previously known as the FM3 micro-PGA [pin-grid array] packaging. Platforms with the AM4 socket will rely on the code-named "Promontory" chipsets and will support DDR4 memory. Various versions or "Promontory" core-logic sets will power numerous solutions aimed at completely different market segments.
Based on alleged socket transition guide published by BenchLife web-site, the first mainboards featuring the AM4 socket will hit the market in Q2 or Q3 2016. It will take around 1.5 years before AM4 platforms will replace existing AM3+, FM2, FM2+ and AM1 platforms.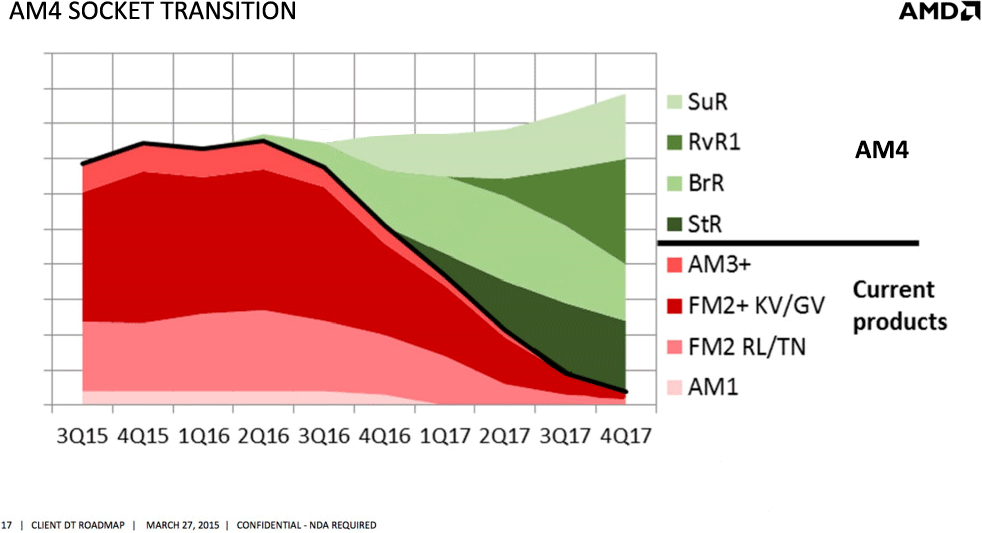 Unification of desktop infrastructure will make mainboards for AMD's processors more affordable, which will increase competitive positions of AMD in the market.
"Bristol Ridge" and "Stoney Ridge": Mainstream and low-end APUs with "Excavator" cores
The first chip to use AM4 will be the "Bristol Ridge" (BrR) accelerated processing unit with four "Excavator" cores, Radeon graphics based on the GCN 1.2 architecture, a dual-channel memory controller as well as basic input/output capabilities. The "Bristol Ridge" is due to be launched in July, 2016. The APU will be aimed at the mainstream part of the market and will be quite inexpensive. Unfortunately, it will only be 10 to 15 per cent faster than existing A-series APUs at the same clock-rates, which means that it will not be able to address the high-end segment of the market.
Sometimes in very late 2016 or early in 2017, AMD is also expected to release code-named "Stoney Ridge" (StR) accelerated processing units for low-end and low-power PCs. The chips will feature two "Excavator" cores, AMD Radeon graphics with up to 192 stream processors, a single-channel DDR4 memory controller and basic I/O functions.
"Zen" to ramp up quickly
AMD's "Summit Ridge" (SuR) central processing units with up to eight "Zen" cores are expected to be released in October, 2016. The ramp of the new high-end desktop chips from AMD will be rather fast, according to the transition guide. After about a quarter of availability "Summit Ridge" CPUs will account for around 15 per cent of AMD CPU shipments. Given the positioning of the upcoming "Summit Ridge" chips, do not expect them to address high-volume market segments, at least initially.
Sometimes in the second quarter of 2017 AMD plans to release its "Raven Ridge" accelerated processing units with "Zen" cores and next-gen Radeon graphics engine. Ramp up of mainstream APUs will be rather fast thanks to the fact that that the AM4 infrastructure will be widely available when AMD's "Raven Ridge" hits the market.
All "Zen"-based products will be made using a FinFET process technology, which should help then to hit high clock-rates, but which also means that they will be rather expensive in production.
By late 2017, various microprocessors with "Zen" micro-architecture will account for around 50 per cent of AMD's shipments, which is not bad, but which means that half of AMD's chips will be based on current-gen micro-architecture, which is not truly competitive against Intel's products even now.
While the transition to "Zen"-based APUs and CPUs will be rather fast in general, the question is whether it will be fast enough for AMD. The company needs to turn itself around as soon as possible because even now the company is losing market share rapidly. Therefore, the management of the company will likely attempt to ramp up production of new chips even more aggressively than expected.
AMD did not comment on the news-story because the company's plans are confidential.
Discuss on our Facebook page, HERE.
KitGuru Says: What is nice to see is that AMD expects shipments of its APUs and CPUs to generally increase starting from Q2 2017 and onwards. The company continues to pin most of its hopes on "Zen"-based offerings, which is not really surprising.