MediaTek has detailed its Helio G85 SoC and one thing is clear, the chip is designed with a focus on gaming performance. The chip is made to deliver high performance for mid-range phones with its 12nm octa-core CPU and 1GHz GPU.  
Helio G85 is equipped with an octa-core CPU featuring two Arm Cortex-A75 cores that operate up to 2GHz, and six Cortex-A55 cores that operate at up to 1.8GHz. However, the big star of the show looks to be the Arm Mali-G52 GPU that has been pushed up to 1GHz to ensure powerful gaming performance.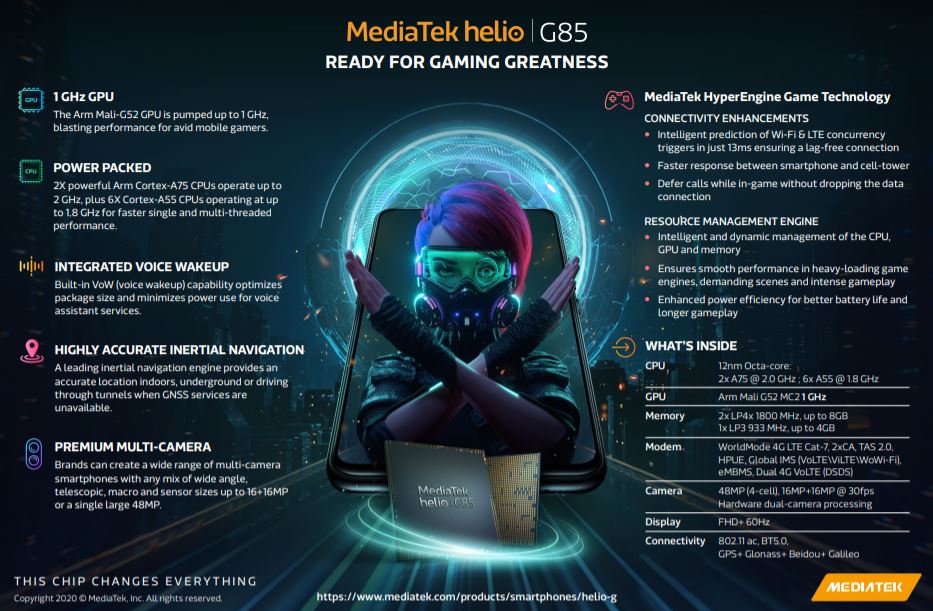 Image credit: MediaTek 
Helio G85 is able of supporting a multi-camera setup, with either a couple of cameras with a sensor size of 16MP each, or a single 48MP sensor. MediaTek's chip supports 4G LTE and WiFi 5 for connectivity – with an "intelligent prediction" that can switch between LTE and WiFi connections, triggering in just 13 ms to minimize lag.
The MediaTek Helio G85 has already started making its way into smartphones – so those who want good gaming performance for a reasonable price tag can keep their eyes open. More details are available on MediaTek's product page HERE.
Discuss on our Facebook page HERE.
KitGuru says: What are your thoughts on MediaTek's Helio G85? Do you play a lot of games on your phone?