AMD has risen to the top of the PassMark single-threaded benchmark chart. The new chart puts the Ryzen 5 5600X at the very top, beating out plenty of Intel Core i9 and Core i7 SKUs along the way.
The 6C/12T Ryzen 5 5600X, featuring a max boost clock of 4.6GHz, has beaten the Intel Core i9-10900K, which features a max turbo frequency of 5.3GHz. While the Core i9 processor scored 3175, the Ryzen 5 5600X scored 3495. This translates into a 10% improvement over the higher-clocked Intel processor. Compared to the current generation Ryzen 3600XT, the difference gets even bigger, with an increase of about 23% in performance (2832). Even if the Ryzen 5 3600XT has a slightly lower boost clock (4.5GHZ) than the Ryzen 5 5600X, such an improvement is still very impressive.
Unfortunately, the Ryzen 5 5600X is the only Zen 3 processor listed in PassMark, but the rest of the family should be added soon. You can check the rest of the chart HERE.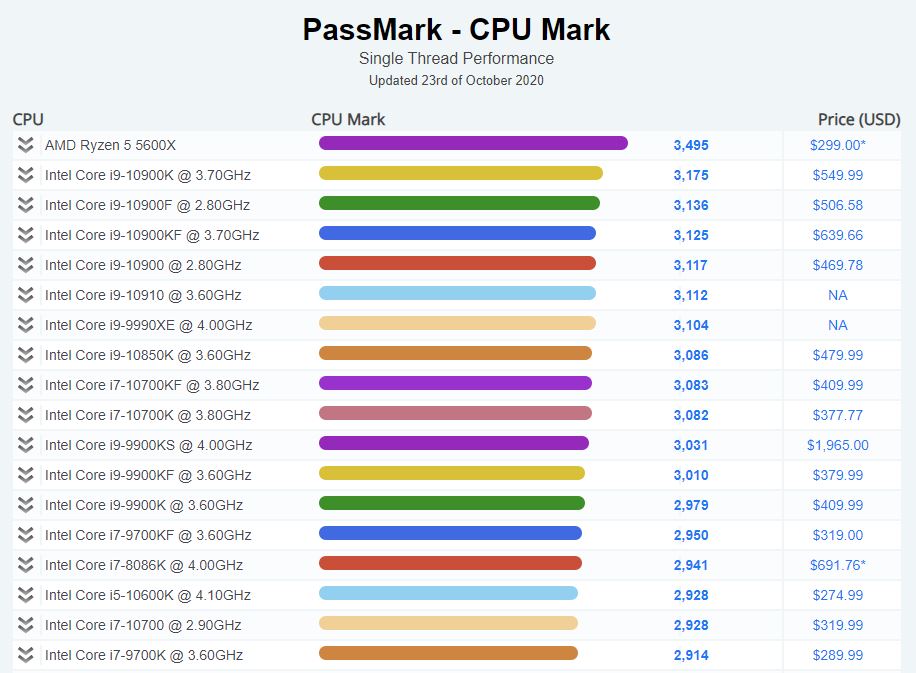 Once we see the Ryzen 7 5800X and the Ryzen 9 5900X and 5950X in this chart, we expect that their single-thread performance will be slightly better due to their higher boost clocks of 4.7GHz, 4.8GHz, and 4.9GHz, respectively.
Priced at $299, the AMD Ryzen 5 5600X will be available alongside the other AMD Ryzen 5000 processors, scheduled for a release on November 5th.
KitGuru says: The future is looking bright for Ryzen 5000. Are many of you looking forward to reviews and benchmarks? Will you be considering one for your next upgrade?