We have previously shared a leak regarding some possible core configurations of the Alder Lake-S/P, but it looks like there will be more than what the leak suggested. A new leak shows that Alder Lake-S will have 15 core configurations, and Alder Lake-P will be available in 9 core configurations.
The new leak comes from Coreboot and was shared by Coelacanth's Dream (via VideoCardz). The leak includes an extensive list totalling 24 possible core configurations for the upcoming Alder Lake-S/P architectures. For those of you who don't know, Intel Alder Lake is expected to feature a big.SMALL core architecture, similar to ARM processors. The first and second number of the leaked core configurations refers to the big and small cores, while the last number points to the GPU cores.
As we can see from the list below, desktop-oriented Alder Lake-S will feature from 2 to 8 big cores, while the small cores will be between 0 and 8. Regarding Alder Lake-P, it seems that it will come with 2, 4, or 6 big cores, and up to 8 small cores, which is more akin to a mobile architecture. The listed Alder Lake-S core configurations only include a GPU core (GT1), but the Alder-Lake P configurations are listed with 2 GPU cores (GT2).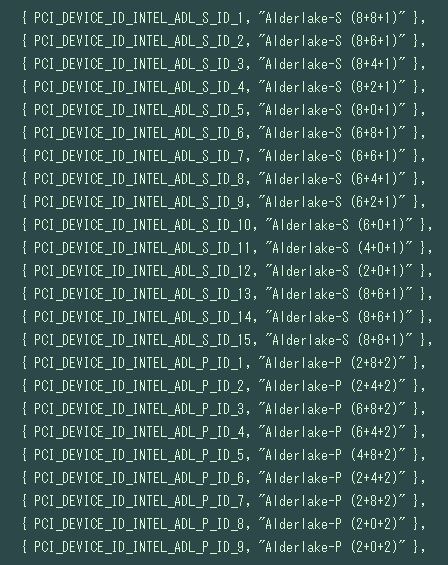 Image credit: Coelacanth's Dream
The PCH (Platform Controller Hubs) internal names were also leaked, showing  "Base", "Super", "Premium", and "Mainstream" Alder Lake-S/P SKUs.
Unfortunately, we still don't know if the iGPU of these SKUs will be using Xe Graphics architecture or if they will be using a new and unannounced one.
KitGuru says: Do you think Intel Alder Lake architecture will revolutionise the CPU market? How do you think that AMD will respond to Intel's big.SMALL CPU architecture?