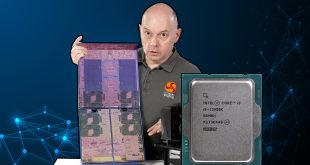 Lionel Richie nailed it when he sang the words 'Well, my friends, the time has come, to raise the roof and have some fun'… as it is indeed time for our launch review of Intel's Core i9-13900K. We have been building up to this review for quite some while so do please check out our briefings on Raptor Lake HERE, HERE and HERE. If you are sitting comfortably we can crack on with our review.
Time Stamps
00:00 Start
01:18 The story so far / ASUS / 12th Gen
03:13 i9 13900k
03:35 Test System
06:28 BIOS Setup
07:04 Blender : crank the power!
08:06 Power settings
08:52 Cinebench R23 analysis
11:33 Blender V3 Classroom
11:53 Handbrake
12:24 7ZIP/AIDA64
12:44 3DMark
13:05 Gaming Results / Windows 11 22H2 update
15:30 Leo's Thoughts on the 13900k
The processors are here and ready for testing and boy oh boy it has been worth the wait.
Specification:
P-Core Base Frequency: 3.0GHz
E-Core Base Frequency: 2.2GHz
Socket: LGA1700
Intel Smart L3 Cache: 36MB
L2 Cache: 32MB
Processor Cores: 24 (8P + 16E)
Processor Threads: 32
Memory Support: DDR4 3600MHz & DDR5 5200-6000MHz
Intel Thermal Velocity Boost Frequency: 5.8GHz
Intel Turbo Boost Max Technology 3.0 Frequency: 5.7GHz
P-Core Max Turbo Frequency: 5.4GHz
E-Core Max Turbo Frequency:: 4.3GHz
CPU PCIe Lanes:20
Unlocked: YES
Chipset: Intel 600 & 700 Series Compatible
Intel UHD 770 Graphics
Base Power: 125W
Maximum Power: 253W
Intel SIPP
Intel vPRO
ISM
Warranty: 3yr
Features:
Intel is driving next level performance with Raptor Lake
Increased processor core count – Up to 24 (8P+16E) processor cores with up to 32 threads
Improved P-core performance
Increased Intel Smart Cache (L3) and L2 cache on Intel Core i5 Desktop processors and above
Extended performance hybrid architecture2 to all Intel Core i5 Desktop processors and above
Up to 32GB DDR5-5600 memory, up to 64GB DDR5-5200 memory and up to 128GB DDR5-3600 memory
16 lanes of CPU PCIe* Gen 5.0; Up to 20 lanes of PCH PCIe* Gen 4.0
Integrated Intel Wi-Fi 6E support
Four simultaneous 4K displays, media and graphics features
Core & memory overclocking
Processor compatibility with Intel 600 and 700 Series chipset-based motherboards
Intel Deep Learning Boost (VNNI) and Intel Gaussian & Neural Accelerator (GNA) 3.0 support
Security Feature Enhancements targeting Business Computing
Be sure to check out our sponsors store EKWB here