AMD has announced that its 3D V-cache-equipped Ryzen 7 5800X3D processor will launch on April 20 at $449 USD. And in a bid to compete with Intel's increasingly strong budget and mid-range CPU offerings, AMD has also announced the introduction of six new Zen 2 and Zen 3 Ryzen processors. These will be on shelves starting April 4 and will cost between $99 and $299 USD.
The Ryzen 7 5800X3D will be the first deployment of AMD's 3D V-cache technology on the consumer market. According to AMD, the stacked cache approach will deliver 15% more gaming performance. And AMD is also suggesting that the Ryzen 7 5800X3D will be "the world's most advanced desktop gaming processor", though we will have to validate that claim with independent testing.
To recap the specifications, the AMD Ryzen 7 5800X3D is an eight core, sixteen thread processor built on the underlying Zen 3 CPU architecture. The usual 32MB of L3 cache from the Zen 3 CCX is bolstered by a 64MB slab of 3D V-cache using a manufacturing process designed in collaboration with TSMC.
Clock speeds, TDP ratings, and the manufacturing process are highlighted on AMD's product page. But, as always, we will have to wait to see how the chip performs in real world testing, particularly with respect to how software and games interact with that vertically stacked slab of additional L3 cache.
The $449 USD SEP likely means £450 in the UK. That will put the Ryzen 7 5800X3D between Intel's Core i7-12700K and the fast Core i9-12900K in terms of pricing competition.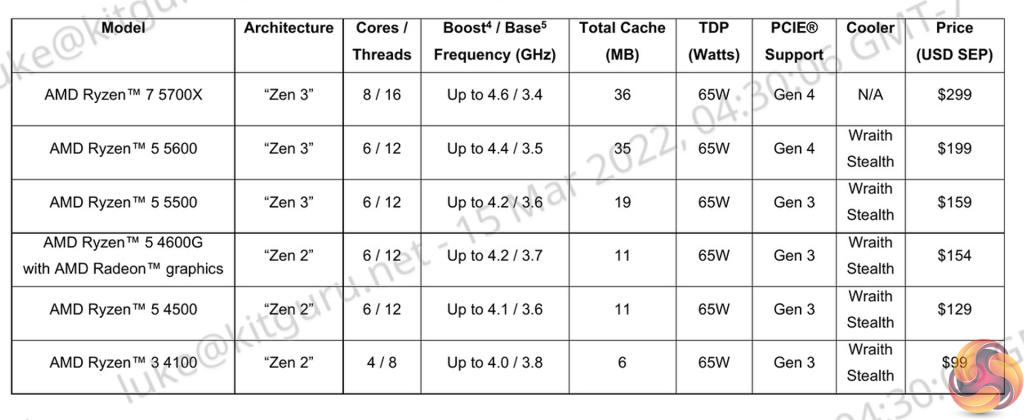 Additionally, AMD is introducing a trio of Zen 3 processors and another trio of Zen 2 processors – one of which is an APU – in early April.
Two six-core Ryzen 5 Zen 3 chips – the Ryzen 5 5500 and Ryzen 5 5600 – will launch for $159 USD and $199 USD, respectively. These two 65W TDP chips will be bundled with a Wraith Stealth cooler and will differ via their rated clock speeds and cache capacity.
Notably, though, the Ryzen 5 5500 is highlighted as supporting PCIe Gen 3, not Gen 4. Coupled with the reduced cache capacity of 19MB total, it is likely that this is adjusted APU silicon, rather than the cut-down Zen 3 desktop CCX silicon of the Ryzen 5 5600.
Sitting above the two Zen 3 Ryzen 5 parts is the $299 USD Ryzen 7 5700X. This looks to be a Ryzen 7 5800X with a lower TDP (65W for the Ryzen 7 5700X versus 105W for the Ryzen 7 5800X) and associated clock speeds.
The almost one-and-a-half year old Ryzen 7 5800X currently sells for around £320 in the UK. So, a probable £20-30 lower price tag for the new Ryzen 7 5700X – which can likely be overclocked to comparable 5800X performance even via PBO – looks to be fine, even if not particularly exciting.
The three Zen 2-based processors launching look to be built from the Zen 2-based desktop APUs.
Top of this trio is the six-core Ryzen 5 4600G which features integrated graphics. $154 USD for a six-core processor bundled with a CPU cooler and featuring integrated graphics; that could be quite appealing to some budget buyers, particularly in a world where dedicated graphics card prices are still elevated.
But if you're not interested in an integrated GPU, AMD offers up the Ryzen 5 4500. This looks to be very similar to the APU version but for $25 USD lower MSRP. Assuming a price of around £125-or-so in the UK, this six-core, Zen 2 Ryzen 5 will be competing with Intel's eight-thread Core i3 whilst massively undercutting the twelve-thread Core i5 chips. That's an interesting proposition for mid-range buyers.
And bottom of the stack is the $99 USD Ryzen 3 4100 which is a four-core, eight-thread processor without integrated graphics. This part is clearly designed to tackle Intel's highly competitive Core i3 options – most notably the eight-thread Core i3-12100F which sells around the £100 mark.
The third point that AMD announced is that they have been working hard to enable Ryzen 5000 support to 300 series chipsets. Users with older B350, X370, or A320 motherboards will rejoice to hear that this support is finally being offered via the latest AGESA updates sent out to board vendors.
I would personally argue that an upgrade to B550 is perhaps a smart option if you're also upgrading to Ryzen 5000 at the mid-range or higher-end. But for some of the budget chips announced today to be a drop-in upgrade to users on a 2017 motherboard – that's impressive platform longevity from AMD!
KitGuru says: Ryzen 7 5800X3D will be exciting to examine later next month. And in the meantime, it is good to see AMD finally aiming to compete with Intel in the budget and mid-range market segments. That's particularly valid with the impressive introduction of Ryzen 5000 processor support for 300 series chipset motherboards.