A traditional watercooling set up can take up quite a bit of space after fitting a pump, reservoir, radiator and blocks. Over time, companies have been making water cooling more accessible with various all-in-one units but there are still plenty of people that prefer custom water cooling. If you are low on space, then the Alphacool Eisbaer Solo could help, acting as a CPU block, pump and reservoir.
The Eisbaer Solo is super compact, integrating a pump and reservoir into the CPU block itself. The inlet and outlet are positioned on top of the block as you would expect, there is also a fill port to get coolant working its way through the loop. Standard G1/4″ connections are used too, so this will be compatible with the majority of standard liquid cooling gear available.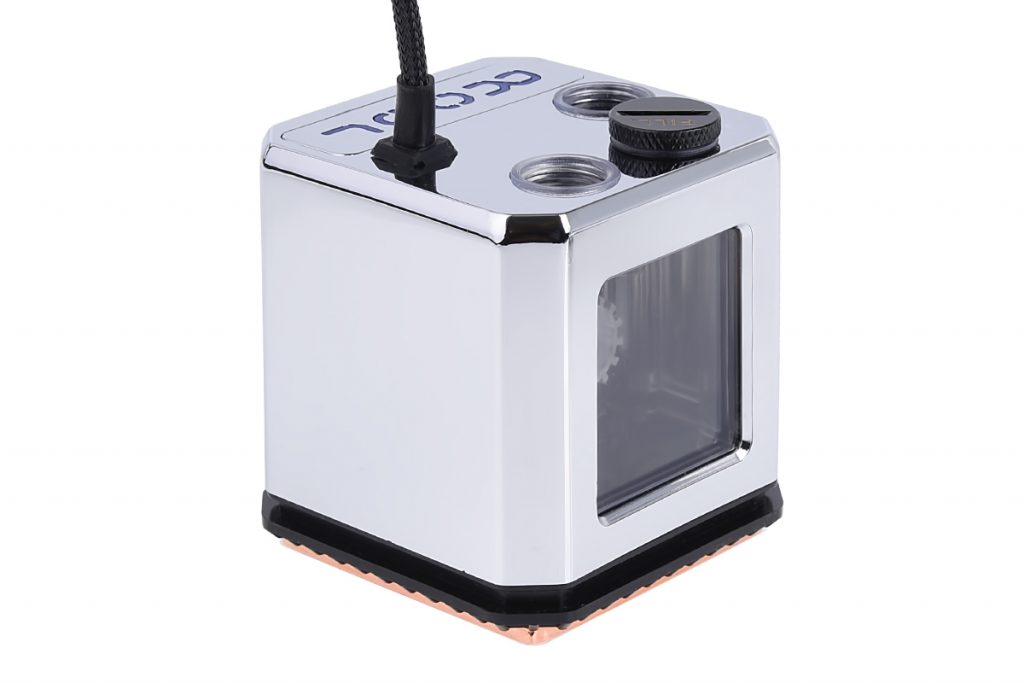 Inside the block, you'll find as DC-LT low noise ceramic pump, which is also used in Alphacool's all-in-one CPU coolers and external cooling products, like the Eiswand. The pump rotates at 2600rpm and uses just 4W of power, making it one of the more eco-friendly options available.
Here are the technical details:
Pump: Alphacool DC-LT 2600 Ultra low noise Ceramic
Speed: 2600 rpm
Voltage: 7- 13.5V DC
Power Consumption: 4W
Maximum Flow Rate: 70L/h
Max. Head: 0.85m
The block is compatible with Intel and AMD sockets, including: Intel 775, Intel 1366, Intel 1150/1151/1155/1156, Intel 2011-3, AMD AM4, AMD AM3+/AM3/AM2+/AM2/939/FM2+/FM2/FM1/G34/940.
The Eisbaer Solo is available now through Alphacool, with the price sitting at €54.95.
KitGuru Says: This looks like a solid option for those looking to set up a custom loop in a tight space. Are any of you thinking about making the jump to custom water cooling?