AMD teased us a while back with the announcement that the Ryzen 9 3950X and 3rd Gen Threadripper processors would be launching this month. Now, we have all of the final details, with the TR 3960X and TR 3970X being announced alongside the new TRX40 platform. We also have more details on the Ryzen 9 3950X ahead of the big launch on the 25th of November. 
We'll start off with the new Ryzen 9 3950X, which AMD is pitching as a competitor to the Intel Core i9-9920X. The latest member of the Ryzen 9 family has 16 cores and 32 threads with a 3.5GHz base clock speed and boost speeds up to 4.7GHz. The self proclaimed 'world's most powerful 16-core desktop processor' also packs 72MB of L2+L3 cache and runs on a 105W TDP.
According to AMD's own testing, the Ryzen 9 3950X should deliver up to 22% higher single-threaded performance compared to a Ryzen 7 2700X. Similar benchmarks also put the 3950X ahead of the Core i9-9900K and Core i9-9920X in DaVinci Resolve, Adobe Premiere, Cinebench R20, Handbrake and other content creation applications.
Beyond that, power efficiency is another big point that AMD is touting with the Ryzen 9 3950X, offering more cores and higher performance at lower power usage. The new CPU will be hitting retail on the 25th of November with a $749 price tag. Those looking to buy may also want to invest a little extra in cooling though, with AMD recommending a 280mm or greater all-in-one liquid cooler.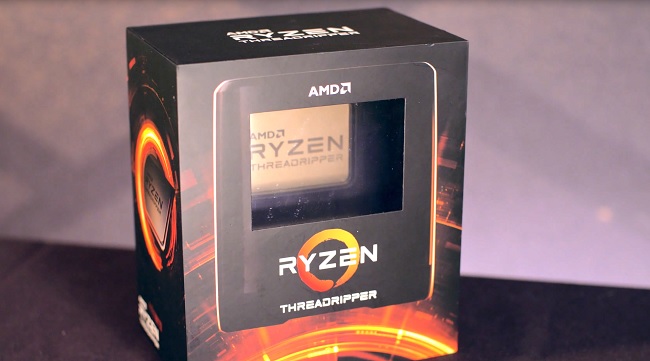 The next major announcement for today is the launch of 3rd Generation Threadripper, powered by the 7nm Zen 2 architecture and based on the new TRX40 platform. There are going to be two flavours of Threadripper at launch this month, the $1,399  TR 3960X and the $1,999 TR 3970X. There is quite the price gap between the 16-core 3950X, the 24-core 3960X and the 32-core 3970X this time around, which will make competition against Intel's new Cascade Lake-X lineup even more interesting.
The TR 3960X comes with 24-cores, 48 threads, 140MB cache and a 3.8GHz/4.5GHz base/boost clock speed. The TR 3970X goes a step further with 32-cores, 64 threads, 144MB cache and 3.7GHz/4.5GHz base/boost clock speeds.
Both CPUs run on the new TRX40 platform, which introduces the new sTRX4 socket, meaning previous generation Threadripper owners will need a motherboard upgrade too. Both new Threadripper processors will feature 88 PCIe 4.0 lanes. Compared to 2nd Gen Threadripper, you will get four times the bandwidth, giving you more options for high-speed NVMe SSDs, GPUs and other add-in cards that rely on PCIe lanes for peak performance.
AMD's performance preview gives us some comparisons against the Intel Core i9-9980XE. According to their results, the TR 3960X, delivers up to 31% better performance when compiling an Unreal Engine 4.23 project, or 36% better performance on the TR 3970X. When encoding a 4K video file to YouTube x264 using Adobe Premiere CC 2019, the TR 3960X delivered up to 22% better performance and up to 47% better performance on the TR 3970X.
Availability is currently set for the 25th of November, so expect reviews to land in the next few weeks. Now that the curtain has been lifted, you can also expect to see a bunch of TRX40 motherboard announcements as we lead up to the official launch date.
Discuss on our Facebook page, HERE.
KitGuru Says: There is a lot to unpack here, as we have a whole new HEDT platform from AMD, two new HEDT processors and the final CPU to cap off the Ryzen 9 line-up. What do you all think of the specs and pricing for AMD's latest and greatest?