AMD kicked off its New Horizon event this evening, giving us our best look at the company's next flagship desktop processor yet. For starters, the official name for AMD's next CPU is 'Ryzen' but AMD had much more to show off, including some performance demos putting Ryzen up against an Intel Core i7 6900k and new AMD SenseMI Technologies.
The 8 core 16 thread Ryzen processor has a base clock of 3.4GHz at a 95W TDP and 20MB of L2+L3 cache. It also exceeds AMD's goal of a 40 percent instructions per clock improvement over the last generation. Performance was demonstrated in Blender and Handbrake to show how Ryzen stacks up against Intel's 6900K in rendering and transcoding. Their tests showed Ryzen matching Intel performance in Blender and in Handbrake, AMD's chip beat out the 6900K in a transcoding test by about 5 seconds. As far as gaming performance goes, most of the tests showed Ryzen matching Intel's performance in titles like Battlefield 1.
There is more to AMD's new processor than raw performance though, The company has developed what its calling 'SenseMI' technology. This new system is baked into the architecture and uses Smart Prefetch and Neural Net Prediction to predict which instructions an application is going to need next so it can be prepared ahead of time. This method allows the CPU to optimise performance on the fly based on an applications needs.
Ryzen's boost clocks will also adjust based on cooling. These CPUs are equipped with a bunch of sensors that monitor thermals and power draw in order to make sure the chip boosts to a higher clock speed based on power and thermal overhead.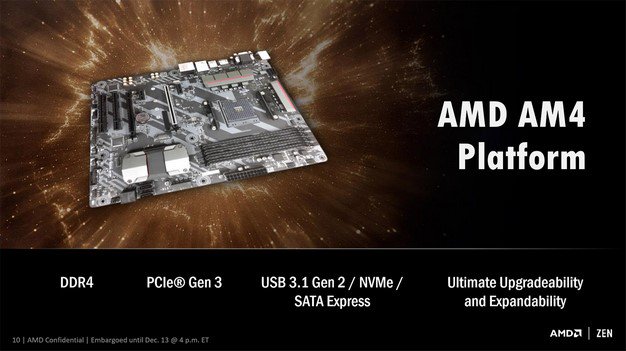 Obviously, this will all be running on AMD's new AM4 platform, which we have heard a little bit about before. High-end boards with use the X370 chipset and support modern technologies like PCIe gen 3, M.2 SSDs, DDR4 RAM, USB 3.1, NVMe and more. We haven't had a good look at any specific models just yet but motherboard makers will begin showcasing their new motherboard designs soon.
That just about wraps things up as far as new information goes. We still don't have a firm release date outside of 'Q1 2017' and we don't have information on pricing so there is still plenty to find out next year as we get closer to launch.
KitGuru Says: AMD has tried its best with this event to drum up excitement for its new CPU so it will be interesting to see how effective this strategy has been. Things are looking positive for Zen/Ryzen too, features like SenseMI will be interesting to take a closer look at later down the line. Did any of you watch the New Horizon livestream? What do you think of Ryzen and everything else AMD showed?