ARCTIC had a great run with the Freezer 33 air cooler but it is time for an upgraded version to enter the spotlight. This month, Arctic launched the new Freezer 34 air cooler series, consisting of the Freezer 34 CO, Freezer 34 eSports and the Freezer 34 eSports DUO.
The standard Freezer 34 comes in a single heatsink design with Arctic's pressure optimised P-series fans. These fans now have a wider RPM range, lower power consumption and higher quality bearings for a longer lifespan. When the PWM signal falls below 5 percent, the passive 0dB mode is activated, eliminating noise while your system is idle.
The heatsink has been redesigned for the Freezer 34 series, with a streamlined fin arrangement and offset heatpipes that make direct contact to efficiently transfer heat away from the CPU. The Freezer 34 has been tested on even high-end 18-core CPUs. With all of these improvements in place, Arctic's internal tests show that the Freezer 34 is 4° C cooler on average compared to the Freezer 33.
Given that the heatsink has been reworked, Arctic has also taken the time to adjust the mounting system to reduce assembly time. Compatibility for both Intel and AMD sockets are included, and the heatsink should sit tall enough to fit most RAM modules currently on the market.
The Freezer 34 CO differs from the standard version by adding a high-precision dual ball bearing fan, which is developed specifically for continuous use cases. Meanwhile, the Freezer 34 eSports uses a 120mm Bionix fan, which is available in more colour configurations. The eSports DUO edition comes with two fans in a push/pull configuration for additional cooling and a special thermal coating on the heatsink.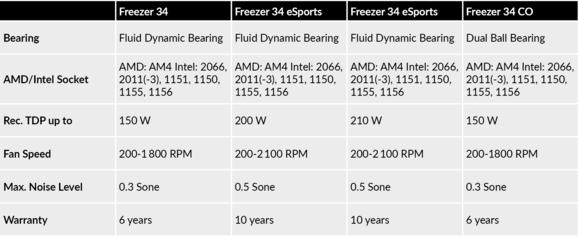 The Freezer 34 and Freezer 34 eSports DUO are both already available on Amazon here in the UK for £29.99 and £36.99 respectively. The Freezer 34 eSports and Freezer 34 CO will be available later on in Q1.
KitGuru Says: Arctic has always delivered decent price to performance with its air coolers. We'll be looking forward to testing some of these newer models in the near future. Are any of you currently shopping around for a new CPU cooler?