It looks like Qualcomm is getting competitive with Intel in the server market by launching the 'world's first' 10nm FinFET Centriq 2400 CPU featuring 48-cores. Qualcomm is primarily aiming this processor at datacenter use and the first 48-core samples are ready. The Centriq 2400 is the second generation of Qualcomm's server ships and they have already managed to accelerate to 10nm fabrication.
Qualcomm has been working on this particular CPU for a few years now, which features up to 48 ARMv8-compliant cores. This chip being based on 10nm could end up being quite a blow to Intel, which isn't expected to start delivering its first 10nm chips until mid to late 2017.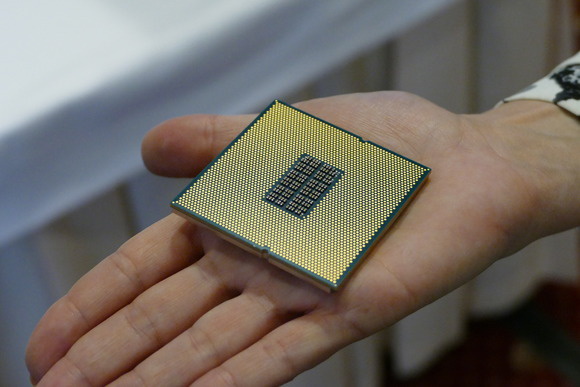 Image Credit: James Niccolai/ PC World
This news also comes a few weeks after we heard that Qualcomm would be teaming up with Samsung to bring the 10nm process to next generation Snapdragon 835 SoCs for smartphones and tablets.
"Qualcomm requires the leading edge of integrated circuit technology to deliver high performance at low power for the newest premium smartphones. We are first in 10nm IC technology for mobile, and leveraging our expertise in ARM processors and system on chip design, we are the first with our Qualcomm Centriq family of server processors to bring the leading edge to the data centre."
These chips are still some ways off from hitting commercial lines though, as shipments aren't expected to start going out until Q2 2017.
KitGuru Says: Given Qualcomm's apparent lead over Intel, which won't have 10nm Xeon CPUs prepared for quite a while, it will certainly be interesting to see how this affects the market going into 2017.