Advanced Micro Devices this week introduced its first graphics processing unit for embedded applications that is based on the latest GCN [graphics core next] architecture. The new Radeon E8860 will bring graphics capabilities of embedded applications to the level of new-generation video-game consoles, such as Microsoft Xbox One and Sony PlayStation 4.
AMD GCN architecture was introduced in late 2011 and by now has become the dominant technology in AMD's product lineup, even the latest A-series APUs [accelerated processing units] feature Radeon graphics cores powered by the GCN. AMD has also integrated its latest graphics processing tech into the new-generation PS4 and Xbox One game console. The only market that has not yet been addressed by the GCN is the market of graphics chips for embedded applications, which has a number of specific requirements, such as supply longevity, ability to work in various harsh environments, broad support of operating systems (including real-time OSes) and so on.
The AMD Radeon E8860 graphics solution is based on Cape Verde XT graphics chip (640 stream processors, 40 texture units, 16 render back ends, 128-bit memory controller, support for up to five displays) and is designed in multi-chip module packaging with 2GB of GDDR5 memory and is available as a mobile PCI Express module (MXM) and PCI Express add-in-board. The E8860 provides 768 single precision and 48 GFLOPS double precision peak compute performance in 37W thermal design power. The E8860 comes with a seven years longevity supply guarantee.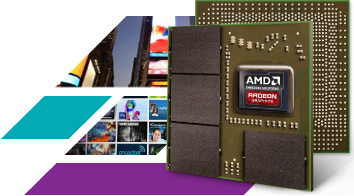 The Radeon E8860 fully supports DirectX 11.1, OpenGL 4.2, and OpenCL 1.2 and Mantle application programming interfaces as well as such operating systems as Microsoft Windows 7, Windows Embedded 7 Standard, Windows 8/8.1, Windows Embedded 8 Standard, Linux and real-time and safety-critical operating systems supported by CoreAVI's suite of embedded software drivers.
Thanks to GPU architecture optimized for general-purpose computing, the Radeon E8860 can support complex parallel applications like terrain and weather mapping, facial and gesture recognition and biometric and DNA analysis. This greatly enhances markets the new solution can address.
AMD E8860 GPU-based solutions for digital signage, conventional military and commercial aerospace, medical imaging and embedded gaming machines will be available from Curtiss-Wright Defense Solutions, Quixant, Sapphire, Tech Source Inc., Tul, Wold Industrial Systems and other board manufacturers and solution providers beginning in Q1 2014.
KitGuru Says: AMD's current business strategy implicates increased attention to the market of embedded applications. Therefore, it is logical to finally release a GCN-based offering for such appliances that need discrete graphics solutions. Unfortunately, even under the new strategy, it took AMD about two years to develop a software package for its Cape Verde XT GPU (introduced in early 2012) that allows it to be used by embedded devices.