In the recent years Advanced Micro Devices has been extraordinary slow with advancements of its professional graphics cards line. To a large degree, this is a result of overall slow progress of discrete GPU performance these days, but for those who need performance now this hardly matters. The situation may improve a bit next month when AMD reportedly plans to introduce its new professional solution featuring the code-named Hawaii GPU.
At the NAB 2014 trade-show in early April AMD plans to roll-out an all-new FirePro graphics cards based on the latest Hawaii graphics processing unit based on the improved GCN [graphics core next] architecture, reports Chinese VR-Zone web-site. Thanks to 512-bit memory bus of the Hawaii chip, AMD could install 10GB of GDDR5 memory onto its next-gen FirePro W9000/W8000-series graphics solutions, which should boost performance in a number of professional applications.
What is unclear is whether the new Hawaii-based FirePro will rely on the fully-fledged Hawaii with 2816 stream processors (SPs), 176 texture units (TUs) and 64 raster operating units (ROPs), or a cut down version with 2560 SPs, 160 TUs and 64 ROPs. At present the FirePro W9000 sports the fully-fledged Tahiti XT GPU, whereas the W8000 is powered by the cut-down Tahiti Pro.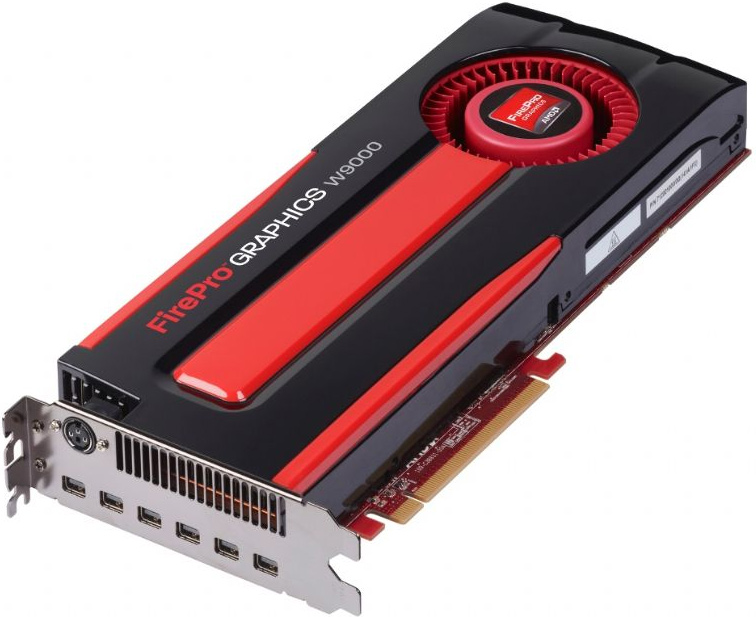 The new flagship FirePro graphics board with 10GB of GDDR5 memory with ECC technology and increased graphics performance will be AMD's fastest solution for professionals that will remain on top of its range until the next-gen GPUs arrive. The output configuration of the novelty will likely be similar to the FirePro W9000: six mDP ports as well as an SDI link.
The new high-end FirePro will likely co-exist with the current AMD FirePro W9000 graphics board since the previous-generation Tahiti GPU offers higher double precision performance (1TFLOPS vs. 0.7TFLOPS in case of the Hawaii), which may be important for certain users.
AMD did not comment on the news-story.
KitGuru Says: AMD's FirePro based on Hawaii will compete against Nvidia Quadro K5000 and K6000 graphics boards that are based on the GK110 graphics processing units. While AMD's solution may even offer higher performance, it should be noted that the K5000 has been available for about a year now…