Earlier this week Nvidia Corp. rather unexpectedly unveiled its GeForce GTX Titan Z dual-chip graphics card that carries two GK110 graphics processing units. At present, the novelty, which is yet to emerge on the market, is formally the world's highest-performing graphics solution for consumers. Nonetheless, there is a rival coming the GTX Titan Z way and it is approaching fast.
Advanced Micro Devices plans to roll-out its next-generation dual-chip Radeon R9 295 X2 graphics card with two code-named Hawaii GPUs onboard as early as in the coming weeks, in the first half of April, according to a report from OverClockers.ru. The company intends to start sales of the product a little after the formal announcement, but do not expect the gap between the introduction and actual availability to be a long one.
At CeBIT 2014 trade-show AMD demonstrated its reference design Radeon R9 295 X2 graphics card with two Hawaii graphics chips, according to a media report. The graphics board clocked GPUs at 1GHz and used a liquid cooling system akin to that of Asus Ares II dual-GPU solution. It is unknown whether the commercial Radeon R9 295 X2 will also feature similar cooling system, or will stick to a more traditional solution.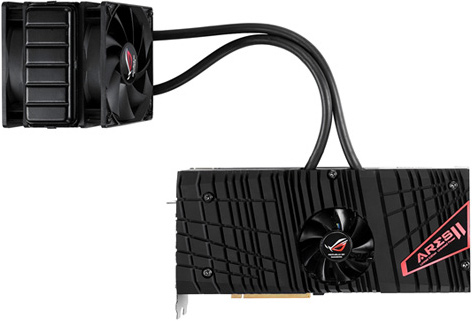 At present, nothing particular is known about configuration and performance of the Radeon R9 295X2. However, some sources close to AMD have suggested that the new flagship would offer better price/performance ratio than Nvidia GeForce GTX Titan Z. Keeping in mind that the latter costs $3000, achieving better price/performance ratio should not be that hard. Moreover, given that it is unlikely that the Titan Z operates at high clock-speeds, the Radeon R9 295X2 may end up being a faster solution…
AMD did not comment on the news-story.
KitGuru Says: Unlike in the case of the GeForce GTX 690 back in 2012 (when AMD did not offer a rival till mid-2013), this time AMD is not only going to show up at the fight against Nvidia's dual-chip flagship, but it looks like the company plans to win the battle. We'll see the result in a couple of weeks.