Small form-factor personal computers have gained significant popularity in the recent years. A lot of people want to have tiny PCs that can perform everyday tasks without overheating or causing too much noise. Back in 2012, Intel Corp. introduced NUC [next-unit of computing] PCs that can deliver enough performance for productivity and multimedia apps. On Tuesday, AMD unveiled project Quantum, SFF PC with extreme performance in games.
AMD's project Quantum is a small form-factor personal computer design that looks like a game console, but offers massively higher performance. Advanced Micro Devices expects Quantum systems to deliver 60 to 90 frames per second in all games when played in 4K (3840*2160) resolution, something that neither of modern consoles can provide. The systems will be sold later this year by select AMD's "most elite" partners.
"I am really excited to be here today because I am about to unveil the coolest PC and the most excited PC we have ever made at AMD," said Chris Hook, director of marketing at AMD, during the company's press conference at E3.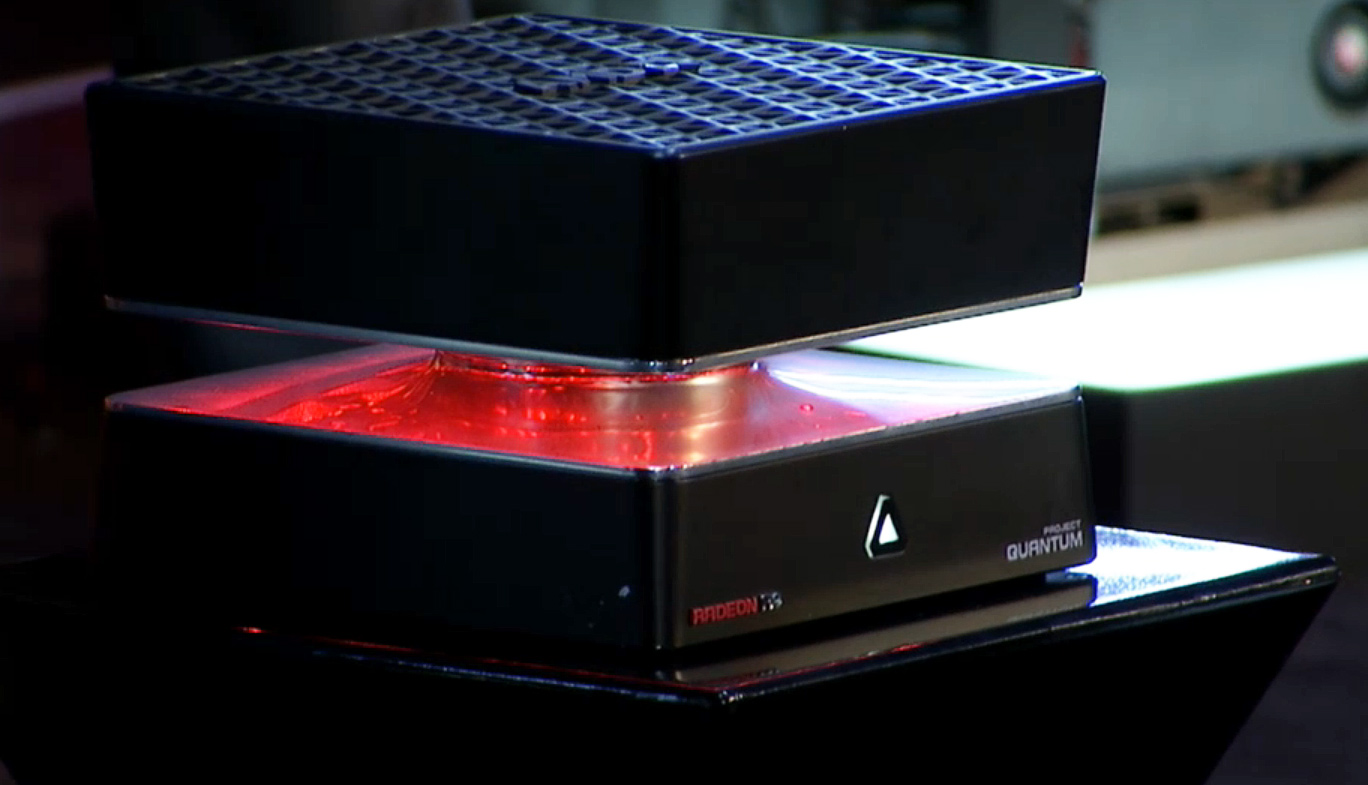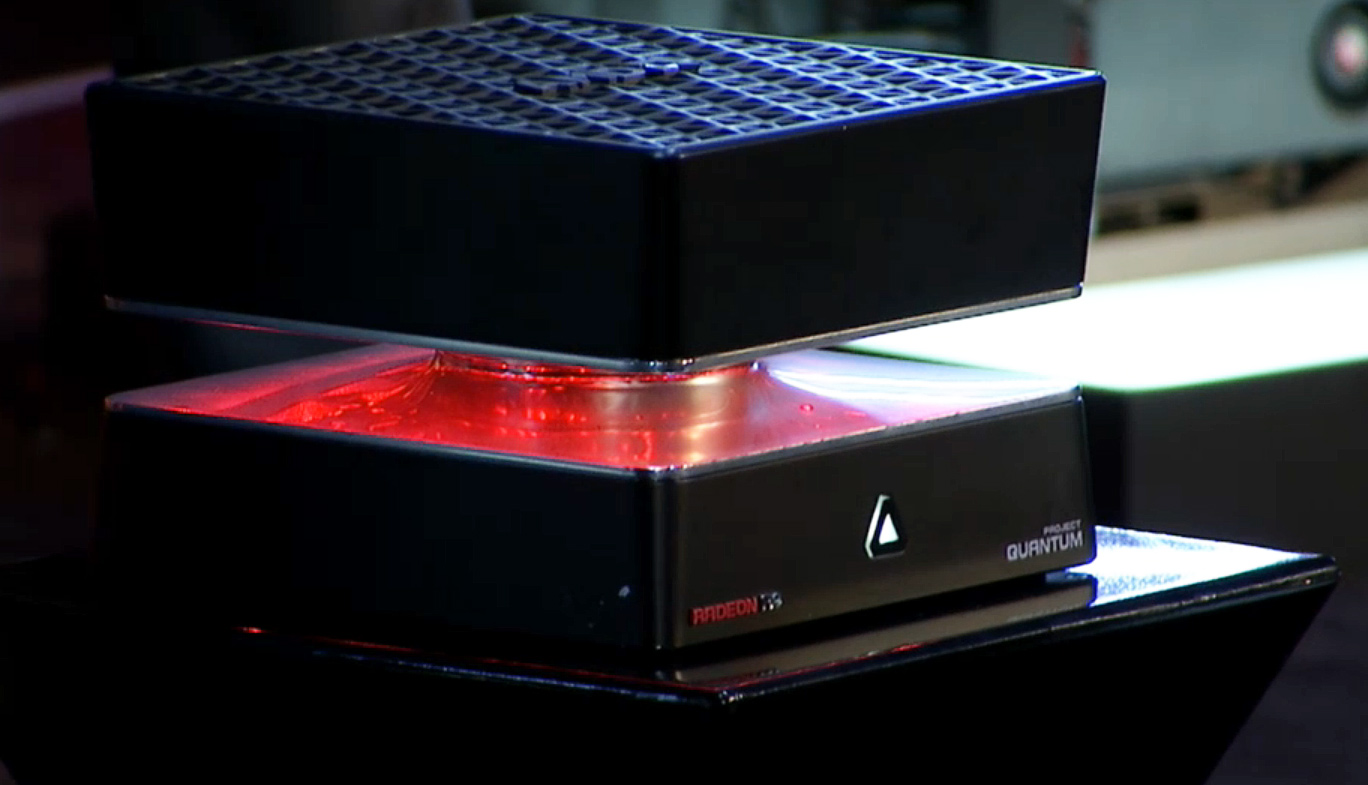 The AMD Quantum personal computers will be based on an unknown multi-core processor by AMD, two AMD Radeon R9 Fury "Fiji" graphics processing units operating in CrossFireX mode with 8GB of HBM memory in total, storage and so on. The CPU and the GPUs inside Quantum systems use closed-loop liquid cooling system. The Quantum uses innovative design that has not been used by boutique PC makers yet.
"All of the processing technology is in the bottom, in the top we have got all the cooling solutions," explained Mr. Hook. "It is whisper quiet; it is engineered and tooled out of beautiful materials, aluminium and magnesium."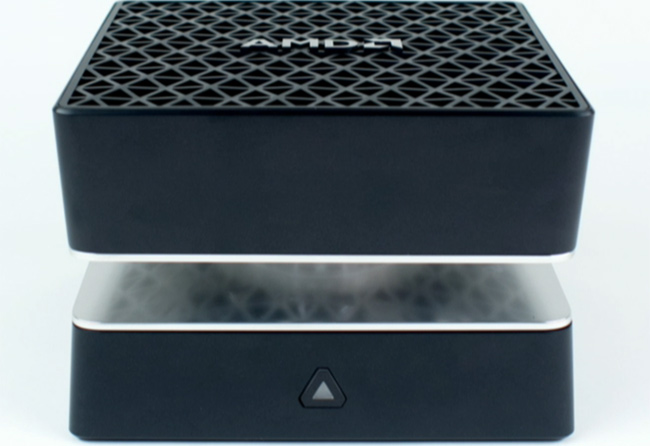 The project Quantum was designed by AMD, but it is not completely clear who will handle manufacturing. It is highly likely that certain contract makers will assemble the barebone, leaving final assembly and configuration to either AMD's partners among makers of graphics cards or to local partners among system builders.
AMD's project Quantum PCs will ship with Microsoft Windows 10 and DirectX 12, expect them to be available this fall or during the holiday season. Pricing is unknown, but do not expect such systems to be affordable. AMD and its partners will clearly charge a premium price for a premium system.
Discuss on our Facebook page, HERE.
KitGuru Says: It is not exactly clear why AMD wants to offer systems instead of cards. Perhaps, it is a way to address the most loyal fans and earn some additional revenue and profits. Alternatively, this may be a method to improve popularity of AMD's FX microprocessors among gamers, which has dropped significantly. In any case, while the Quantum PC looks impressive, it will inevitably compete against gaming PCs made by boutique PC makers, something that will not make them happy.