Although Advanced Micro Devices has been adding free games to its desktop add-on graphics cards for some time now, its market share continues to significantly trail that of Nvidia. According to recently released data from Jon Peddie Research, when it comes to discrete desktop graphics processing units (GPUs), Nvidia continues to outsell AMD by millions of units and has been doing so for years now.
Jon Peddie Research claims that the total available market of desktop add-in-boards (AIBs) in Q4 2013 was around 15 million units, which was only 3 per cent higher compared to the previous quarter. Moreover, the attach rate of AIBs to desktop PCs has dropped from a high of 63 per cent in Q1 2008 to 42.8 per cent in Q4 2013 (which was even lower than 43.4 per cent in Q3 2013). A good news for the market is that sales of dual-GPU graphics cards as well as adoption of multi-GPU configurations increased in the Q4 2013, reports JPR.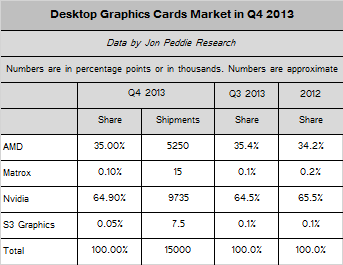 Shipments of AMD Radeon graphics cards for desktop decreased 3 per cent in Q4 2013 compared to the previous quarter, according to JPR. By contrast, Nvidia's quarter-to-quarter desktop GPU unit shipments increased 3.6 per cent. Nvidia continued to hold a dominant market share position at nearly 65 per cent. By contrast, AMD shipped 35 per cent of discrete desktop graphics processors.
While the market of desktop discrete graphics cards is virtually controlled by AMD and Nvidia, companies like Matrox Graphics and S3 Graphics continue to ship standalone GPUs, albeit, in very small quantities, according to findings of JPR. In total, there are around 51 suppliers of add-in graphics cards worldwide.
KitGuru Says: The reasons why AMD cannot capture a significant chunk of the market away from Nvidia is completely unclear. When Nvidia GeForce could offer higher performance across the board, then the AMD Radeon was naturally less popular. But while now there is performance parity between competing solutions, higher popularity of the GeForce cannot be easily explained.